Decor and more
Check out the best local and online sources for balloons, piatas, paper goods, decorations, favors and more.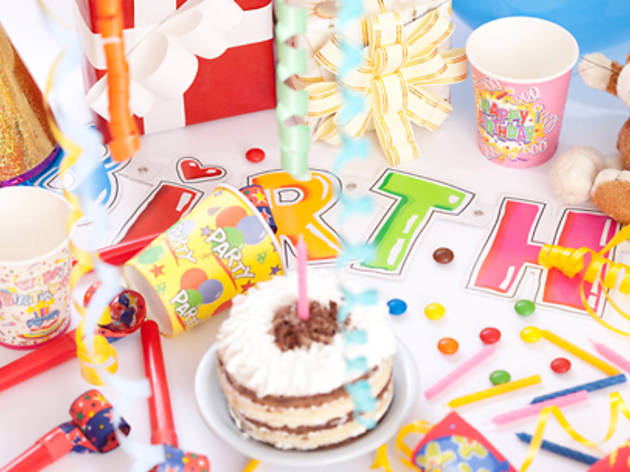 Local stores
* Balloon Saloon Sells a huge variety of balloons, piatas and favors. 133 West Broadway between Duane and Thomas Sts (800-540-0749, balloonsaloon.com)
* Michaels Tons of art supplies—perfect for craft parties. Locations in Queens and Staten Island; michaels.com
* Paper Presentation Carries letter/number candles, some paper goods, DIY-invite supplies. 23 W 18th St between Fifth and Sixth Aves (212-463-7035, paperpresentation.com)
* Party City Large selection of solid-color paper goods and cheap balloons ($12.59/doz, $25 delivery). Multiple locations; partycity.com
* Pearl River Tissue silhouette garlands and favor items. 477 Broadway between Broome and Grand Sts (212-431-4770, pearlriver.com)
* Village Paper Party Store Paper products, goody-bag items, costume supplies. 18 Greenwich Ave at 10th St (212-675-9697)
Online options
* Birthdayexpress.com This one-stop shopping site has themed party supply sets (think princesses, bugs and more).
* Birthdayinabox.com True to its moniker, this site will provide you with decorations, favors and piatas—all in a box. It also has a slew of party kits for under $25.
* Littlestarcreativeparties.com Eco-friendly supplies including bamboo plates and beeswax birthday candles.
* Orientaltrading.com Tons of favors and decorations, plus more than 100 craft kits and activities for under $5.
* Partypartnershop.com If you're looking to steer clear of a character party, check out this spot. It's got heaps of adorable party hats, goody bags and birthday banners.
* Plumparty.com Chic mamas will love this site's elegant invitation and decoration designs.
* Rhodeislandnovelty.com This novelty site truly has it all—cups, plates, cutlery, hats, goodies, decorations, Silly String, noisemakers and candy.
* Shackman.com Paper masks, garlands, favor items, containers and games galore.