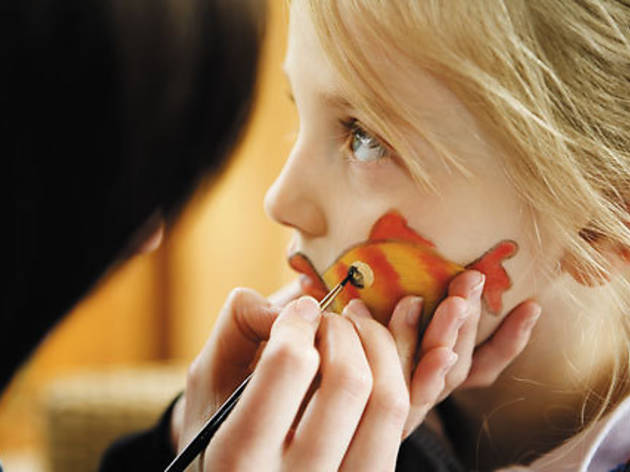 Entertainment
Once you've assembled your sweetie's bestest friends, what are you going to do with them? Creative-minded parents can plan simple party activities on their own, while others may prefer to hand the task to an imported expert.
THAT'S ENTERTAINMENT
Dozens of individuals out there bill themselves as children's performers. We've listed a few favorites here, but plan on making some calls to find the best man, woman or clown for the job, based on your needs and budget. "Do your research," cautions Marla Mase of Party Poopers. "Ask other parents for referrals, and call references. Speak with the entertainers to see if they sound trustworthy. Going with your gut always works." For added value, find out whether the entertainer is versed in a number of skills—for example, face painting and balloon twisting, or music making and game planning.
MUSICIANS
Singing along to classic songs is particularly fun for the toddler set. If your child is enrolled in a music class, ask the teacher if she works the party circuit. "When the performer is someone your kid knows and likes," says event planner David Stark, "it's like having Madonna come to the party." Otherwise, a guitarist with a repertoire of popular tunes will keep children's interest.
* Jam with Jamie Guitar tunes and parachute play; Jamie teaches local music classes and performs in Off Broadway children's shows at Literally Alive Children's Theater. $250/45 minutes (305-321-3192, jamwithjamie.com)
* Monkey Monkey Music Tailors music selection for children ages one to six; each guest receives a CD sampler. Starts at $275/hour, additional $25 for outer boroughs (212-673-6472, monkeymonkeymusic.com)
* Sing and Play Party Two entertainers sing and jam on the guitar. $275/hour; a portion of the proceeds is donated to the charity Healing the Children (917-215-6958, singandplayparty.com)
FACE PAINTERS
Whether the artwork is a movie character or something beyond their wildest dreams, kids love getting their faces painted. A single face painter can work with only one child at a time (they average about 14 kids per hour), so it helps to have something else going on to keep up the momentum.
* Faces by Derrick Specializes in full-face designs using FDA-approved makeup. $125/first hour, $100/each additional hour, below 96th St; two-hour minimum above 96th St and in outer boroughs (917-859-7250, facesbyderrick.com)
* Kiki's Faces and Balloons This company employs professional artists as face painters and balloonists. $200/first hour, $75/each additional half hour (646-435-4739, kikisfacesandballoons.com)
* Sharon Enlow Teacher with ten years' experience painting faces. $150--$200/hour (917-620-7006, brooklynfacepainter.com)
MAGICIANS AND CLOWNS
Sleight of hand, horn-blowing clowns and balloon tricks can mesmerize children of all ages.
* John Born Sophisticated magician with world tours and a couple of books under his belt; offers a show or lessons for kids ages six to 12. $295 and up. (646-508-1170, johnborn.com)
* Kent Axell Magic, juggling, comedy and balloon sculpting for kids ages four to 12. $250 in Manhattan ($300 beyond) for 30--45 minutes (207-458-3115, kentaxellmagic.com)
* Mario the Magician Invented routines, handmade props and slapstick humor for children ages two to 12. $300 for 30--40 minutes anywhere in the five boroughs (917-605-0662, mariothemagician.com)
* Looney Louie Juggling, some magic, balloon twisting and music. $200/hour and up (212-533-7491, looneylouie.com)
* Toot-A-Loo Clown act that incorporates sight gags and humor. $200/hour and up (212-989-7555, laff-a-rama.com)
BOOK 'EM
You may have witnessed a particular children's-party performer firsthand whom you'd like to book for your child's extravaganza. Or you may have to commit to an act sight unseen.
Linda Kaye of Partymakers provided Time Out Kids with this checklist of points to ask about that will help you narrow down your options:
* Cost of performance
* Length of performance
* Description of act
* Age range that the program is tailored to (ask about this before you disclose the age of your child)
* Description of entertainer's costume, makeup, props, special effects, etc.
* Special needs of entertainer (Space required, setup time, equipment)
* Can the entertainer provide photos/rsum/brochure?
* How does the entertainer make the birthday child feel special?
* References
Best selling Time Out Offers