Family safety classes for parents, kids and the babysitter
Educate yourself and those around you with these useful (and speedy) training courses to help keep your family safe.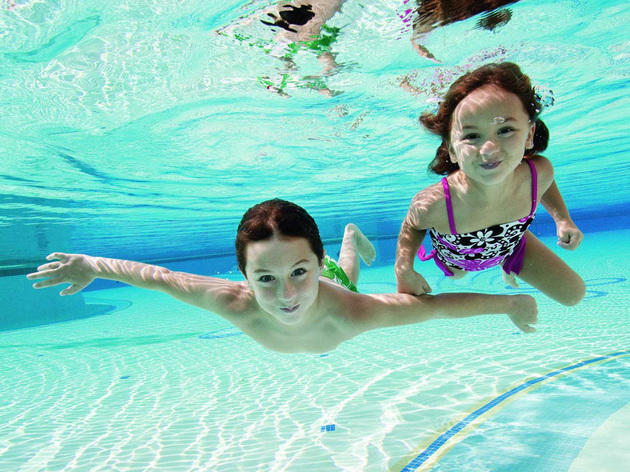 Whether your children are in your hands or under the watchful eye of a sitter or older sibling in NYC this season, making sure all parties are prepared with the knowledge to help a child in need is paramount. Take the opportunity to learn poolside safety and help your tot learn to swim, or try out a First Aid/CPR course to better prepare yourself for your children and those around you who may need assistance. See our quick list of courses to try this summer!
Adult Pediatric First Aid/CPR/AED
Taking a First Aid/CPR class seems like a no-brainer, but this particular class hosted by the American Red Cross offers training in the different skills needed to assist adults, children and infants in a time of need. The Adult and Pediatric First Aid/CPR/AED course teaches students to handle burns, cuts, scrapes, neck and back injuries, cardiac emergencies and more, and students who successfully complete the course will receive certification for Adult and Pediatric First Aid/CPR/AED for two years. Click the link above to learn more information on pricing and locations in New York.
Learn to Swim for Kids and Toddlers
Pool safety is huge for the whole family, especially during summer months, and now's the time to educate your kids! Located in the Bronx, Brooklyn, Manhattan, Queens and Staten Island, Learn To Swim programs by the New York City Department of Parks & Recreation are free of charge for those who sign up. Though spring registration is already booked, the Summer Learn to Swim session will be available in mid-June for sign-ups. Toddler Classes (1.5 to 5-years-old) will help young children learn back floating, front kicking and more. Child classes (6 to 17-years-old) help children learn important water safety tips, how to help others in an emergency and swimming technique development.
Babysitting Basics and Babysitter's Training
For babysitters and older siblings, these classes are your go-to for important leadership and safety skills. The American Red Cross's Babysitting Basics online course offers video instruction, games and tools for young sitters/ mother's helpers and watchful older siblings (ages 11+) looking after younger children. For a more hands-on approach, Babysitter's Training for kids ages 11-15 offers classroom instruction for basic first aid, developing a babysitting business, helping children behave and keeping themselves and others safe.
Have a happy (and safe) season!