Holiday shopping tips for families
Listen up for the very best holiday shopping tips for families! You're sure to save a bundle this season.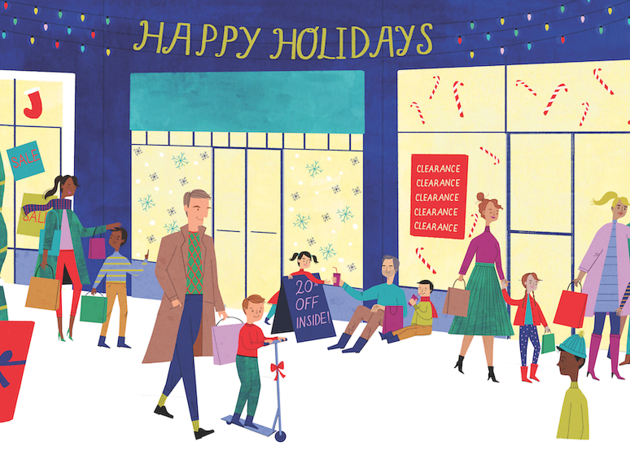 Penny pinchers, rejoice! Holiday shopping can feel less than festive when you're not sure where to find the sweetest deals. Here we answer all your burning questions! We caught up with Sophie Collé, a savvy children's stylist in New York City, to get the very best insider tips on how to save a buck when searching for cool duds and toys.
What are the best spots in town for grabbing kids' toys and apparel at an affordable price?
It sounds obvious, but I'd suggest visiting big-box [and off-price] retailers such as Walmart, Kmart and Marshalls first—everything is well stocked, and there are always good sales. Marshalls has great clearance racks (the store near Barclays Center stands out). For stocking stuffers and quirky toys, visit Two Kids and a Dog, Annie's Blue Ribbon General Store, Toy Tokyo, Dinosaur Hill and Flying Tiger. You'll find stylish kids' clothing to fit a strict budget at Target, Old Navy and H&M, with lots of items for less than $20.
If you have more than one child, and clothes need to be passed down—will spending more now save money in the end?
Spend a little more on functional outerwear like down coats and winter jackets at Gap or Lands' End. They have quality pieces that last, though those do come with a heftier price tag (sometimes in the $150 range). In the long run you'll save money because you won't need a replacement every year. If you invest in warmer, quality outerwear, you can get away with saving on core pieces (tops and bottoms) at stores like Target, Old Navy and Marshalls.
Is there a place that's better than the rest for getting great coupons?
Groupon is king for all things deals and coupons. Be sure to browse not only its [local] deals but also its coupon page for current deals and codes at the Children's Place, Amazon, Overstock, Target and more. Ebates is another user-friendly site that offers discount cards at most major retailers, or you might look to the Krazy Coupon Lady for other coupons to use on clothes, toys and beyond for your little ones. It goes without saying, but sign up for emails for your favorite shops to get regular coupons, too.
Any advice for parents who mainly shop online and have the constant worry of ordering the wrong size?
It's not always ideal to buy clothes online for a number of reasons; including that your kids don't have the opportunity to try things on before a purchase. But if you're the working parent of an opinionated wiggle worm, I totally get it. Trips back and forth to the dressing room can feel like pulling teeth. If you must shop online, I recommend playing it safe and buying a size bigger. If you're on the fence about whether or not something will fit your kid, purchase from a site that offers free shipping on returns. If you're willing to spend a little extra money upfront, free returns also mean that you can buy an item in different sizes and return items that don't fit without the pricey penalty of a return shipping fee.
What are your thoughts on Black Friday? Is it worth going shopping in-store?
Black Friday sparks some great in-store deals at big retailers like Macy's, but unless you're on the hunt for something like a massive flat screen TV, you should check online first (and on Cyber Monday, too). Most stores also offer online promotions; you can already find Black Friday deals on sites like DealNews and Walmart. During your average week, Wednesday mornings are generally considered the best time to save big in-store, plus you won't be fighting crowds.
What's on trend right now and for the holiday season?
The '70s are making a comeback in kids' fashion. Denim and mixed patterns such as stripes and floral sketches all in one top are running rampant. You can get these looks without spending too much at places like Zara and H&M. [Those places are] usually good with mirroring trends and keeping really affordable price points.
To learn more about Sophie Collé, visit her website at sophiecolle.com. For more fun spots to shop, check out our favorite kids' consignment and kids' shoe stores.
More fun things to do