Heads up! We're working hard to be accurate – but these are unusual times, so please always check before heading out.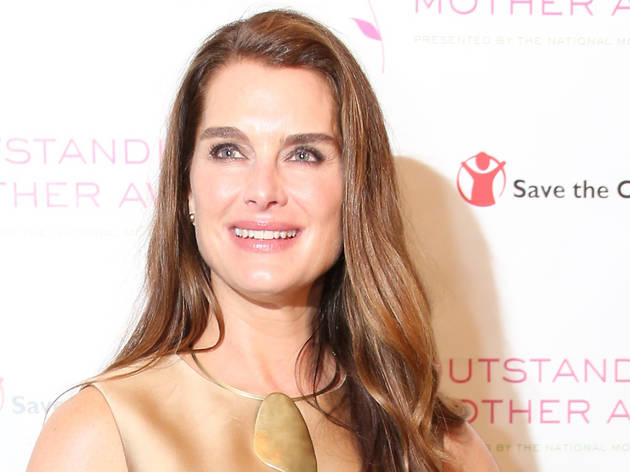 Interview with Outstanding Mother Award honoree Brooke Shields
Supermom Brooke Shields shares the lessons her kids have taught her and advice for juggling a career and a family.
With two children, frequent commercial appearances, notable acting roles and a New York Times bestseller under her belt, it's clear that Brooke Shields is a woman who's constantly on the go. Her prosperous career doesn't seem to be slowing down anytime soon, leaving us to wonder—how does she juggle it all?

The National Mother's Day Committee seems to be in awe of her abilities as well. The not-for-profit organization honored Shields yesterday at the 36th Annual Outstanding Mother Awards, celebrating women who balance successful careers with the daily demands and rewards of motherhood. Shields was named a 2014 Outstanding Mother honoree alongside leaders including CBS This Morning co-host, Norah O'Donnell, ULTA Beauty CEO, Mary Dillon and Vince fashion line CEO Jill Granoff. The funds raised from this year's event will be donated to Save the Children's U.S. programs, working to provide impoverished children with education, food and a nurturing environment.

Aside from penning books including the critically acclaimed memoir "Down Came the Rain," detailing her journey coping with postpartum depression following the birth of her daughter, the mother of two has also dabbled in projects including lending her voice to the audio book "The Wonderful Wizard of Oz," writing her own children's stories and advocating for women's issues.

We caught up with this supermom at the Outstanding Mother Awards ceremony at New York's Pierre Hotel to get some insight into her secrets to maintaining a work-life balance.


I'm sure there's never a dull moment while balancing your career with being a mom. Do you have any tips or advice for other parents trying to do the same?

Don't be afraid to ask for help and don't be too hard on yourself. If you think that everybody else has it figured out and you're the only one that's going crazy or yelling or feeling like you can't do it all…you're not alone.

What's the most important thing that your kids have taught you?

It's more important to ask questions, than to act like I have the answers.

What challenges do you face as a celebrity parent that other parents may not?

You know, the only reason why it seems like it's more challenging is because it's in the public eye to a certain extent and it's scrutinized, but that is such a minor percentage. Really the challenges are just about being a mom. All moms have them, and nobody's exempt.

Of your friends, family and other celebrities—is there someone whose parenting style you admire?

Other moms at the school that my kids go to. I'm amazed at the grace that they have. There are some of them that just handle it…not necessarily better, but they do manage to not get riled up by it. Those are the moms that I always look to and say to myself "Wow, you know what? I really need to take a deep breath and look at the big picture."

What's your absolute favorite place to go with the kids in New York City?

We love the Westside Highway, we take our dogs and the kids ride their bikes or skateboards by the water. It's just a nice thing for us all to be able to do together.