New fall television shows for children
Tune in---or set your family's DVR---for these new fall television shows.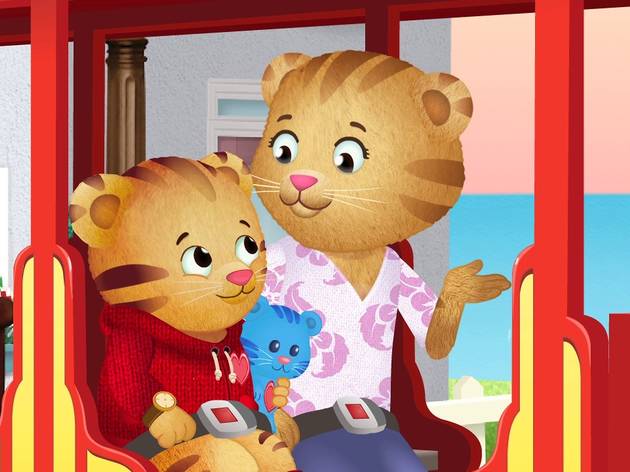 From a Mister Rogers' Neighborhood-inspired cartoon to a puppet-based family comedy, this year's crop of new fall television shows has something for everyone.
1. Daniel Tiger's Neighborhood
Inspired by Mister Rogers' Neighborhood (keep an eye out for the signature red trolley), this new animated series introduces preschoolers to Daniel Tiger, the son of the original show's Daniel Striped Tiger. Each week, little ones take a musical journey with Daniel and learn important lessons. PBS Kids; premieres Sept 3, check local listings for time. Ages 2 to 4.
2. DreamWorks Dragons: Riders of Berk
The sequel to 2010's How to Train Your Dragon doesn't hit the big-screen until 2014, but fans of the movie (and this year's live stage show) can tune in weekly to follow the adventures of Hiccup and his dragon Toothless. Expect to hear many of the same voice talents from the movie including actors Jay Baruchel and America Ferrera. Cartoon Network; premieres Sept 4 at 7:30pm. Ages 6 and up.
3. Broadway or Bust
Glee (and Glee Project) fans will flip for this three-part documentary about the lives of high school musical performers. Viewers at home will watch as sixty teens from around the country head to NYC to compete in the National High School Musical Theater Awards. PBS; premieres Sept 9 at 8pm. Ages 8 and up.
4.Tickety Toc
Meet Tommy and Tallulah, a pair of fun-loving twins who live inside a secret clock. The CGI-animated duo, along with their friends Pufferty, McGoggins and Hopparoo, go on a different adventure each week and teach preschoolers about teamwork, problem solving and more. Nick Jr.; premieres Sept 10 at 9am. Ages 2 to 5.

5. See Dad Run
Scott Baio (yes, of Charles in Charge fame) stars and produces a Nick at Nite sitcom about a famous actor who leaves his job as America's favorite TV dad to become a real stay-at-home dad. Nickelodeon; premieres Oct 6, check local listings for time. Ages 9 and up.

6. Crash & Bernstein
Newcomer Cole Jensen is Wyatt, a young boy who lives with his parents and three sisters and desperately wants a brother. After a trip to Build-A-Bestie for his birthday, Wyatt's dream comes true—his puppet Crash (brought to life by Emmy Award-nominated puppet master Tim Lagasse) turns into the brother he never had. Disney XD; premieres Oct 8 at 8:30pm. Ages 6 to 11.