Peppa Pig Live is touring this fall!
Little miss Peppa Pig has a live life-sized puppet show in the Northeast this fall—sounds like it's time to snag your tickets!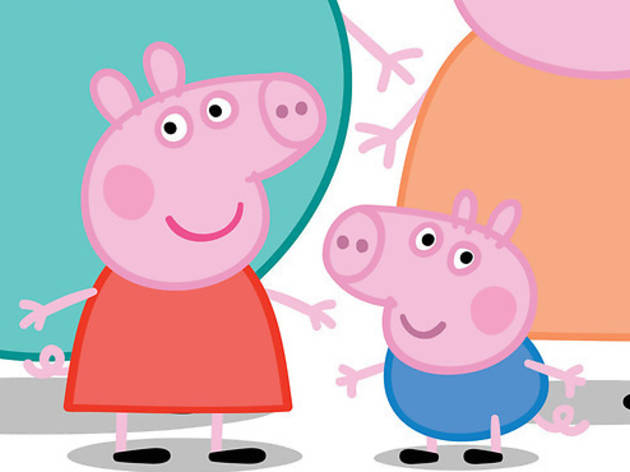 Hit pause on the 50 best kids' movies to watch as a family...your favorite pink piggy Peppa Pig is hitting the road for her first-ever U.S. theatrical tour this November! Peppa Pig's Big Splash will feature Peppa, George and all of their buddies in an adorable adventure—there will be plenty of singing, dancing, games and...well, delightfully muddy puddles to go around. The show offers life-size puppets manned by onstage actors, plus costumed characters and lively anthropomorphic sets. Be sure to check out other great theater for kids as well!
Though the tour officially starts November 21, it travels relatively close to our beloved city on the dates below. Grab tickets for $24.50 ($36.95 with fees) and up, and check out peppapigliveus.com to see the full roster of tour dates!
December 2, 2015 6pm, Pine Belt Arena, Toms River, NJ
December 3, 2015 12pm, Count Basie Theatre, Red Bank, NJ
December 3, 2015 3pm, Count Basie Theatre, Red Bank, NJ
December 3, 2015 6pm, Count Basie Theatre, Red Bank, NJ
December 4, 2015 6pm, Santander Arena, Reading, PA
December 5, 2015 5pm, Shea's Performing Arts Center, Buffalo, NY
December 6, 2015 5pm, Strand-Capitol Performing Arts Center, York, PA
December 8, 2015 6pm, Hanover Theater, Worcester, MA
December 9, 2015 3pm, Bergen Performing Arts Center, Engelwood, NJ
December 9, 2015 6pm, Bergen Performing Arts Center, Engelwood, NJ
December 10, 2015 6pm, Sherman Theatre, Stroudsburg, PA
December 12, 2015 2pm, Keswick Theatre, Glenside, PA
December 12, 2015 5pm Keswick Theater, Glenside, PA
December 13, 2015 2pm, Theatre at Westbury, Westbury, NY
December 13, 2015 5pm, Theatre at Westbury, Westbury, NY
December 15, 2015 5:30pm, Theatre at Westbury, Westbury, NY
December 17, 2015 4:30pm, Palace Theatre, Albany, NY
December 19, 2015 1pm, Toyota Presents the Oakdale Theatre, Wallingford, CT
December 19, 2015 5pm, Toyota Presents the Oakdale Theatre, Wallingford, CT