Things to do on Father's Day with kids
Find the best things to do on Father's Day with the kids this year! Our list can help.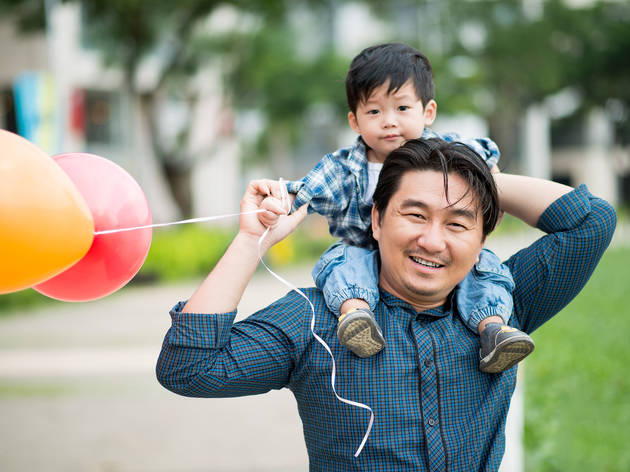 Things to do on Father's Day
Throughout the summer, the Central Park Conservancy presents eco-friendly performances for families every Sunday at noon. Attend a Father's Day dance party with Aly Sunshine and Funkytown Playground (June 19), bop along with the musical storytelling of Diane Edgecomb (July 10) and Catskill Puppet Theater (Aug 14) and participate in scientific experiments with Mad Science (Sep 4). Visit centralparknyc.org for the full list of activities and performances. All ages.
Read more
Set in some of Brooklyn's coolest playgrounds, this popular community festival celebrates all things puppet! Spin art, games and arts and crafts for $2–4, $5 tote bag decorating and $4 bounce-house access are just a few of the cool activities on offer. There'll even be a few costumed Star Wars characters in attendance, plus Tuffy Tiger, a bright orange puppet that helps pre-K–through–second-grade students discover the world around them through song and dance. All ages.
Read more
Active families won't want to miss this massive free annual event on Saturday, June 18 at the Central Park Bandshell. Previous years have included rock climbing, logrolling, kayaking, wheelchair basketball, stand-up paddleboarding and classes on fishing, fitness and more, so rest assured, there will be something for every member of the family. Visit nycgovparks.org to find out more about this year's activities, then lace up those sneakers and go play. Located at the Central Park Bandshell. Ages 4 and up.
Read more
Raise your heart rate and your spirits with some good old-fashioned outdoor recreation at Brooklyn Bridge Park's Family Field Days. Happening once a month from June to August, each event offers a different set of activities tailored to the location. These athletic events have something for every member of your team, including Hula-Hoop races, volleyball clinics, soccer drills and bocce. Family Field Days are free, and all necessary equipment is provided—just bring some good sneakers, a nutritious snack and a whole lot of energy! Between Adams St and Atlantic Ave. All ages.
Read more
Your favorite show has been extended due to popular demand! This stunning 60-minute performance adapts four of Eric Carle's most timeless tales: The Artist Who Painted a Blue Horse, Mister Seahorse, The Very Lonely Firefly, and The Very Hungry Caterpillar. Between its collection of 75 lovable puppets manned by skilled puppeteers and its brightly-painted sets featuring beautiful scenes from the classic stories, this show will undoubtedly delight audiences of all ages. READER BONUS: TICKETS $29.75 with code TRHCTK at TelechargeOffers.com. All ages.
Buy tickets
Read more
For this aptly named program, Hudson River Park runs beginner lessons in multiple locations throughout the summer. Kids can learn the rod-and-reel basics, and get familiar with the types of fish that swim the local water—the program has an emphasis on river ecology and education. Ages 5 and up.
Read more
Fill your summer Sundays with jazz, world and Latin jams at this lakeside performance series featuring world-class acts like Iroko La Banda (June 19), Orlando Marin (July 24), Joaquin Pozo (July 31) and Garifuna International (Aug 14). We recommend bringing a blanket and picnic lunch for the family to enjoy—when you're not busy dancing, that is. Visit centralparknyc.org the see the full schedule. All ages.
Read more
Catch family concerts, storytelling, art activities and more on Sundays at Pier 6 throughout the summer. Each week features performances from kid-friendly bands, dance troupes and puppet companies, plus an outdoor pop-up reading room from the Uni Project and art projects from Private Picassos. Pier Kids kicks off in June with Suzi Shelton (6/19) and Wildlife Theater (6/26). July features A Royal Shindig and Brooklyn Beanstalk (7/3), Arm-of-the-Sea Theater (7/10), Hot Peas 'N Butter (7/17), You Must Be This Tall (7/24) and Meet the Animals (7/31). The series closes with Shira & Friends (8/7). All ages.
Read more
Beneath the shadow of two retired NASA rockets, kids can tee off at this real outdoor course that mimics the path of a complete space flight. As they play the nine holes, little ones must take careful aim to avoid gravity wells, wormholes, warped space and asteroids; they'll also learn about the laws of motion that move spaceships through the air. The final hole, called "Splash Down," has players putt at a target on a rotating model Earth. Ages 6 and up.
Read more