Tickets for the Intrepid's Fourth of July party go on sale June 12
Your family can watch the Macy's Fourth of July fireworks show from the deck of the Intrepid Sea, Air & Space Museum.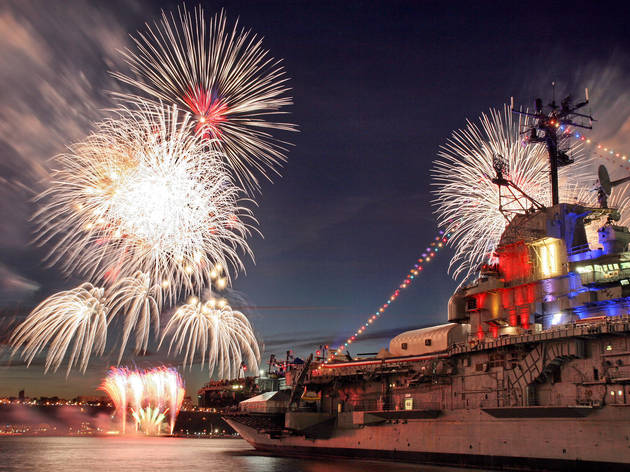 Finding the perfect spot to view the Macy's Fourth of July fireworks has always been something of an enigma for NYC families—skyscrapers block the view if you're far from the river, and valuable waterfront real estate fills up hours before the event. Some riverside venues are throwing viewing parties that guarantee a perfect view of the famous sparklers, and what better spot to watch the show than from an actual boat on the Hudson River? And if that boat happens to house one of our favorite museums in the city, so much the better.

The Intrepid Sea, Air & Space Museum is selling tickets to five different viewing locations aboard (or beside) the aircraft carrier: the flight deck, the starboard elevator, the starboard balcony, the fantail, and Pier 86. Tickets to the flight deck viewing also include a guided tour of the Intrepid and its Concorde airplane and Growler submarine exhibits; those watching from the pier are also invited to congregate underneath the Concorde. All ticketholders will be served food and beverages and will have exclusive access to the Intrepid's Hangar Deck starting at 7pm; they'll also view the fireworks show as they listen to a simulcast of the Macy's Fourth of July Musical Score.

Ticket prices are steep, though—they range from $175–$225—so think of this as a real special occasion for your family. Interested in attending? Tickets go on sale on the Intrepid's website at 10am on Wednesday, June 12, and we have a feeling they'll sell out fast—even with the high price point. (Note: Children under the age of three are free of charge if they sit on an adult's lap.)
The Intrepid Sea, Air & Space Museum is located at Pier 86 (46th St at Twelfth Ave). Doors open at 7pm; the fireworks show begins at approximately 9:20pm. For more information and to purchase tickets, visit intrepidmuseum.org.