If you grew up with the BBC storytelling series 'Jackanory', you'll know what we mean when we say the lockdown has had a pleasingly 'Jackanory'-ish vibe. Whether it's Andy Serkis thumbing through 'The Hobbit' or Daniel Radcliffe reading 'Harry Potter and the Philosopher's Stone', celebs have been queuing up to read us soothing childhood stories and we can't get enough of it. But it turns out the best was still to come: a mega A-list Roald Dahl read-along on YouTube.

Taika Waititi has corralled a few of Tinseltown's finest to join him in an epic celebrity storytelling session of Dahl's 'James and the Giant Peach'. And by 'a few', we mean 'pretty much all of them'. Chipping in are Meryl Streep, Benedict Cumberbatch, Cate Blanchett, Cynthia Erivo, Beanie Feldstein, Josh Gad, Mindy Kaling, Eddie Redmayne, Olivia Wilde, Ruth Wilson and 'Jojo Rabbit' star Archie Yates. Oh, and Sarah Paulson, Chris and Liam Hemsworth – deep breath – Ryan Reynolds, Kumail Nanjiani, Lupita Nyong'o and a fair few others.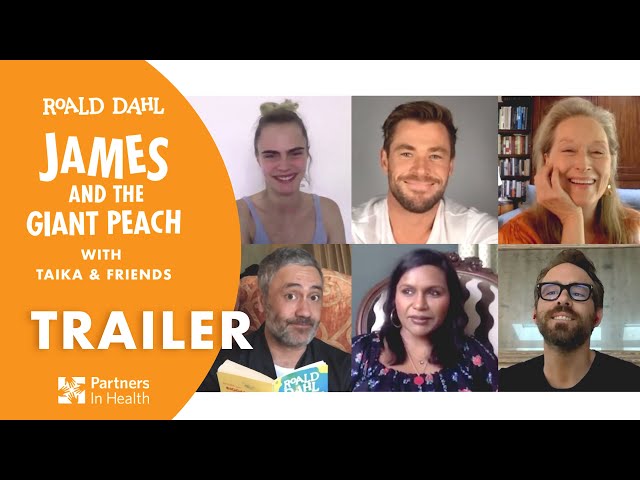 The readathon kicked off yesterday (Monday May 18) on the Roald Dahl YouTube channel with the first two episodes, and there will be eight more instalments, starting tomorrow (Wednesday May 20), followed by Friday and then Monday and then Wednesday and so forth – all released at 6pm BST, or 1pm EST/10am PST, if you're in the US. If you miss one, don't fret: the episodes will be available online.
'This wacky, wonderful tale is about resilience in children, triumph over adversity and dealing with a sense of isolation which couldn't be more relevant today,' says Waititi. The Kiwi filmmaker will be hosting and his epic cast will be chipping in along the way with silly voices, mishaps and a shared love of Dahl's beloved adventure yarn.

It all throws up some intriguing questions: are Hollywood stars more adept at using video conferencing than the rest of us? Who is the better Hemsworth? And will Streep be Oscar-nominated for this?

The Roald Dahl read-along is to raise money for Partners in Health, a charity providing healthcare for people in the most vulnerable parts of the world. You can donate here.
The best films to stream if you're self-isolating with kids.