German heiress Anna Delvey was a New York socialite, entrepreneur and ridiculously loaded high-flyer who flaunted her wealth and lifestyle on Insta and was the talk of Manhattan's young, monied scenesters. Except, she wasn't really any of those things. As a new Netflix drama from the makers of Bridgerton will chart, Anna Delvey was a Balenciaga Bernie Madoff who played rich investors to the tune of millions of dollars to fund a Gatsby-esque lifestyle and her dream of an exclusive art space.
Netflix's juicy new drama Inventing Anna lays bear the whole episode in all its mad, gossipy, corrupt detail, taking in Anna herself as well as those in her inner circle, the legal teams fighting over her fate, her boyfriends and the journalist who broke her story. It's about to land on the streamer and here's everything you need to know about the show.
Who is Anna Delvey?
Ponzi schemer or American dreamer? That's the question that Shonda 'Bridgerton' Rhimes' latest drama seeks to answer about disgraced New York socialite Anna Delvey.
In the mid 2010s, the twentysomething Delvey became ubiquitous in Manhattan high society – an effortlessly chic figure swanning into fashion shows, hobnobbing with hedge fund types and tech bros, and having a flawless radar for where to be seen and where not to. She spoke with a geographically non-specific European accent that people assumed was passed down from her dad – a mega-wealthy German tycoon. She was a 'Sound of Music fräulein' with Wolf of Wall Street tastes.
Delvey knew all the right people and used her connections to create an exclusive art space and private members' club called the Anna Delvey Foundation, or 'ADF'. People queued up to give her money, because while she couldn't boast the kind of concrete professional track record that would stand the scrutiny of a two-minute browse of LinkedIn, she had vision, iron self-confidence and the chops to pull it all off. She was, she liked to tell people, an entrepreneur and not just a socialite or an heiress.
Except, she wasn't any of those things. Her name wasn't even Delvey, it was Sorokin, and she was Russian not German. In 2017 a grand jury indicted her on charges of grand larceny and theft of services totalling $275,000.

A year later, New York Magazine journalist Jessica Pressle published an exposé on her: 'How Anna (Sorokin) Delvey Tricked New York's Party People'. It revealed the full story of how she'd been leaching off investors to fund a luxe lifestyle of SoHo hotels, restaurant launches, first-class airfares, and Balenciaga and Gucci clobber. The ADF plan was real. The rest of it? Not so much.
What is Inventing Anna about?
All this, of course, is golden terrain for Shonda Rhimes's Shondaland production house to bring to life. Inventing Anna introduces Delvey/Sorokin (The Assistant's Julia Garner) on remand in New York's notorious Rikers Island and awaiting trial. There, journalist Vivian (Veep's Anna Chlumsky) tracks her down to pitch an idea for a story that would share her real story with the world.
That story unfolds across ten episodes of Inventing Anna, which dart back and forth in time to show her rise to prominence and fall from grace. It is a semi-fictionalised account, as the opening credits make clear: 'This whole story is completely true. Except for all the parts that are totally made up.'
Vivian gradually gets the dirt but Anna makes her sweat for it, delighting in having someone to twist around her finger again and playing Hannibal Lector-style power games with her Clarice-alike quarry. Expect the series to dig deep and fascinatingly into that unusual power balance between writer and subject.
Inventing Anna also gives us a boyfriend character, Chase Sikorski (Saamer Usmani), who is on the hunt for seed money to fund a mad-sounding app, Wake, which captures data around dreams. Why is Anna's scheme a crime and not Chase's? That's another question for a show that investigates what the American dream looks like now, and where the line between over-promising and active criminality is. As one character points out: '[Anna is] everything that's wrong with America right now, and she's not even American.' But maybe, suggests Inventing Anna, the problem runs deeper.
For fans of Shondaland's Grey's Anatomy, there's plenty of legal shenanigans to get stuck into as the assistant district attorney's case against Delvey is built and her one-person defence team (Arian Moayed) attempts to get her off the hook. For Bridgerton stans, the parties, romances and society gossip are all present and correct – albeit with black-rimmed Céline specs and Saint Laurent blouses instead of silk ball gowns and powdered wigs.
Some of the names have been changed: New York Magazine becomes 'Manhattan Magazine', while reporter Jessica Pressle is Vivian here. Anna Delvey's real (fake) name is used and her closest confidante, concierge and aspiring filmmaker Neff Davis (Alexis Floyd), is also depicted using her real name.
When is Inventing Anna on Netflix?
The ten-episode series will launch on the streaming platform on February 11 worldwide.
Is there a trailer for Inventing Anna?
There is, and you can watch it below.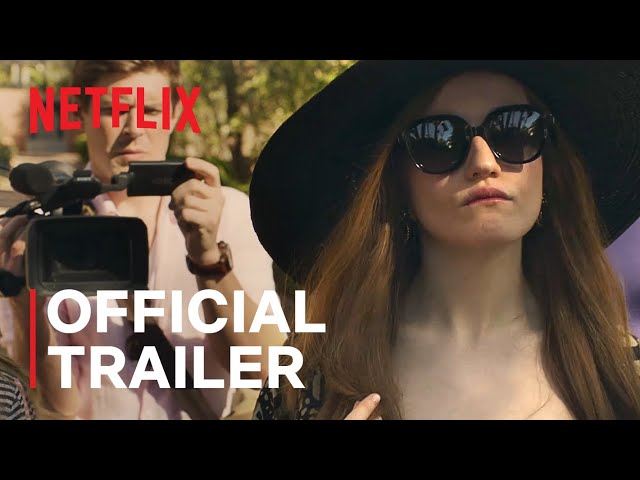 Who is starring in Inventing Anna?
Ozark and The Assistant actress Julia Garner (who replaced the show's original first choice, Madeline Brewer) plays Delvey, while Veep's Anna Chlumsky plays the journo who broke the story. Arian Moayed, best known as Succession's private equity bro Stewy Hosseini, is Delvey's defence attorney, facing off against ruthless assistant DA Catherine McCaw (Westworld's Rebecca Henderson).
Orange Is the New Black's Laverne Cox plays another real-life character, celebrity fitness trainer Kacy Duke, while Scandal's Katie Lowes stars as ex-Vanity Fair picture researcher and supposed Delvey BFF, Rachel DeLoache Williams.

Alexis Floyd is Neff, another friend and the concierge at the Manhattan hotel, 11 Howard, where Delvey stays. Another key character, albeit a fictionalised one, is fashion maven Val, played by James Cusati-Moyer. The actor is a one-time Tony nominee for Slave Play on Broadway.
Where is Inventing Anna set?
Delvey's story played out mostly in Manhattan and SoHo locations like 11 Howard and Sadelle's feature strongly in the story, even if they weren't used for filming. But the show takes in further flung haunts like Montauk, Ibiza, Paris, Marrakesh, and LA's Chateau Marmont. Expect plenty of lifestyle porn on display.
Will there be a second season of Inventing Anna?
No, the story ends here – although never say never with a woman who has reinvented herself before and tends not to take no for an answer. If you're looking to re-up on the story, British play Anna X riffs on Delvey's story without ever name-checking her directly for legal reasons.
As a spiky postscript to Inventing Anna's making-of story, the New York attorney general used the so-called 'Son of Sam' law to force Anna Delvey/Sorokin to return the royalties and consultancy fee paid to her by Netflix. A total of $70,000 was instead paid to her victims. The law was first implemented to prevent serial killer David Berkowitz profiting from his crimes.
Looking for more Shondaland to binge? Here's everything we know about Bridgerton season 2 so far.
Another fraud thriller has landed on Netflix. Here's why you should add The Tindler Swindler to your watch list asap.