Virtual curtain up! 'Love Never Dies', the sequel to 'The Phantom of the Opera', will be the fourth musical to be broadcast free on The Shows Must Go On!, the new YouTube channel from Universal and theatre titan Andrew Lloyd Webber.
After the show received less-than-positive reviews in its initial London run in 2010, a revised version of 'Love Never Dies' was restaged in Australia the next year with new design and direction. It's the 2011 Melbourne production that's being made available to stream for free on YouTube today, Friday April 24, from 7pm BST (2pm EDT, 5am AEDT). Viewers will have 48 hours to watch the show.
'Love Never Dies': what to expect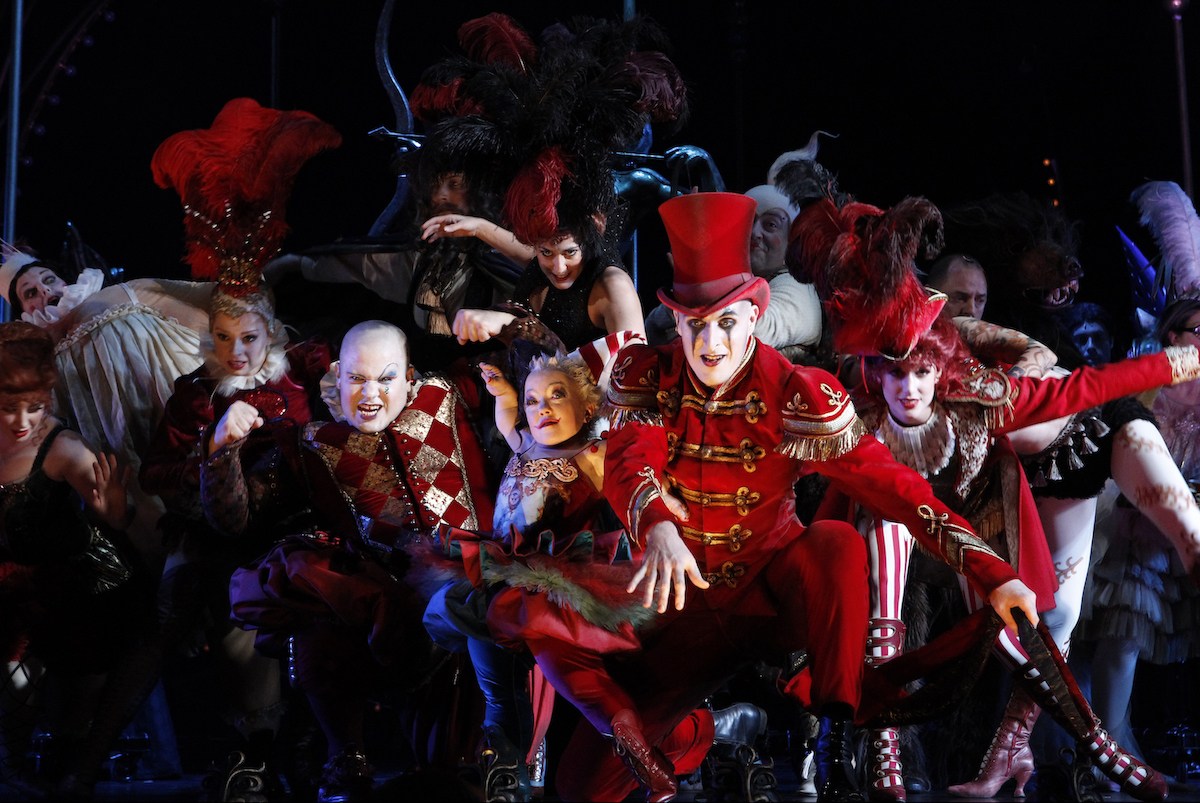 Love Never Dies // Photograph: Courtesy Jeff Busby
After last week's screening of 'The Phantom of the Opera', which was watched by more than 11 million people, you can now catch Lloyd Webber's 2010 sequel: 'Love Never Dies'. The lyrics are by Glenn Slater, and the book is by a committee comprising Lloyd Webber, Slater, Ben Elton and Frederick Forsyth.
'Love Never Dies' picks up ten years after 'Phantom', which was set in the 1880s, but somehow lands in 1907 Coney Island, where the Phantom reunites with his stalking victim, Christine Daaé, and other characters from the first show. The whole thing plays like misguided 'Phantom' fanfic, and after negative reviews in London the musical never came to Broadway as had been planned. Happily, an Australian production starring Ben Lewis and Anna O'Byrne was filmed in 2011, providing a record of this fascinating misfire.
Of special interest is 'The Beauty Underneath', a sequence in which the Phantom yells a rock song as he leads a boy (his son with Christine, we soon learn) through an insane hall of mirrors populated by caged freaks, pinhead children, writhing women, a skeleton monster, a mermaid and a guy on a penny-farthing bicycle. This number must be seen by everyone.
'Love Never Dies' will be on YouTube from Friday April 24 at 7pm BST (2pm EDT, 4am AEDT). Watch it here for 48 hours afterwards:
Here's full information on streaming Andrew Lloyd Webber musicals online.
We've also ranked all of Andrew Lloyd Webber's musicals from worst to best.
And check out our guides to the best shows to watch at home and the best theatre to watch online today.