Coney Island, NY guide
Experience the joys of Coney Island—NY's quintessential summer destination—and plan a trip to the whimsical attraction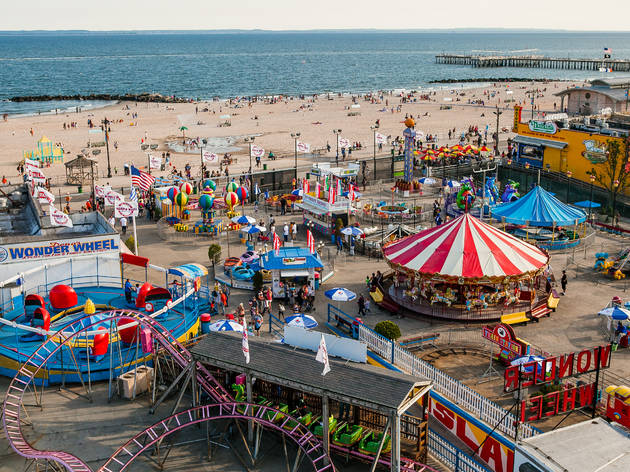 The city's playground, Coney Island, NY, has been the center of seaside amusement since before the turn of the 20th century and over the years, it has been romanticized in film and music—beloved for its exciting rides and wacky attractions for children and the nostalgic memories it brings to adults. It saw years of neglect, sure, but the arrival of the Luna Park amusement park restored the area's lively nature. Today, hundreds of thousands of people visit what has become one of the top New York beaches offering a range of fun things to do in summer. From movie nights to concerts and the wild Mermaid Parade, there's truly an activity for everyone. The summer destination is one of the best day trips from NYC, so when you go, hit must-visit stops like Nathan's Famous hot dog stand for a bite, attend a crazy Coney Island Cyclone game and check out New York City's only aquarium.
RECOMMENDED: Full guide to things to do outside in NYC
Where is Coney Island?
Coney Island is a peninsular neighborhood, beach and one of New York's top attractions, which is located on the southwestern part of Brooklyn. You plug in this address (1208 Surf Avenue) on your Google Maps app or whichever GPS you're using.
When does Coney Island open for the 2021 season?
The best time to go to Coney Island is between Easter and Halloween. Luna Park officially opened for the season on April 9 and offered free admission that day. The rides operate daily (11am to 7pm, but check the calendar for special operating hours) through Labor Day. The beach and the boardwalk, however, are open year-round, which also includes attractions such as Nathan's Hot Dogs and the New York Aquarium.
How do I get to Coney Island?
Traveling to Coney Island—especially from midtown Manhattan—is very simple. All you have to do is Take the D, Q, N, or F train to Stillwell Avenue.
Things to do at Coney Island, NY
Archive Coney Island, NY content