As we all look to travel better post-pandemic, trains could well be the future of European travel. And in Vilnius, the capital of Lithuania, they seem to think so too. Pictured above are the epic new plans to renovate its main train station – a colossal, hypermodern development set to totally transform the city's Station District, which has just been named one of the world's coolest neighbourhoods.
Led by UK architects Zaha Hadid, the Green Connect project includes a plan to renovate both Vilnius station and its adjacent plaza. The centrepiece of the project is a spectacular 46-metre-wide, 150-metre-long bridge.
Happily, there's a big sustainability bent: Zaha Hadid's designs include solar panels, cycle lanes, a pedestrian walkway and a properly sourced curved timber roof. Not only will the bridge offer a new connection between the neighbourhoods on either side of the train tracks, it'll also act as an airy, bright concourse.
The square, meanwhile, will be upgraded with a new bus station and, as the name 'Green Connect' suggests, tons of trees, grass and assorted shrubbery. With such an ambitious plan, it's easy to see why Zaha Hadid won the competition to do up the place.
However, some might be disappointed that Vilnius station is getting a makeover at all. The current building – a grand, cavernous work built at the height of socialist realism – has a certain Soviet charm. Equally charming is the giant effigy of Tony Soprano in Peronas, the station bar. While Zaha Hadid's designs show that most of the current façade should stay intact, it's unclear whether big 'Tone will remain or not.
Right now, the Station District is the best place to go for arts and culture in Vilnius. It brims with underground music venues and outdoor art galleries, and also has its fair share of edgy cafés and restaurants. Let's hope the district's rough-around-the-edges charm survives the flashy station upgrade.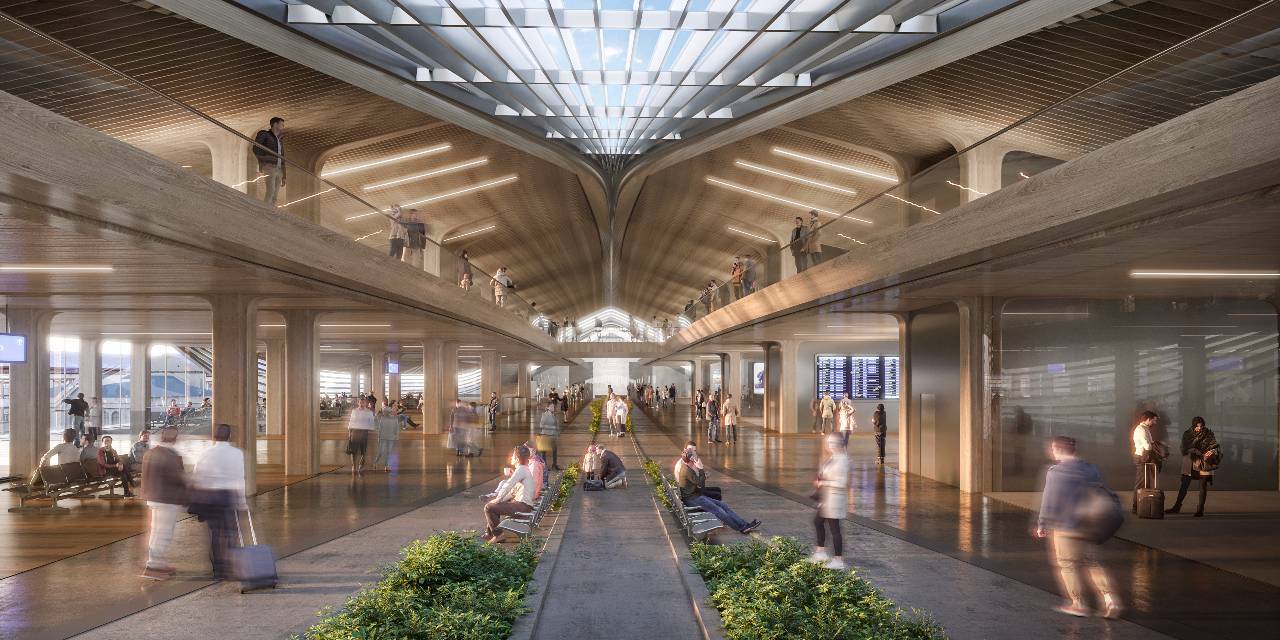 Vilnius station isn't the only Baltic rail project getting a bit of Zaha Hadid magic, either. The architecture firm is also designing Ülemiste station in Tallinn, Estonia, which is part of the new Rail Baltica network. Stretching from Helsinki to Warsaw, via Estonia, Latvia and Lithuania, the Rail Baltica project aims to improve connections throughout central and northern Europe.
But in the meantime, if you're a huge fan of Vilnius station's current, unpolished look? Better get on over there while it's still so beautifully bare. (And pay your respects to big 'Tone while you're at it.)
More futuristic plans:
How Paris plans to become Europe's greenest city by 2030
5 genius urban projects helping us think long-term
A huge new city is being built in the US desert – but is it just greenwashing?