Baseera Khan, "snake skin"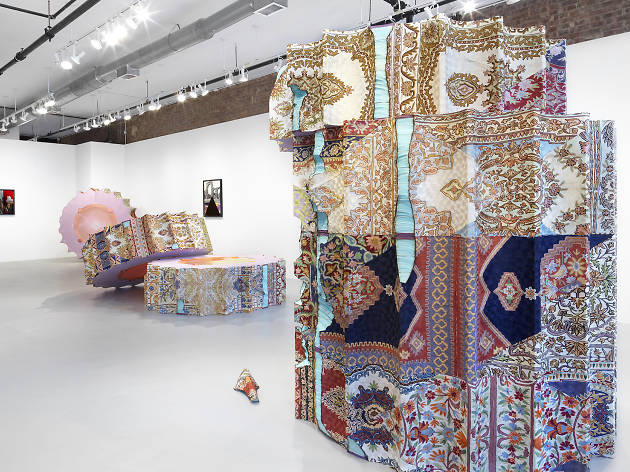 Time Out says
Dominating Baseera Khan's exhibition, a partially toppled column of Ozymandian proportions towers over the viewer's head, its exterior incongruously upholstered in a patchwork of silk carpets embroidered with floral and geometric patterns. They come from Kashmir, a Muslim-majority region placed under lockdown by the Indian army last summer, and by giving the piece an Orientalist veneer, Khan evokes the subcontinent's history of British occupation and the bitter irony of having one form of colonialism replaced by another, more local variety.
Three chipped drums from the truncated monument lie nearby, revealing cross sections clad in foam sheets of turquoise and pink surrounding an orange resin core. They resemble chunky mandalas or abandoned cogs from some enormous machine. Without being specific, these elements suggest fallen empires, ethnic tensions, adaptive camouflage, trippy spirituality and a system that has broken down—all appropriate markers of our current moment in history.
Around this sculptural ensemble, Khan has hung collages that feature photographs overlaid with carpeting, colored paper and pieces of cut Plexiglas. The photos themselves depict Islamic ruins, and in one instance, a vintage East German magazine affixed with Post-it Notes bearing the artist's comments on its cover: a cartoon of the notorious anti-Semitic character, Jew Süss. A soundtrack of Khan singing the Smiths' "Please, Please, Please, Let Me Get What I Want" fills the room, adding a plangent touch to an idiosyncratic, cross-cultural installation redolent of failed utopias and unfulfilled aspirations.
Details