The Time Out New York Shop
The best experiences money can buy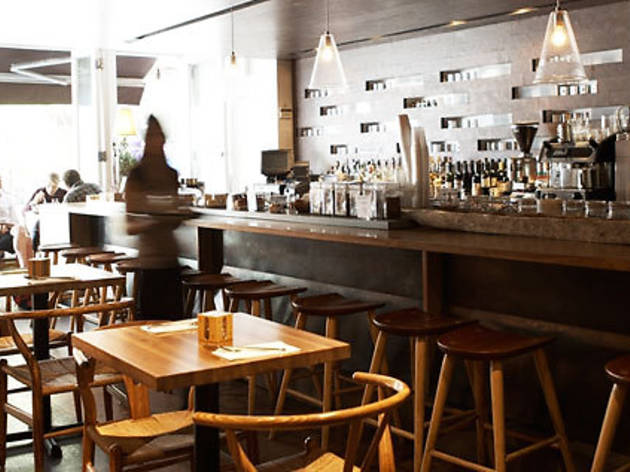 Mixology: Learn to Create Tea-Infused Cocktails Class
Combine tea time and happy hour at this cocktail-making class
Book Now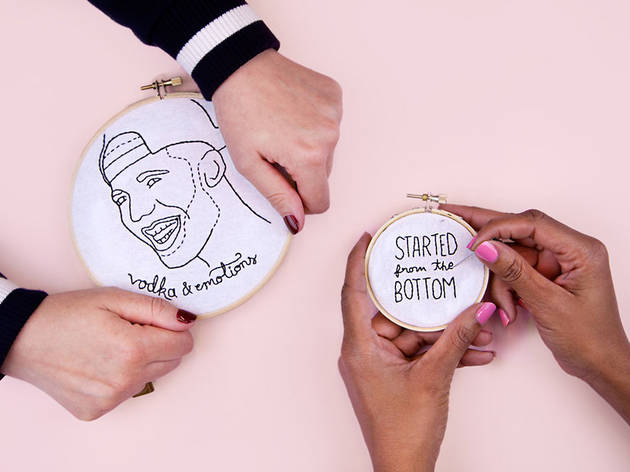 Embroidery Wall Art Class
This workshop brings your grandma's needlepoint patterns to the 21st century
Book Now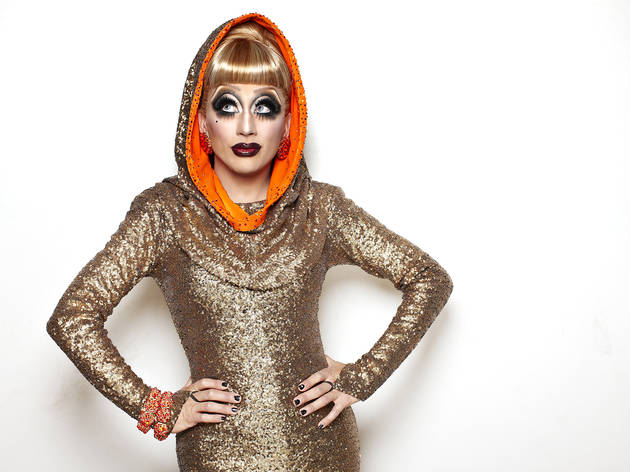 Bianca Del Rio
The former Drag Race winner steps back into the limelight to present this season's top queens
Buy Tickets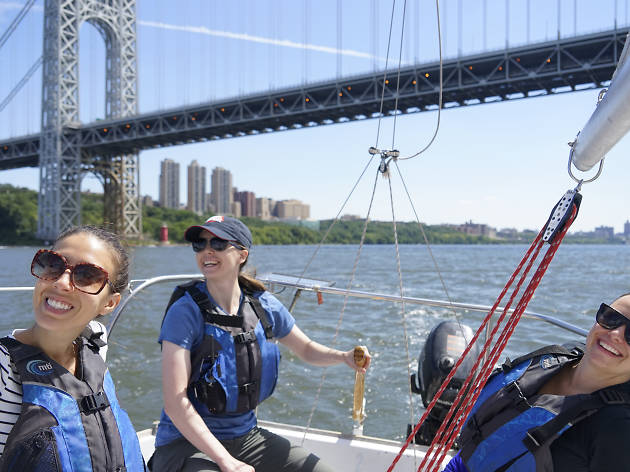 Intro to Sailing Class
Get experience hoisting the sails and steering the ship
Book Now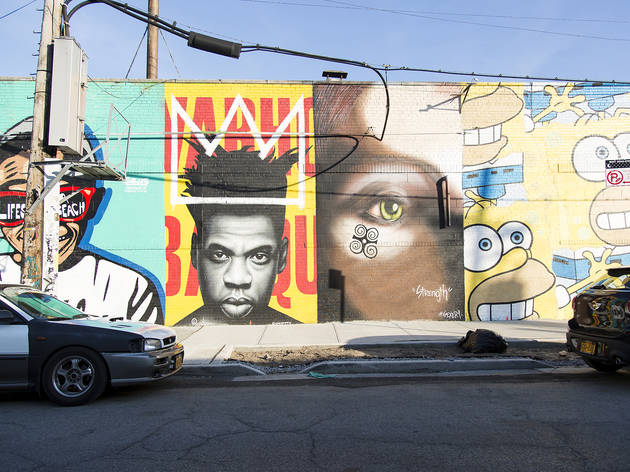 Street Art Tour of Bushwick
Peep some of Brooklyn's most compelling graffiti on this walking tour
Book now
What's happening at Time Out Market New York ?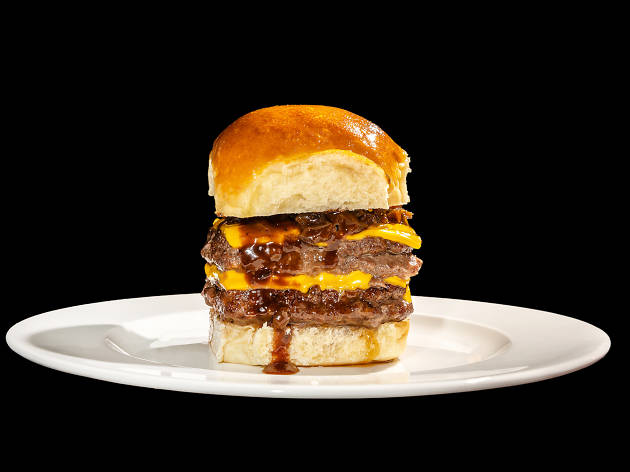 Time Out Market New York launches $12 lunch deal with Bessou, Alta Calidad and more
Dumbo isn't the easiest place to find affordable lunch options, what with all the tourist traps taking advantage of the crowds. With that in mind, we've launched our own lunch specials at Time Out Market New York. It's one of the best deals in the neighborhood for both those that are new to the area and those who've loved it for a long time. From Monday through Friday, 11am until 3pm, participating vendors will offer a signature dish with a complimentary soft drink (and some with other bonuses), for $12. Here's what we're offering: Bessou What's the deal? Japanese chickpea curry rice bowl with a side of chicken karaage.  Mr. Taka Ramen What's the deal?  Spicy Tantan Men (soupless ramen) with wavy, flat noodles, ground pork, scallions, leeks sesame and spicy oil. The dish also comes with a house salad or soba noodles as a side.   Photograph: Courtesy Time Out Market New York Alta Calidad Taqueria What's the deal? A quesadilla-roti (corn or flour) with chips and salsa. View this post on Instagram A post shared by Alta Calidad Taqueria (@actqloves) on Dec 3, 2019 at 2:13pm PST   Pat LaFrieda  What's the deal? Signature slider and fries.  Clinton St. Baking Company What's the deal? A "B.E.L.T": Double smoked bacon, free range eggs, lettuce, tomato and mayo, on sourdough toast.     Avocaderia  What's the deal? Rotating salads and toasts that will change daily. Mondays will bring a seasonal salad, Tuesdays it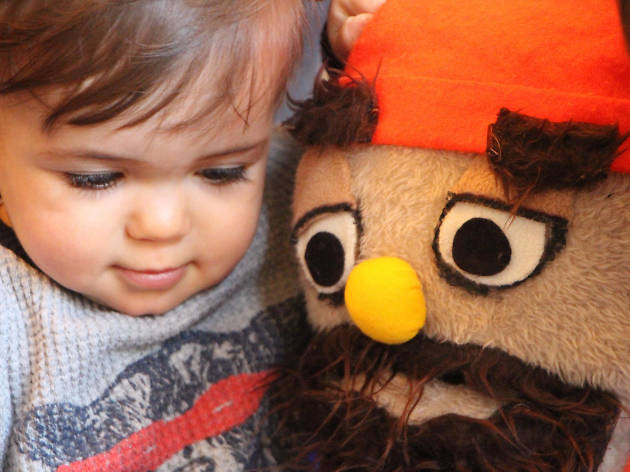 Puppetsburg at Time Out Market New York
Start your Sunday mornings at Time Out Market New York! Not only will you have a chance to indulge in delicious brunch dishes (hello Clinton St. Baking Co.) but you can keep little ones preoccupied while you munch. Join the Puppetsburg crew on our fifth floor stage as the marionette entertainment kickstarts the day on a high note. With a new theme each week—such as "Farm to Table with Old McDonald," "The BEYONCE Show" and "Clementine Goes to Burning Man!"—we have a feeling you'll be as equally entertained as the kiddos. Bonus? Your youngsters will receive complimentary juice! Ages 6 and under.
Buy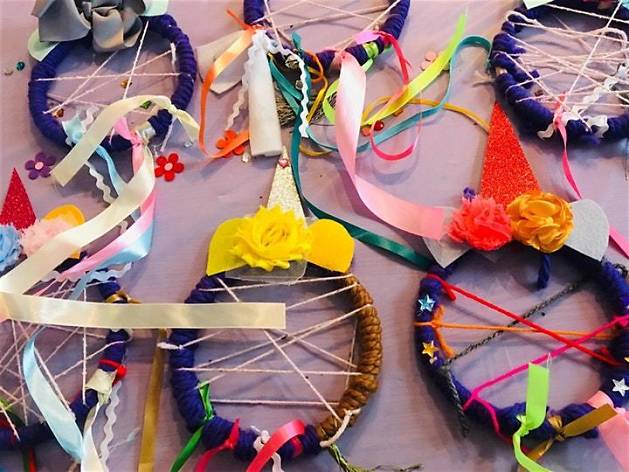 Unicorn Dream Catchers Workshop
Gather up your little ones for this quick workshop that'll teach you how to craft your own colorful unicorn dream catcher. Using embroidery hoops, ribbon, yarn, felt and glitter unicorn horns, you and your kids will create a whimsical piece of art you can hang at home to inspire good dreams. Plus, it's quality time to spend with each other by creating together! Who wouldn't want that? The workshop is for kids three-and-up and parent participation is required. Materials are included in the price. 
Buy
Discover great deals
Time Out 'Table for Two': The Manhattan Neighborhood Box
Save 50% off food at eight need-to-know restaurants across Manhattan
Buy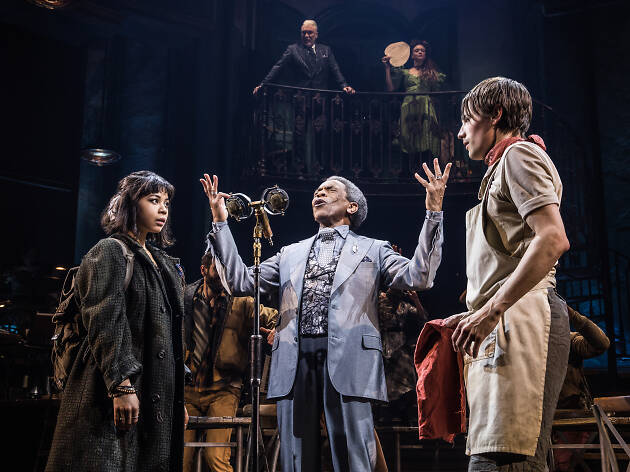 Get tickets to the TONY award winner for Best Musical
Theater review by Adam Feldman Here's my advice: Go to hell. And by hell, of course, I mean Hadestown, Anaïs Mitchell's fizzy, moody, thrilling new Broadway musical. Ostensibly, at least, the show is a modern retelling of the ancient Greek myth of Orpheus and Eurydice: Boy meets girl, boy loses girl, boy goes to the land of the dead in hopes of retrieving girl, boy loses girl again. "It's an old song," sings our narrator, the messenger god Hermes (André De Shields, a master of arch razzle-dazzle). "And we're gonna sing it again." But it's the newness of Mitchell's musical account—and Rachel Chavkin's gracefully dynamic staging—that bring this old story to quivering life. In a New Orleans–style bar, hardened waif Eurydice (Eva Noblezada) falls for Orpheus (Reeve Carney), a busboy with an otherworldly high-tenor voice who is working, like Roger in Rent, toward writing one perfect song. But dreams don't pay the bills, so the desperate Eurydice—taunted by the Fates in three-part jazz harmony—opts to sell her soul to the underworld overlord Hades (Patrick Page, intoning jaded come-ons in his unique sub-sepulchral growl, like a malevolent Leonard Cohen). Soon she is forced, by contract, into the ranks of the leather-clad grunts of Hades's filthy factory city; if not actually dead, she is "dead to the world anyway." This Hades is a drawling capitalist patriarch who keeps his minions loyal by giving them the minimum they need to survive. ("The enemy is poverty," he sings to them i
Buy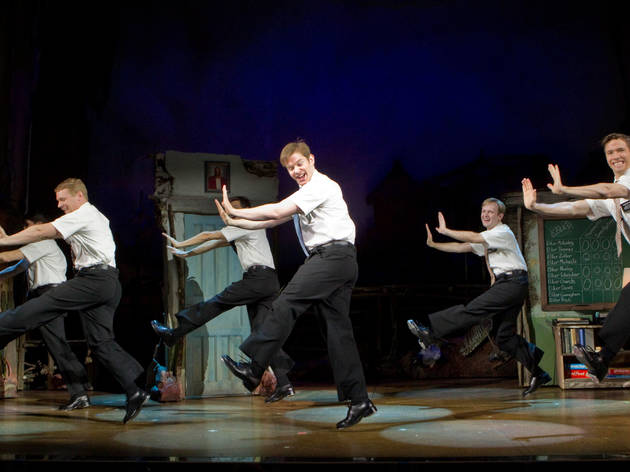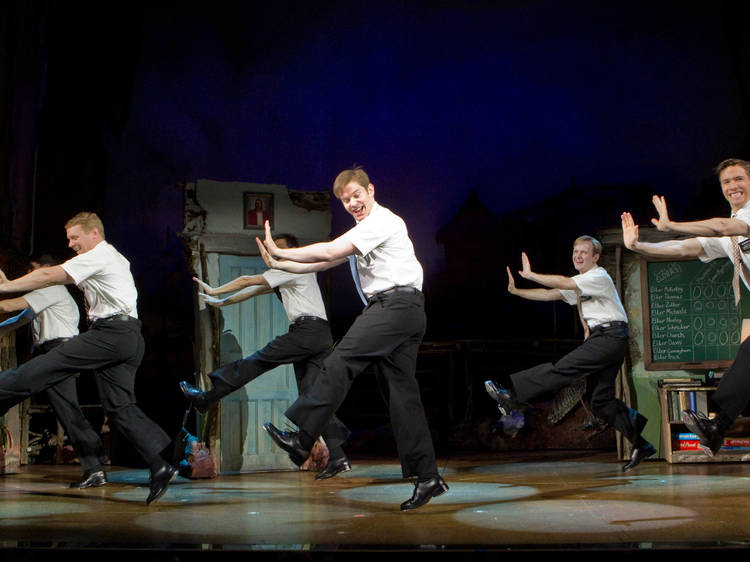 The Book of Mormon
If theater is your religion and the Broadway musical your sect, you've been woefully faith-challenged of late.
Buy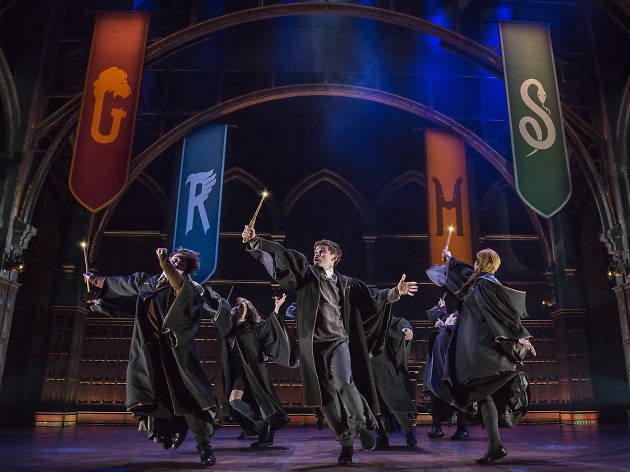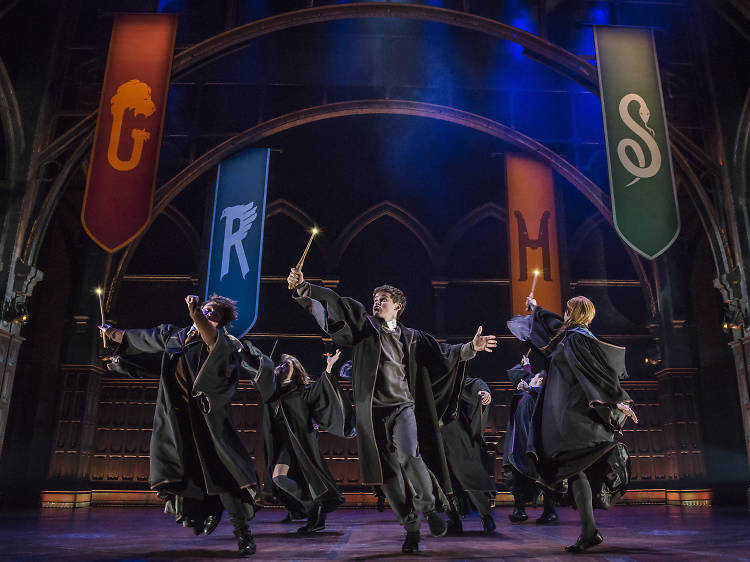 Harry Potter and the Cursed Child
The world of Harry Potter has arrived on Broadway
Buy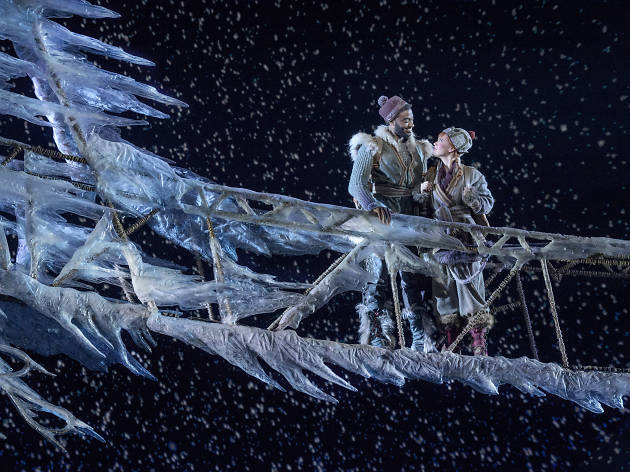 Frozen
Don't let this one pass you by
Buy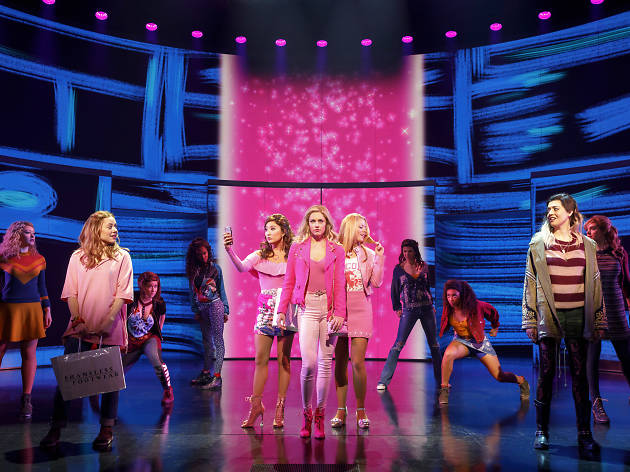 Mean Girls
Girls go wild on Broadway in a musical version of Tina Fey's cult movie.
Buy
Our favorite deals under $50
Our favorite deals under $100