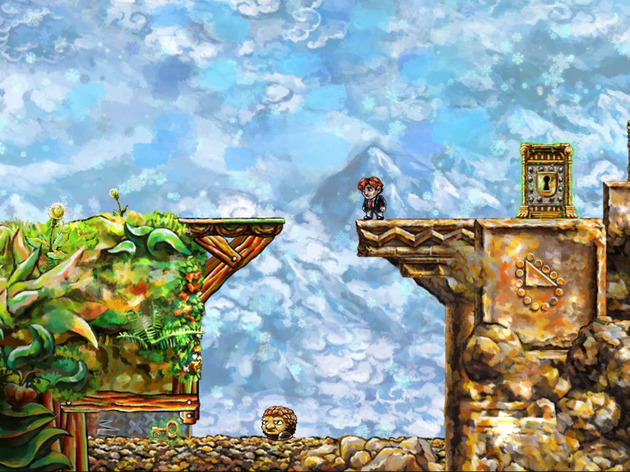 1/3
Image: Courtesy Jonathan Blow
Braid (2008, developed by Jonathan Blow): This prince-rescues-princess plot would baffle the cherubic Link and Princess Zelda with its nontraditional character motivations. Braid's protagonist Tim is driven by a mysterious regret rather than altruistic chivalry, and his most powerful weapon isn't a sword, but the power to reverse time and rise from the dead.
2/3
Credit: Courtesy of Knapnok Games & Redgrim
Spin the Bottle: Bumpie's Party (2013, developed by KnapNok Games and Redgrim): This isn't the Russian-roulette–style spit-swapping game you played in a friend's basement in sixth grade. Instead, two to eight players spin a virtual bottle, then complete team-based physical challenges like dancing or passing objects without hands—collaborations that don't require avoiding each other at school on Monday.
3/3
Photograph courtesy Notch
Minecraft (2011, developed by Notch and Mojang): Build your own shelter, complex machines and time-space portals in this lawless, three-dimensional world, all while scavenging for food and avoiding angry mobs, zombies and other daily inconveniences.
Dig Dug, Frogger and Pole Position were awesome in their day, but gaming has come light years in both technical complexity and popularity since then, evolving into a $66 billion industry. While platforms like Nintendo's Wii, Sony's PlayStation and Microsoft's Xbox have turned gaming into a mainstream phenomenon, an entire subgenre of independently created and financed games has also flourished. Many early amusements were independently produced (Tennis for Two, arguably the world's first analog video game, was developed in 1958 by nuclear physicist William Higinbotham), but the development of maverick titles has exploded in the Internet age with the ease of online distribution.
The cream of the modern indie-gaming crop is on display at the Museum of the Moving Image (which claims to have mounted the first-ever video-game museum exhibit back in 1989) in the form of a playable installation copresented by eight-year-old festival IndieCade. Visitors can try out 25 games in all, including landmark titles that have indirectly influenced the larger gaming world over the past decade such as Alien Hominid, Everyday Shooter and Flower, as well as ten 2013 IndieCade award winners. (The museum hosts five-on-five tournaments of ten-player strategy challenge Killer Queen Arcade on select Friday nights from 6 to 8pm, check the website for details on how to sign up.)—Aaron Stern