Bars with live music
Whether you want jazz with your old fashioned or metal with your PBR, here's where to take in some tunes while you drink.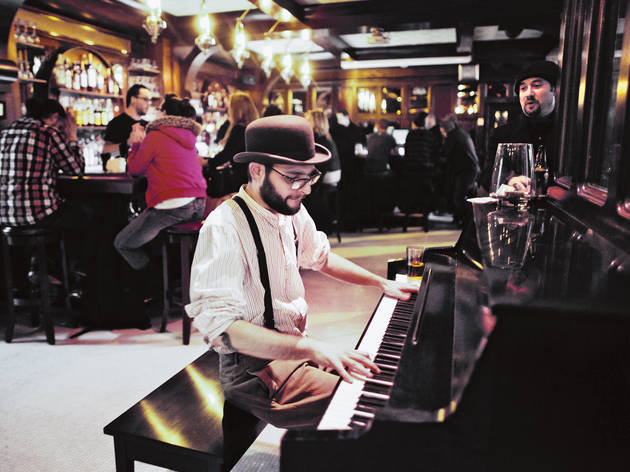 La Sala
The back room of Mexican eatery Cantina Royal was formerly part of multimedia performance space Monkey Town. It reopened in November 2011 under a new name, but according to head of curation and programming Jeanann Dara, it has the same goal: providing an intimate, multisensory environment for artists to air their work. Drop in on a Thursday, Friday or Saturday evening and you'll find diverse, often experimental lineups that include sound art and new-music projects that wouldn't feel out of place at the Ecstatic Music Festival. The stage—surrounded by projections on three sides—has already hosted Dustin Wong (of Ponytail), Brian Chase (of Yeah Yeah Yeahs) and one-bit symphony composer Tristan Perich. Catch local singer-songwriters Scott Matthew and Clara Kennedy on April 6 ($5). 58 North 3rd St between Kent and Wythe Aves, Williamsburg, Brooklyn (347-763-2938, cantinaroyal.com)
Good for: Experimental, indie rock, new music, sound and video art
Saint Vitus
The rock club spirit is alive and well at this Greenpoint spot, where dead roses and all-black walls greet drinkers who prefer Black Sabbath to Lady Gaga as a boozing soundtrack. Massive barn doors separate the sleek front bar from a bare-bones performance space; this badass black box suits lineups that focus on hard rock and metal, with occasional forays into electronic and goth music. Wednesdays are given over to hardcore; the rest of the week you'll find doom, black and progressive metal bands such as Bone Awl (Apr 6; $10) and Giant Squid (Apr 21; $10–$12). 1120 Manhattan Ave between Box and Clay Sts, Greenpoint, Brooklyn (saintvitusbar.com)
Good for: Hard rock, metal, goth
Silver Lining
After 9pm every night, the blast of horns and the tinkle of piano keys can be heard rumbling through this 154-year-old Tribeca townhouse. Follow the sound down the dimly lit stairwell, and you'll find a stone-and-brick-walled cocktail lounge that offers gratis live jazz performances. Co-owner Vito Dieterle, a jazz musician himself, curates the entertainment mostly from his own Rolodex. Upcoming performers set to tickle the 1909 Steinway ivories include the Larry Ham (Thu 22), Dmitry Baevsky (Fri 23) and Will Terrill (Sat 24) trios. 75 Murray St between Greenwich St and West Broadway (212-513-1234, silverliningbar.com).
Good for: All kinds of jazz, from traditional to hardbop
Rum House
The original Rum House—a grubby 1970s-vintage piano bar in the Hotel Edison—shuttered in 2010, much to the dismay of Theater District barhoppers. Happily, the owners of Ward III resurrected the bar in 2011 and reinstated nightly performances. Two sets per night (usually 6–8pm and 9:30pm–12:30am; free) showcase ragtime, jazz, standards and cabaret; the monthly Sunday Bespoke Music Series sees a band and around ten vocalists dedicate an entire evening to the songs of one performer, such as Aretha Franklin or Tom Waits (next up: a Paul Simon tribute on Apr 1, 8–11pm; free). 228 W 47th St between Broadway and Eighth Ave (646-490-6924, edisonrumhouse.com)
Good for: Cabaret, standards, jazz, ragtime
The Grand Victory
You wouldn't recognize the old Bruar Falls; the polished space, which reopened in January after a complete renovation, is now decorated with WWII-era propaganda posters and banners that once welcomed returning soldiers. The decor befits the burlesque and variety shows that often take place earlier in the week, along with comedy and acoustic nights. From Wednesday through Saturday, however, you're more likely to find indie, garage and punk rock bands giving the amps a workout. Covers range from $5 to $12, but in May, there are plans to start a free Sunday afternoon barbecue and bluegrass jam, followed by performances from local honky-tonk groups in the evening. 245 Grand St between Driggs Ave and Roebling St, Williamsburg, Brooklyn (347-529-6610, thegrandvictory.com)
Good for: Indie, punk, garage rock, country, bluegrass
Sponsored listing
Rustik
This neighborhood tavern has something for everyone: beers, cocktails, wines, food and a rotating roster of entertainment. Stop by on Tuesday nights for an open mike—sometimes music, sometimes poetry—or listen to the DJ's selection on Friday nights.
Venue says: "Date Night every Tues - Sun (6p-10p) - join us for 1 shared starter, 2 entrees, 1 shared dessert & a bottle of wine - $35 per person"