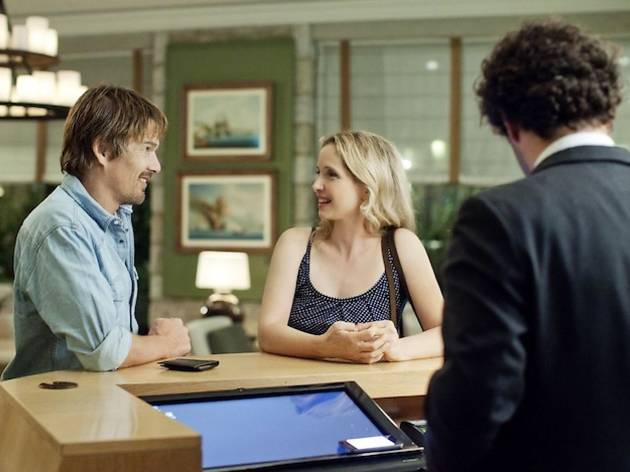 Berlin Film Festival 2013: Before Midnight and Upstream Color
Two Sundance stand-outs wow Berlin festgoers as well.
Cinephile may be a French word, but the Germans match that affection with their own special Kino-lieben. And while the Berlinale is an international affair, it has a special love for American independent movies. Call it Sundance-on-the-Spree.
The Berlinale Camera Award is bestowed annually upon people and institutions dear to the festival's heart (this year's preannounced recipients were Isabella Rossellini and Rosa von Praunheim). But an additional surprise trophy was given to Richard Linklater on Monday night at the international premiere of Sundance sensation Before Midnight, the latest "Before" romance which continues the amorous trajectory of an overseas American (Ethan Hawke) and his French soulmate (Julie Delpy). It's a just award, and a homecoming of sorts, considering that the Berlinale was an early booster of Linklater (he won the Silver Bear for direction in 1995 for Before Sunrise) and is the only festival to have played each of the three "Before" films upon their completion (Before Sunset even had its world premiere here in 2004).
Linklater is an established name in indie film, so his acclaim here isn't that arresting. (You can read our Sundance review of the film here.) One welcome surprise, though, is the passion festgoers have for Shane Carruth, whose debut film, Primer, won the Grand Jury prize at Sundance in 2004 (but did not screen here in Berlin). His long-awaited follow-up, the gleefully obtuse metaphysical jigsaw puzzle Upstream Color, got a prime berth at the Cinestar Event, Berlin's only IMAX theater and the largest screen in Germany. The film left people scratching their heads at its Sundance debut last month, but here in Berlin it played to a packed house of rabid Shane Carruth fans. During the post-screening Q&A, one booster even said: "I am a big fan of Primer. Can you sign my poster?"

One more note: Film festivals movies always have strange, unexpected confluences that can enrich binge viewing with repeated themes and ideas. But bear traps? Really? Three characters in two completion entries here at the Berlinale have been trapped by those snapping steel jaws. What are the chances? (Although it's to be expected, one supposes, when the festival's mascot is a bear.)
Check out the rest of our Berlin Film Festival 2013 coverage