Escape From Tomorrow: movie review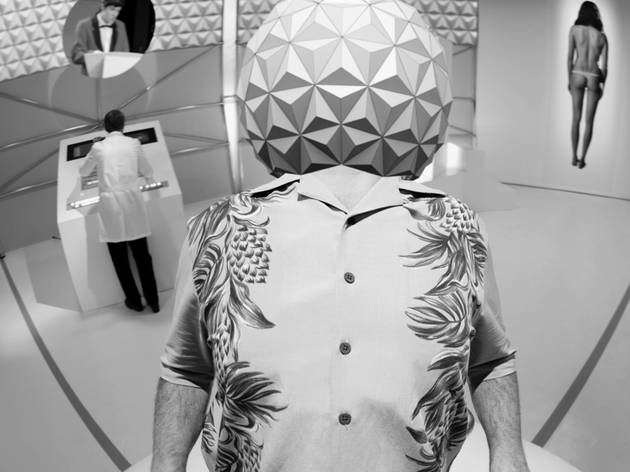 God knows the Mouse House could stand an extended middle finger thrust deep inside its corporatized cavity, and Randy Moore's much-buzzed-about takedown of all things Disney would seem to fit that bill. Filmed without any permits at Papa Walt's Florida and California theme parks, the movie follows schlubby everydad Jim (Roy Abramsohn)—fired from his job in the first scene—as he manically wanders through the Magic Kingdom and Epcot with wife and kids in tow. He's horny as hell, something he hopes two underage, short-shorts–wearing French girls will help with, and he's having some pretty nightmarish visions (those "It's a Small World" dancers have never looked so demonic). Possibly, though, something more nefarious is afoot.
The initial thrill of seeing familiar Disney landmarks captured and digitally defiled without permission—so that's what's inside Spaceship Earth—wears off very quickly. What we're left with are a bunch of unseasoned performers and a first-time filmmaker clearly out of his depth (good lord, those green-screen shots!) hocking loogies at Mickey and friends with hit-and-mostly-miss fervidness.
Follow Keith Uhlich on Twitter: @keithuhlich
Release details
| | |
| --- | --- |
| Release date: | Friday October 11 2013 |
| Duration: | 90 mins |
Cast and crew
Director:
Randy Moore
Screenwriter:
Randy Moore
Cast:
Roy Abramsohn
Elena Schuber
Katelynn Rodriguez