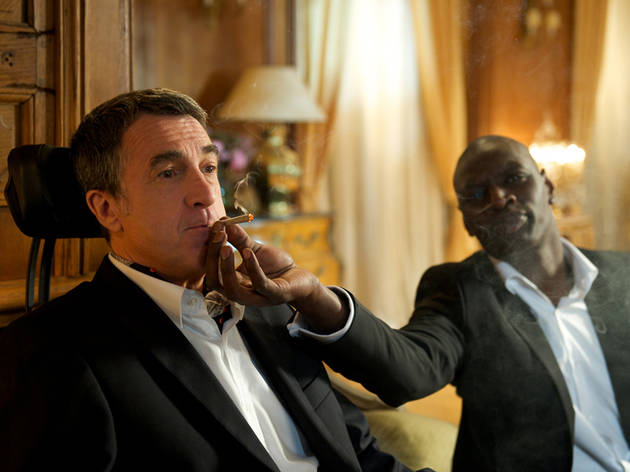 Interested to see what's popular in France these days? The Weinstein Company's got your back. Harvey and friends picked up stateside distribution rights to this watchable yet completely inconsequential Gallic dramedy after it shattered box-office records in its home country. A simple plot description should raise liberal-guilt-wary eyebrows and set off schmaltz alarms: Philippe (François Cluzet), a wheelchair-bound white millionaire, hires Driss (Omar Sy), an ex-con black male nurse, to take care of him. Friendship and enlightenment follow, as do comic misunderstandings (if you pour scalding water on a quadriplegic, does he make a sound?), soul-baring nighttime conversations with sides of hookers and pot, and a high-spirited paragliding sequence that could have been ported over directly from The Bucket List.
There isn't a rough-edged subtlety that the film—based on a true story—doesn't make every effort to soften for mass consumption: Driss's home life is like a sub-Dardennes melodrama with all the usual po' folks signifiers (deadbeat younger brother, scolding know-it-all aunt, drug dealers in black SUVs), while almost all his interactions with Philippe (such as some cross-class schooling in the wonders of Hector Berlioz and Earth, Wind & Fire) are played for the kind of broad laughs that possess cheap-seats levels of insight. Cluzet and Sy nonetheless make for ingratiating foils; the extended opening sequence in which the duo outwits a pair of cops like a hell-raising Laurel and Hardy could be a stellar short comedy if it weren't married to the deadly self-serious shtick that follows.
Follow Keith Uhlich on Twitter: @keithuhlich
Release details
| | |
| --- | --- |
| Release date: | Friday May 25 2012 |
| Duration: | 112 mins |
Average User Rating
4.5 / 5
Rating Breakdown
5 star:

1

4 star:

1

3 star:

0

2 star:

0

1 star:

0
A great film to be seen over and over again!
I think it is interesting how several American critics condemn this film without knowing anything about France, French society, and French cultural history. A black man and a white man in the US is not the same thing as a black man and a white man in France. Not at all.