The Last Detail: movie review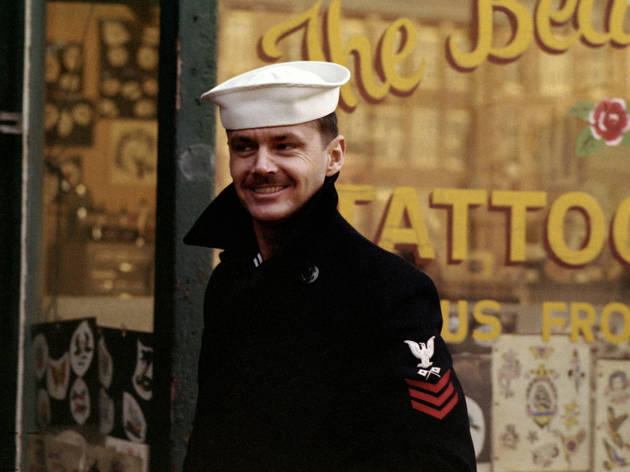 In terms of "shit assignments," this one's relatively simple: Transport kleptomaniac sailor Larry Meadows (Randy Quaid) from his Norfolk, Virginia, Navy base to the Portsmouth, New Hampshire, prison where he'll serve time for trying to steal $40. But after petty officers Buddusky (Jack Nicholson) and Mulhall (Otis Young) realize how much of a bum hand Meadows is being dealt—an eight-year prison term for the meager theft—they decide to stretch the journey as much as possible. What could be an easy two-day trip becomes a five-day odyssey of beer, broads and badass behavior, and it results in one of the finest works of '70s American cinema.
The tough, salty script by Chinatown's Robert Towne never pulls punches or succumbs to easy sentiment, while Hal Ashby's boozily generous direction allows potentially shapeless scenes, like a drunken all-nighter or a brothel stopover, to breathe with instinctual, off-the-cuff potency. Michael Chapman's gritty cinematography, meanwhile, grounds the digressive revelry in harsh winter surroundings that seem haunted by the dual specters of Vietnam and a trickster President on the verge of disgrace. Yet it's the stellar central ensemble that commands the most attention: Nicholson's cigar-chomping, profanity-spouting grunt is one of the greatest incarnations of stunted machismo onscreen, and he's brilliantly complemented by Quaid's picture-perfect awkwardness and Young's bracing cynicism. (Sadly, the imposing, basso-voiced actor all but vanished from movies afterward.) There's a once-in-a-lifetime feeling to the trio's every interaction—not only as characters but as performers—that makes the film's casually tragic climax that much more devastating.
Follow Keith Uhlich on Twitter: @keithuhlich
Release details
| | |
| --- | --- |
| Rated: | R |
| Release date: | Wednesday December 12 1973 |
| Duration: | 105 mins |
Cast and crew
Director:
Hal Ashby
Screenwriter:
Robert Towne
Cast:
Jack Nicholson
Randy Quaid
Otis Young
Carol Kane
Nancy Allen
Luana Anders
Clifton James
Michael Moriarty