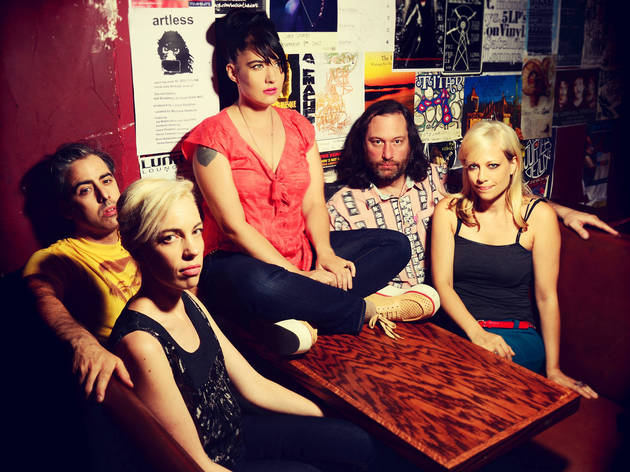 Kathleen Hanna's road to the Julie Ruin
Riot-grrrl icon Kathleen Hanna is back after a long, painful hiatus with a fierce new band
In 1997, Kathleen Hanna—frontwoman of feminist punk band Bikini Kill and one of the most prominent faces of riot grrrl—was at a crossroads. That band, and riot grrrl itself, seemed to be coming to an end, and Hanna was questioning her identity. As a way of coping, she wrote and recorded 15 songs in a closet in her Olympia, Washington, home, and released them under the pseudonym Julie Ruin. Plans to tour behind that album never came to fruition, but now, the Julie Ruin is back: Hanna revived the project as a full band in 2010, and the group will release its debut album, Run Fast, on September 3.

Even though more than a decade has passed since the first Julie Ruin album, the circumstances that led to that DIY effort and the new band are remarkably similar. In both cases, Hanna's life was in flux. "It was like getting a divorce from four people—[Bikini Kill] was my family for seven years," she explains. "It was a real period of figuring out who I was separate from that band. I feel like now, it's kind of the same thing—figuring out who I am, because I'm so associated with the '90s. But I'm still alive, you know?"
Depression was a factor too. Back then, Hanna was reeling not only from the end of Bikini KIll, but from the deaths of three people she was close to in a short period of time. "It all started hitting me in the face, and the only way I could deal with it was to start writing," she says. Fast-forward to 2010, when Hanna was diagnosed with late-stage Lyme disease, after a period of being sick and not knowing why. Her illness took a huge toll: She had to use a PICC line (a long-term catheter) to treat the disease, and limited her public appearances as a result. "I didn't know what was gonna happen for my future," she explains. "I was very frightened of living with an illness that didn't seem to be going away and seemed to be getting worse."
Once again, Hanna turned to writing as a way to deal with the pain. "I tried to think about what I would do if I was well," she says, tearing up at the memory. "I would think about never singing again, and like…it's really hard. I just didn't know what I would do with myself. I really felt like I had to write another record." With encouragement from her husband, Adam Horovitz of the Beastie Boys, Hanna began to assemble her perfect band. "It was like choosing a fantasy basketball team," she explains, laughing. That dream team includes guitarist Sara Landeau; drummer Carmine Covelli, of Bridget Everett's band the Tender Moments; bassist Kathi Wilcox, who played with Hanna in Bikini Kill; and keyboardist Kenny Mellman, an alt-cabaret fixture best known as one half of Kiki & Herb and one third of Our Hit Parade.
The group worked around Hanna's health issues to record Run Fast, and inevitably, her diagnosis colored the new material. One song, "Stop Stop," is about the stress of dealing with an invisible illness (sample lyric: "Oh God, I'm getting so tired / Can't breathe now, I think I'm gonna die"); another, "Party City," is about euthanasia. Others, like lead single "Oh Come On," confront her riot-grrrl legacy head-on. But as heavy as the songs get, the music is often irresistibly upbeat—which Hanna says was intentional. "I really wanted it to be fun," she explains. "I realized that having fun when you have opportunities is really important."
Even at her sickest, Hanna kept busy: In addition to working on Run Fast, she and Wilcox founded Bikini Kill records in 2012. She donated her old zines and papers to the Riot Grrrl Collection at NYU's Fales Library (which were later compiled into a book documenting the movement); The Punk Singer, a documentary about Hanna, is set for release sometime this fall. And now that her Lyme disease is in remission, the Julie Ruin is going on tour, and plays the Bowery Ballroom the day Run Fast is released.
"Finishing the record, I feel like I ran a marathon," Hanna explains. "There was a time where just making it to the bathroom was like… I wanted an award for that. So to finish a record and now to be touring is pretty intense."
The Julie Ruin plays the Bowery Ballroom Sept 3 and Music Hall of Williamsburg Oct 25.
Follow Amy Plitt on Twitter: @plitter