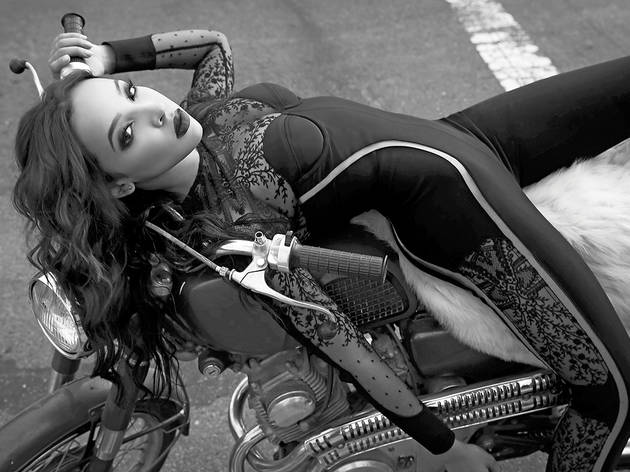 Rising pop star Tinashe steps into the spotlight
After a busy 2015 of opening stadium shows, Tinashe previews her sophomore record on her Joyride tour
Tinashe emerged in 2014 with hooky, heat-seeking single "2 On" and its accompanying full-length, Aquarius, a potent collection of hazy R&B and propulsive pop aided by hit-making producers like Stargate and Mike Will Made It. The impressive debut along with a high-energy, dance-heavy live set (see her "All Hands on Deck" video for proof) landed Tinashe opening slots on stadium tours for Nicki Minaj and Katy Perry. This week the singer visits a smaller stage, Webster Hall, where she'll mix those proven crowd-pleasers with new songs.
It's a bit hard to say exactly what will happen, though, because the record from which the tour takes its name, Joyride, isn't actually out yet. Initially slated for fall 2015, the album is now due in late spring. In the interim, Tinashe has delivered several singles—"Player," a house-inflected collaboration with Chris Brown; "Party Favors," a sedate trap song featuring oddball rapper Young Thug; and the swaggering Metro Boomin–produced "Ride of Your Life"—while making public her dissatisfaction with the holdup. "There's political things that go into getting an album out. Whether it be purchasing of songs or this and that," she says. "We're just experiencing a few delays, but the album is created, and it's coming soon."
The singer admits that the time has allowed her to keep revising and sharpening the record. "The [songs] I got tired of would go away," she says. "I've recorded some of my favorite songs from the album since then. You never know when that magical song will be written."
One thing that's clear is the 23-year-old is working constantly—with big-name producers like Boi-1da (beat maker behind Rihanna's "Work"), on ghostwriting gigs (she was recently linked with pop group Fifth Harmony) and on her own mixtape projects, like 2015's Amethyst, a seven-song freebie recorded in her bedroom at her parents' house, where she still lives, in the suburbs outside Los Angeles. You can hear the warmth and intimacy of that environment in mixtape tracks, like "Dreams Are Real," that evoke a quiet, insulated interior space. "[Bedroom recording] is still a huge part of my process. I still feel the most comfortable and the most at home when I'm just recording by myself. It's important for me to have that DIY feel—a solid 50 percent of the album was recorded or written at home," she says, pointing out that she's not the only one grinding away in the burbs. "The funny thing about that is, even some of the biggest producers, like Boi-1da, for example—he'll sit at home in Toronto, make beats and send them to me, and I'll make a little demo and send it back. We've developed a cool working relationship that way."
Without the album, this tour is the first chance for fans to hear the results of those transcontinental email exchanges, along with a revamped take on her Aquarius songs. "It will be like a listening party every night," she says. "I can see how people react to the new material. I'm really excited about that."
Tinashe plays Webster Hall Saturday, March 12 at 8pm.
Watch the video for "Player"