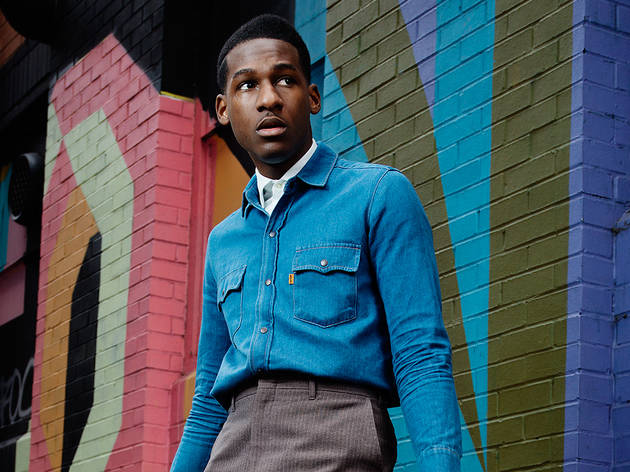 Rising soul star Leon Bridges on being red-hot and keeping his cool
Don't let the look fool you: About-to-break retro R&B crooner Leon Bridges is the real, substance-over-style deal
Of all the perks his newfound fame has brought him—European tours, television appearances, opening for Pharrell at the Apple Music Festival in London the night before our interview—the one that seems to get fast-rising soul star Leon Bridges the most excited is being able to afford the clothes he likes. He's always had a thing for the clean lines and slim silhouettes of midcentury menswear, and for a singer-songwriter who got his start playing open mics at Potbelly—yes, the sandwich shop—that used to fall a little outside the budget.

"At the beginning, I didn't have the money to do it like I wanted to," the 26-year-old Fort Worth native recalls. "I still found ways to look stylish in a very cheap way. Some of it came from my mom's friend, who gave me the clothes that he wore as a teenager."

The short path Bridges took from pouring his heart out during lunch-break sets at chain restaurants to attending the Met Gala and the Rock and Roll Hall of Fame's induction ceremony (where he shared a stage with Miley Cyrus and performed a goosebumps-inducing versions of "When a Man Loves a Woman") might seem suspiciously meteoric. That is, until you actually hear the dude, whose golden voice recalls peak-era Sam Cooke and whose songs—even when they're about heartbreak—have a classic, warm, retro-soul sound that makes you feel good. And people are latching onto that feeling—fast: After our chat, his two sold-out concerts in NYC at Webster Hall and the Apollo Theater launched him to a headlining gig at the much-larger Beacon Theatre.

In the course of getting your career off the ground, has there been anything that's made you nervous?
Yeah, when people compare me to the greats—that weight of being one of the few young black men to bring back an old sound. A lot of eyes are on that. Some people think that this type of soul should have been left back in the '50s and '60s. Some people love that it's being brought back. Really, I'm cool. I'm going to do my own thing. I'm going to do what I love.

What other challenges have there been?
For us, it's just making sure that the show flows smooth. When we first started, we were doing some opening stuff, not really doing headlining stuff, and it was just like we'd play song after song. Now it's about having something that looks like a professional show, you know? We're definitely figuring out how we want our set to be. It's coming along pretty nice.

How does it feel to headline the Apollo?
The Apollo's not only a legendary venue, but I remember watching Showtime at the Apollo with Steve Harvey. The fact that I'm playing there is definitely an accomplishment, man. My mom's flying from Fort Worth to come see me.

Walk me through the start of your performing career.
When I first started writing songs four years ago, I was determined to show them to people, so I would do a lot of open mics, you know, at Potbelly. I was hungry, you know? I had a couple of shows here and there. I never really got big in Fort Worth or Dallas before this happened. It's really hard to get people to come out to shows.

What inspired you to start writing in the first place?
When I was like 19, I was really into this artist named Lecrae. This was before I really fell in love with soul music. He was the one who really inspired me to start writing.

What were some of the soul points of reference that you had when you started writing this stuff?
Sam Cooke was one of the first people I really started to listen to when I started to write this type of music. I really connected with him, because for one he was a very smooth singer. That's the background I come from–very slow-jam, smooth R&B. Also, he came from a gospel background. I was only writing gospel songs before I started venturing down this path. I was definitely worried what my peers, people in the church and my mother would think about me writing pop songs, love songs.

A lot of soul singers have worried about that transition. Does that still make you anxious?
No, not at all. It's cool. There's something pure and wholesome even when you talk about love. It still comes from God.

On a lot of Van Morrison's early stuff, the lyrics seem to be about a woman, but you feel like the song's really directed at God.
Oh, definitely. I love Van Morrison.

What are you listening to right now?
Whenever I have downtime, I mostly listen to my R&B playlists. Avant and Ginuwine, Day26, 112. Just a lot of R&B dudes. That's the music I grew up on. I also love James Bay. I love Hozier. I love Lianne La Havas. There are so many great new artists.

A lot of that '90s stuff, that was from when you were a kid. Is that the type of nostalgia you're into?
Yeah, definitely. I wanted to listen to whatever came on the radio.

Would you ever make a '90s-style R&B record?
Nah, not at all. I still love that music, but I'm pretty much content making soul music.

A lot of the current interest in old soul music is…a really white thing.
[Laughs] Yeah, definitely. If you go back to the '50s, that was all black people had. Now, everything has changed. Most black people would definitely come to a Young Thug show or a grown-and-sexy R&B act, but as far as a singer-songwriter—what I'm doing—it takes a while for my people to really get on with it. Not saying that it can't be done, but…personally, if I wanted to go to a concert, I'd want to go see Migos. And a lot of black people aren't aware of the indie blogs that white people are into. It's just a matter of finding a way to get into their world.

You've come really far, really fast. What goals do you still have to accomplish?
I feel like I've come to everything that I wanted to do. This year, you know, I was able to pay off my mother's financial debt. I can play music for a living. I think that's amazing.

Leon Bridges plays the Apollo Theater October 20, 2015, Webster Hall October 21 and Beacon Theatre March 9, 2016.
See more Leon Bridges
We snapped soul star Leon Bridges before and during his gig at Shepherd's Bush Empire in London