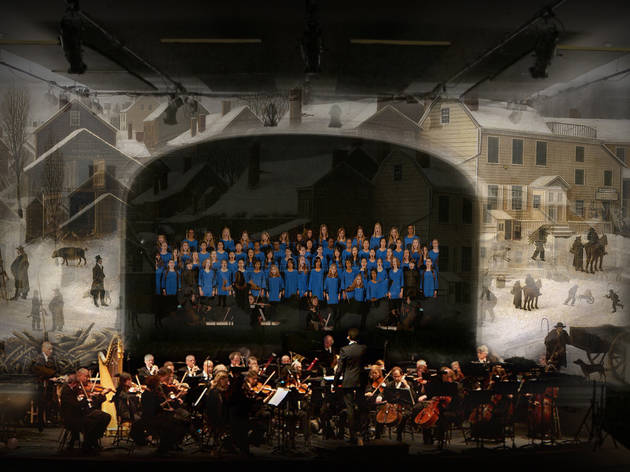 Brooklyn Village
Three Brooklyn arts groups mount a time-traveling spectacle.
For the Brooklyn Philharmonic's rookie artistic director, Alan Pierson, the title of its latest concert event—a multimedia collaboration between the Philharmonic, the Brooklyn Youth Chorus and Roulette called Brooklyn Village—has a strange ring. After all, a borough with a population of 2.5 million can hardly be considered a village.

Pierson cites a Francis Guy painting called Winter Scene in Brooklyn, which hangs in the Brooklyn Museum, as the main inspiration for the project. Created only four years after Brooklyn was incorporated as a village, the 1820 tableau depicts a section of Front Street between Fulton and Main streets that was swallowed up by the Brooklyn Bridge. "It's not just a landscape, but a painting of real people, and there's a lot of information about who each of the characters in the painting were," Pierson says. "It gives a flavor of what life might have been like then, before the Brooklyn Bridge and the BQE."
But for Dianne Berkun, founder and artistic director of the Brooklyn Youth Chorus—which is celebrating its 20th anniversary season—the concept of Brooklyn as a village is as much a 21st-century reality as a 19th-century memory. "There's a real sense of pride in Brooklyn on a deep level, because there's so much creativity here and there are real communities here. There are families of generations and generations," she says. "Kids [in the chorus] come from every conceivable background and school situation and family situation. I almost think that if you were to take this concert and put it in each different neighborhood, it would be a totally different experience, because there's such a different vibe in every neighborhood."
Connections among the past, present and future were not lost on filmmaker and writer Royce Vavrek, a favorite librettist of the postclassical set. Tapped to script a program that included newly commissioned works by Sarah Kirkland Snider, Matt Mehlan and David T. Little, the Scherzo from Beethoven's "Eroica" Symphony (a nod to the orchestra's 1857 inaugural season), 19th-century shape-note hymns, and music by renowned Brooklynites Aaron Copland, George Bristow and Sufjan Stevens, Vavrek folded together ruminations from Walt Whitman, Copland and current borough denizens, using the Brooklyn Bridge as a central symbol. The show, directed by Broadway veteran Ted Sperling, moves fluidly between the 19th century and the present day.
The Guy painting also provided the spark for visual artist Laurie Olinder's scenic design, which incorporates projections and video to evoke ghosts of the past. That the show takes place at Roulette's new home, a repurposed Art Deco theater on Atlantic Avenue that was originally constructed in 1928 and formerly known as Memorial Hall, reinforces the show's themes of transformation and renewal.
Brooklyn Village also reflects the current vogue among NYC arts institutions for bringing theatricality back into the concert hall. The Brooklyn Philharmonic's first season under Pierson's direction has been organized around themes and locales: Russian cartoon music in Brighton Beach, hip-hop in Bed-Stuy. Pierson is no newcomer to conceptual programs; he also leads chamber orchestra Alarm Will Sound, whose multimedia show 1969, presented at Carnegie Hall last season, concerned an imaginary meeting between John Lennon and Karlheinz Stockhausen. The Brooklyn Youth Chorus also got in on the action last year with its musical travelogue Tell the Way, a collaboration with St. Ann's Warehouse centered on the music of Nico Muhly.
Of course, high-concept shows don't always live up to expectations. But whether or not Brooklyn Village succeeds in channeling the borough's provincial past and communicating its headier themes on a visceral level, the audience will certainly witness the formation of a modern-day village: a creative one, galvanized by this landmark collaboration.