Where to get lunch in Flatiron
Quick bite: The Bistro TruckThis Moroccan food truck dishes some of tastiest and, at $10 or less, most affordable lunches in the Flatiron District. A lamb...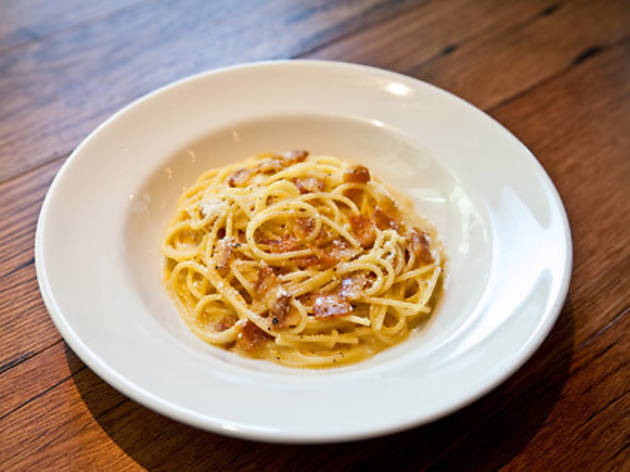 Quick bite:The Bistro Truck
This Moroccan food truck dishes some of tastiest and, at $10 or less, most affordable lunches in the Flatiron District. A lamb platter with couscous and salad is rich and nicely funky, while the Dijon chicken has a spicy mustard bite with a dollop of cooling crme frache. The merguez sandwich is yet another winner: Char-grilled lamb sausage joins roasted onions, chermoula (a spicy Moroccan marinade) and—an underappreciated sandwich-topper—french fries, on a crusty baguette. The lunch queue is manageable, but order online before heading over to save time. Fifth Ave between 16th and 17th Sts (800-290-4924, bistrotruck.com)
Business lunch:Maialino
Smartly dressed professionals power-lunch at Danny Meyer's elegant-yet-casual Roman trattoria, a park-side respite from the bustle of Park and Broadway. Broker a deal over house-made pastas like the rich and spicy Bombolotti all'Amatriciana ($15--$21). And assuming you're toting the company card, throw in a hearty entre ($19--$25) too: The suckling pig's foot ($21) trumps boardroom turkey wraps any day. Gramercy Park Hotel, 2 Lexington Ave at 21st St (212-777-2410, maialinonyc.com)
Delivery:Choza Taqueria
Enjoy a midday Mexican feast without leaving the office: This bare-bones taqueria might be too tiny for dining in, but it'll deliver intensely flavored tacos (three for $8) and burritos ($8.75) right to your cubicle. Choose from tender slow-cooked carnitas, charred carne asada, or lighter chicken and veggie options. And definitely go for a side of elote, grilled corn slathered in chili-lime cream. 66 Madison Ave between 27th and 28th Sts (212-213-0708, chozanyc.com)
Sponsored listing
M Noodle Shop
M Noodle Shop seems perfectly suited to the late-night crowd in Williamsburg. Pick a seat at the counter and order from the long menu of Chinese favorites: think scallion pancakes ($6), boiled shrimp dumplings (six for $6) and lo mein with your choice of protein ($8.50). Then there are the more unusual options, like sauteed squid with basil and sweet chili sauce ($14) and "dragon fly," a combination of ground pork, black beans, diced peppers and chives ($12). Veg heads will also be thrilled to hear the restaurant has plenty of vegetarian offerings, like the sesame pancake with pickled vegetables ($7), fried or steamed vegetable buns (two for $5), spicy den-den mein ($8.50) and a variety of tofu and seitan stir-frys ($9.50–$11). Best of all, the shop is open late—until 6am most nights—so it's always possible to get your egg drop soup fix.
Venue says: "It is that time of the year where a bowl of hot noodle soup can sooth your soul."