Best gift shops: Soho
Find out where to shop for gifts in this downtown Manhattan neighborhood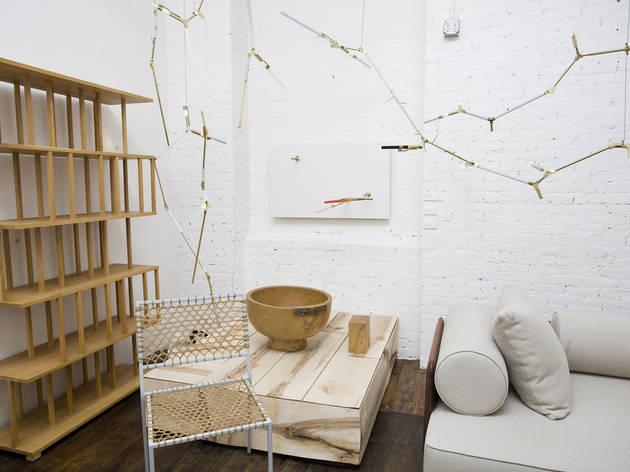 Decidedly more refined and upscale than its sibling shop, Urban Outfitters, Anthropologie specializes in bohemian and vintage-inspired clothing and home decor, as indicated by their eternally-inspiring, always-changing store design schemes. While they offer a slew of in-house clothing lines, they've started turning out designer capsule collections with harder-to-find labels like Twinkle by Wenlan and Maria Bonita Extra, which means that there are a plethora of well-cut patterned dresses, oversize knit sweaters and adorable, wear-everywhere tops. The home goods are particularly strong and range from the big (huge armchairs recovered in Scandinavian textiles) to the eensy (door pulls fashioned out of chunks of graphite).
Read more
Home-design aficionados and budget-conscious shoppers flock to the hipper, more wallet-friendly spin-off of domestic-goods behemoth Crate & Barrel. The 7,500-square-foot space is packed with modern furnishings that are scaled down for apartment dwellers, along with sleek tableware and chic accents.
Read more
Following in the footsteps of its long-standing Soho shop, this home-accessories boutique known for its worldly wares opened a second location uptown. For those who can't afford to globe-trot but crave a touch of international flair in their homes, Global Table offers modern, handcrafted housewares and home goods sourced from around the world. Minimalist furnishings coupled with bright green-and-yellow walls set the backdrop for an array of unusual finds, including vibrant Senegalese woven baskets ($56–$175), horn bowls from India ($42 each), and Kosoy and Bouchard embossed-porcelain tableware ($40–$100) made in Canada.
Read more
Designer Shana Tabor's cozy stores cater to that ever-appealing Brooklynesque retro-bookish aesthetic, offering locally crafted collections for men and women. Taxidermy and antiques dot the friendly stores' interiors, available for purchase if you're a sucker for stuffed animals and odd objects. Tabor's jewelry line is also uncommonly alluring.
Read more
In addition to browbeating fledgling interior decorators on the reality show Top Design, the housewares juggernaut has multiple NYC boutiques, where fans can find button-back couches, antique brass cocktail tables and all manner of happy, happy home items. Cure friends suffering from the bleak-studio-apartment blues with Adler's manifesto My Prescription for Anti-Depressive Living.
Read more
Don't be put off by the unprepossessing, graffiti-covered stairway that leads up to this gem of a shop. Alisa Grifo has collected an array of inexpensive items—mostly simple and functional but with a strong design aesthetic —from around the world, such as hairpins in a cool retro box from Mexico, Finnish licorice, colorful net bags from Germany and a butterfly can-opener from Japan.
Read more
You don't have to travel the globe to own worldly wares: This Icelandic boutique's first stateside shop carries a melting pot of high-design goods from both established brands and emerging designers. The 1,300-square-foot Soho space stocks exclusive pieces, colorful clothing, handmade trinkets and eclectic accessories from a unique medley of designers, including Sonia Rykiel, John Derian and Isabel Marant.
Read more
The Soho spin-off of the Brooklyn design store offers an international selection of furniture, homewares and jewelry, including architect Zaha Hadid's interlocking Nekton stools and hot duo FredriksonStallard's provocative cross-shaped clothes brushes. There are great New York-centric gifts too: Look out for metal manhole-cover coasters by Curios and Tel Aviv-based Johnathan Hopp's miniature porcelain buildings.
Read more
You could spend hours wandering around this three-floor hodgepodge warehouse of home goods, clothing and random trinkets you desperately want but probably don't need. There's a wide selection of decorated ceramic dishware, such as tea sets of four ($57), owl-shaped salt and pepper shakers ($11), and vases of every color and shape ($57). Other highlights include a unique lighting department, where you can choose from takeout-container-shaped lamps ($19), square rice-paper lanterns ($36) and strings of rattan-wire party lights ($23). Be sure to stock up on quirky items like NYC souvenir totes ($8), colorful coin purses ($4) and bottle openers shaped like whales ($13) to keep on hand as gifts.
Read more