Heads up! We're working hard to be accurate – but these are unusual times, so please always check before heading out.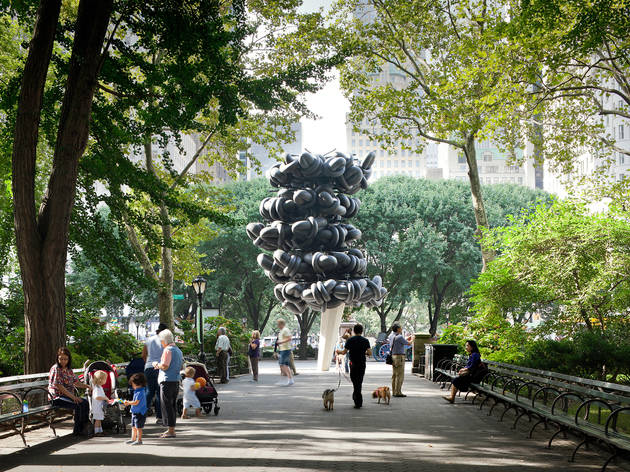 1/6
In Doris C. Freedman Plaza, Central Park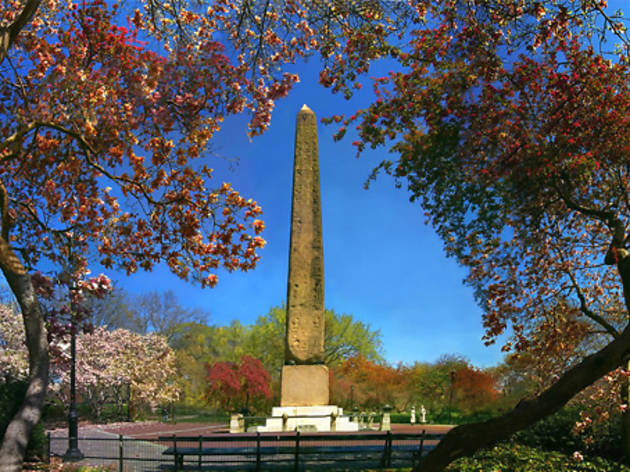 2/6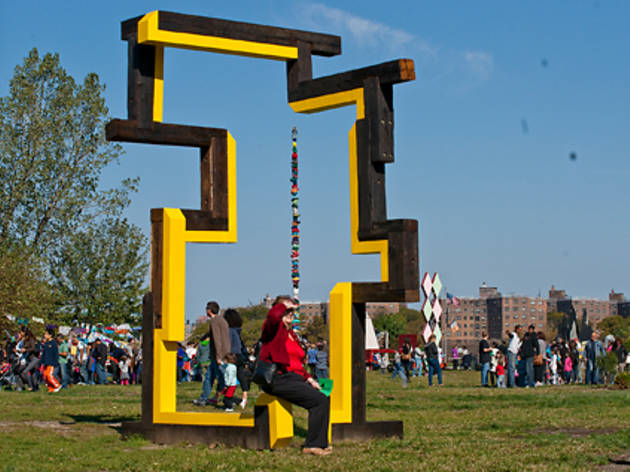 3/6
Photograph: Paul Wagtouicz
Socrates Sculpture Park's Halloween Harvest Festival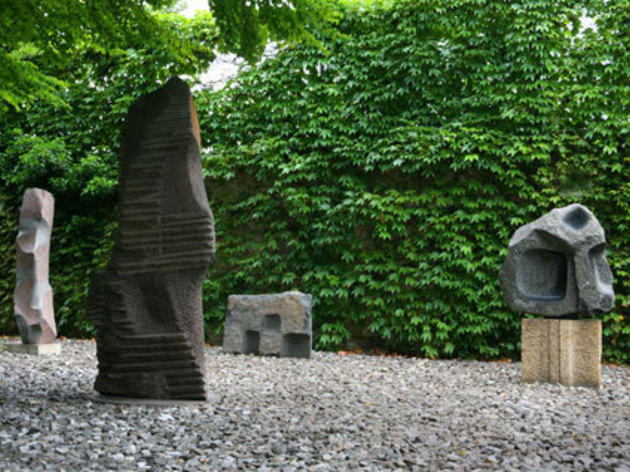 4/6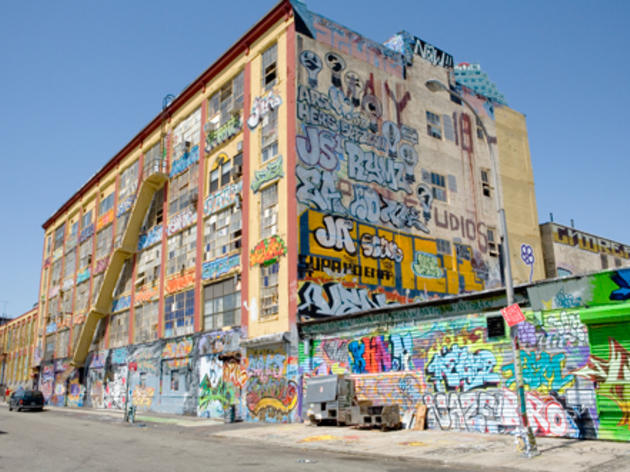 5/6
Photograph: Michael Kirby
5Pointz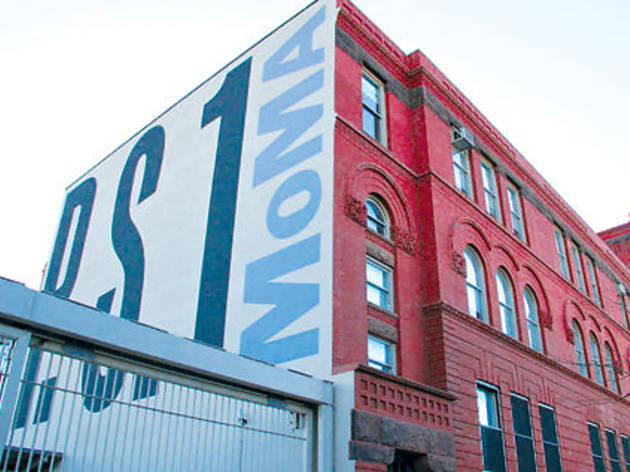 6/6
See a Kraftwerk-themed performance at MoMA PS1.
Bike routes in NYC: Public-art crawl in Manhattan and Queens
Bike NYC coauthor Marci Blackman recommends this ride that takes in Central Park, the Graffiti Hall of Fame, Socrates Sculpture Park, 5 Pointz and more.
About the author
Novelist and avid cyclist Marci Blackman is the coauthor of Bike NYC: The Cyclist's Guide to New York City (Skyhorse Publishing). Blackman has ridden her bike all over the world, including on treks across Europe and the United States, and is currently a bicycle tour guide in New York. To schedule a personalized bike tour of the city, visit marciblackman.com.
RECOMMENDED: Bike New York guide
The ride
"The New York landscape is teeming with large-scale outdoor displays of cutting-edge innovation and creativity. This route takes you to some of NYC's best spaces for public art, starting at Central Park and stopping at the Graffiti Hall of Fame in East Harlem, and Socrates Sculpture Park and 5 Pointz in Long Island City, Queens. Most of the stops on this excursion are free of charge, and as a bonus you can discover (or rediscover) a few of Gotham's hoods less traveled."
Highlights and riding tips
1. "Start off with a ride through Central Park—an extravaganza of public art in and of itself—beginning at the rotating sculpture installations commissioned by the Public Art Fund (publicartfund.org) at Doris C. Freedman Plaza (Fifth Ave at 60th St; 212-310-6600, centralparknyc.org) in the southeast corner of the park." Michael Sailstorfer's Tornado, a 30-foot-tall whirl of steel festooned with inflated truck-tire inner tubes representing clouds, is on view through May 28. It will be replaced by Paola Pivi's How I Roll (June 20–Aug 26), a twin-engine plane that slowly rotates.
2. "Ride north on East Drive past Cleopatra's Needle (East Dr at 81st St), the park's 3,500-year-old Egyptian obelisk, toward Harlem. Be mindful of traffic; although the park is closed to cars from 10am to 3pm and 7pm to 7am on weekdays and on weekends (Fri 7pm–Mon 7am), there are plenty of other vehicles with which to contend, most notably cyclists training for triathlons who zip up and down the rolling hills at speeds approaching 30 miles per hour."
3. "Exit the park and enter Spanish Harlem, also known as El Barrio. Remember to always ride with the flow of traffic and allow a good four feet of space—even in a bike lane—between you and the parked cars in order to avoid being doored. Also, on one-way streets, when there is no cycling lane, it is best to ride on the left side of the street in the driver's line of vision as opposed to in his or her blind spot."
4. "Stop to admire the Graffiti Hall of Fame (E 106th St and Park Ave) [the walls of the Public Junior High School 13's playground], dedicated in 1980 as the city's first legal canvas for graffiti writers."
5. "To find the entrance to the Wards Island Bridge pedestrian crossing, go to E 102nd Street just past First Avenue and follow the sidewalk around the perimeter of the houses along the East River. It is illegal to ride on the sidewalks in New York, so be sure to dismount and walk your bike here; but you can hop back in the saddle once you're on the bridge."
6. "The view from Ward's Island Bridge is one of my favorites in NYC. Look behind you and check out this lesser-seen version the Manhattan skyline as you cross into Wards Island Park and wrap around to the pedestrian and cyclists' entrance to the Triborough Bridge."
View Larger Map
7. "Remain alert as you drop down the ramp from the bridge into Astoria. Of all the boroughs, Queens is the last to benefit from the city's nascent commitment to a New York that's friendlier to bikers. Although the roads are easily rideable, drivers are not as used to seeing cyclists here, so expect the unexpected."
8. "Your next stop is Socrates Sculpture Park (32-01 Vernon Blvd at Broadway, Long Island City, Queens; 718-956-1819, socratessculpturepark.org), a former illegal dumping ground turned neighborhood park and outdoor museum of large-scale public art—upon which parkgoers are encouraged to climb and hang."
9. "For a bonus after the sculpture park, stop in at the Noguchi Museum (9-01 33rd Rd at Vernon Blvd, Long Island City, Queens; 718-204-7088, noguchi.org; Wed–Fri 10am–5pm, Sat, Sun 11am–6pm; $10) just a couple of blocks south. Though housed indoors, the pieces conceived by one of the country's most celebrated large-scale sculptors are as grand and inspiring as they would be if they were outside stretching towards the sky."
10. "Finally, make a pilgrimage to the graffiti world's mecca, 5 Pointz (45-46 Davis St at Jackson Ave, Long Island City, Queens; 317-219-2685, 5ptz.com), a 200,000-square-foot factory building graced with more than 350 murals painted by some of the most famous graffiti artists across the globe. For another bonus track, stop into MoMA PS1 contemporary art center (22-25 Jackson Ave at 46th Ave, Long Island City, Queens; 718-784-2084, momaps1.org) just around the corner."
11. "You will undoubtedly be hungry by now, so cap off the crawl with a carb-laden post-ride meal at LIC's Court Square Diner (45-30 23rd St at Jackson Ave; 718-392-1222, courtsquaredinerlic.com)."
View Larger Map