Best gift shops: Astoria
Find out where to shop for gifts in this Queens neighborhood.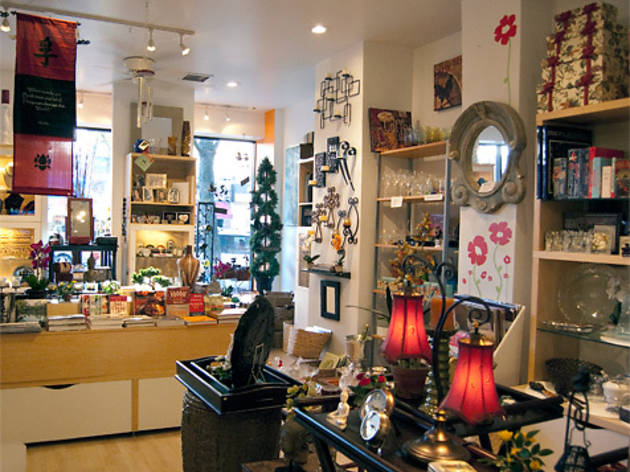 More shops for gifts in Astoria
Since 2008, owner Kazuki Kozuru-Salifoska has sold both her own designs and those of other artisans exclusively at street fairs and markets. In her her first brick-and-mortar store, she continues to follow that business plan. Her cozy space houses an eclectic mix of handmade jewelry, home accessories, organic skin-care products and apparel by local artists and designers, including Gaetano Canella, Kristen Benson and Meng Weng. Sleek black wooden furniture showcases a hodgepodge of items such as bottles of Anthesis Organic Skincare lavender hand cream ($16), Gina Schiappacasse mounted fashion-inspired art prints ($40), M Voli E hand-knit colorful wool bracelets with heart charms ($65) and Kristen Benson sterling silver pendant necklaces with white sapphires ($152). Sift through garment racks set against the fuchsia-and-orange walls to find Nera silk organza and lace dresses ($185) and Kozuru-Salifoska's own babySOLAIRE striped corduroy jumpers lined with African prints ($58). Before you head out with your new goods in a handcrafted shopping tote, you may catch a glimpse of the shop owner hard at work on her 50-year-old Singer sewing machine.
Read more
Since 2007, Mackenzi Farquer has elected to stockpile atypical accoutrements in her design store—and as a graduate of the New York School of Interior Design, she boasts a well-practiced eye for what's in style. The merch is divided into three sections: vintage, handmade and "just well-designed," and you'll find everything from sleek Saarinen tables and kitschy propaganda posters to come-hither vintage aprons, as well as handmade silver jewelry by Astorian designer Sprout. Keep an open mind here; you might walk in searching for a unique a coin necklace (by Betsy & Iya), but you could easily walk out with a set of vintage ice-cream parlor chairs instead.
Read more