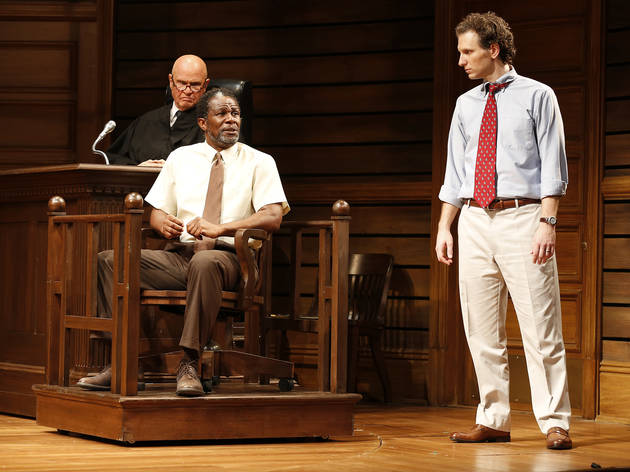 1/4
Photograph: Carol Rosegg
A Time to Kill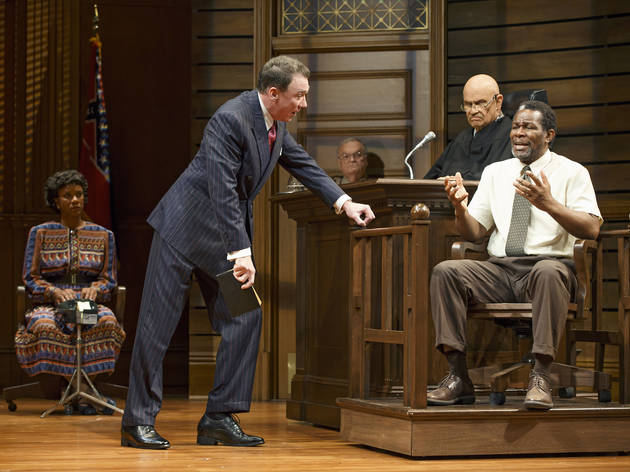 2/4
Photograph: Carol Rosegg
A Time to Kill
3/4
Photograph: Carol Rosegg
A Time to Kill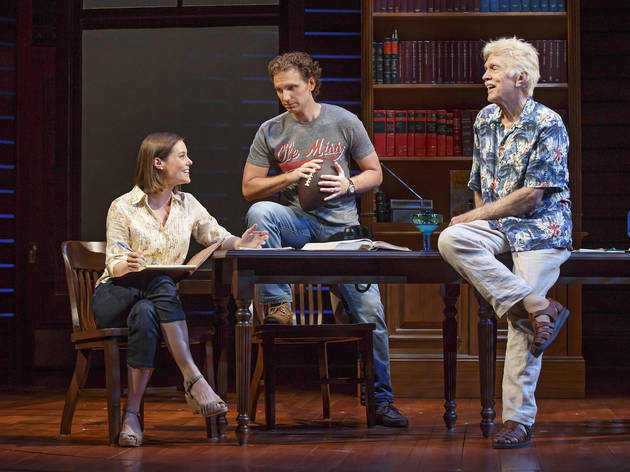 4/4
Photograph: Carol Rosegg
A Time to Kill
A Time to Kill. John Golden Theatre (see Broadway). By Rupert Holmes. Based on the novel by John Grisham. Directed by Ethan McSweeny. With Sebastian Arcelus, John Douglas Thompson. Running time: 2hrs 30mins. One intermission.
A Time to Kill: in brief
Rupert Holmes—best known for his musical adaptation of The Mystery of Edwin Drood—addresses quite different source material: John Grisham's 1989 legal tale about race and justice. A lawyer (Sebastian Arcelus) defends an African-American defendant (John Douglas Thompson) threatened with capital punishment for the murder of white rapists.
A Time to Kill: theater review by David Cote
Justice is very much a matter of black and white in John Grisham's best-selling legal thriller A Time to Kill, also a 1996 hit movie starring Matthew McConaughey and Samuel L. Jackson. Grisham's plot is a post–civil rights flip job on To Kill a Mockingbird: Mississippi rednecks rape and nearly kill a ten-year-old black girl. They are arrested, but before trial, both are gunned down by the enraged father, Carl Lee Hailey (Thompson). He is summarily indicted and could face the death penalty in a deeply racist Mississippi county. Can Hailey's folksy white attorney, Jake Brigance (Arcelus), turn an all-white jury color-blind?
Rupert Holmes (The Mystery of Edwin Drood) wisely keeps the novel's social-canvas strokes (KKK marches, counterprotests, even Jake's worried wife) offstage, concentrating attention on the courtroom maneuvers. Even so, he seems more interested in the mechanics of the case than the complexity or fallability of his characters. The result is slick, moralizing legal pulp, sans drama or philosophical depth.
Arcelus exudes decency without losing charm, but more notable is Thompson as the unrepentant vigilante. Hailey could have been indigestibly dignified and tragic, but thanks to Thompson's gruff yet light touch, he's richly human: neither fully innocent nor guilty.—Theater review by David Cote
THE BOTTOM LINE: The jury is hung on a middlebrow legal potboiler.
Discounted tickets are available through Time Out Offers until October 25, 2013.
Ticket Offers from Time Out New York
Looking for tickets to a Broadway or Off Broadway show? Time Out Offers brings you terrific discounts on tickets to the latest New York theater. Want even more ideas? Check out Time Out New York's complete listings of Broadway, Off Broadway and Off-Off Broadway shows, and browse all available tickets.