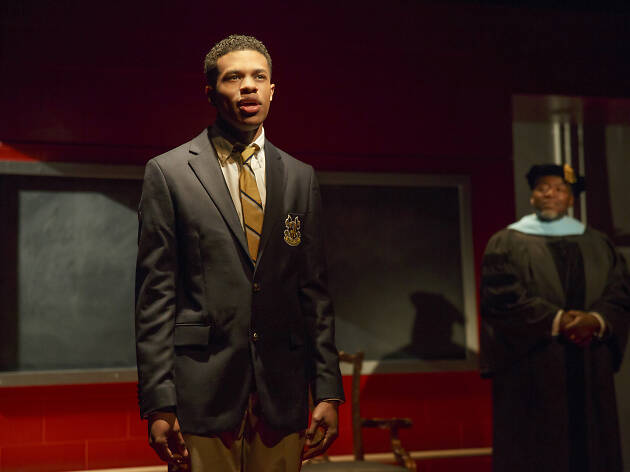 1/5
Photograph: Joan Marcus
Choir Boy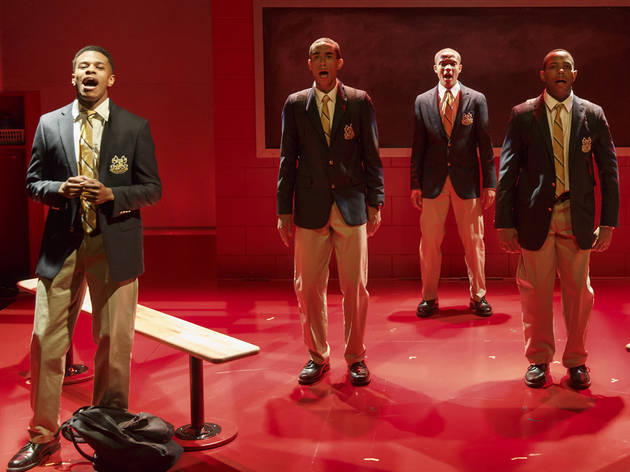 2/5
Photograph: Joan Marcus
Choir Boy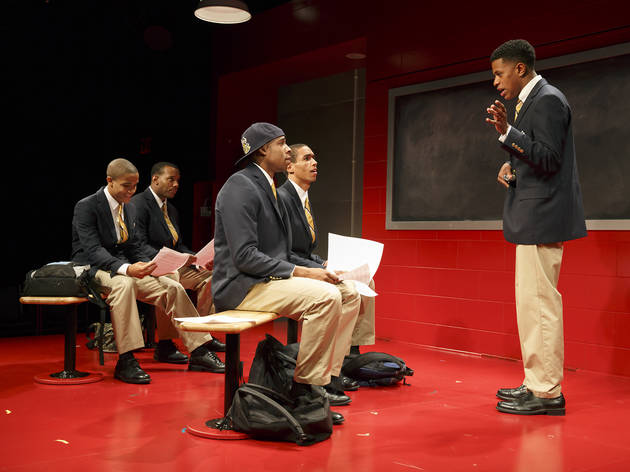 3/5
Photograph: Joan Marcus
Choir Boy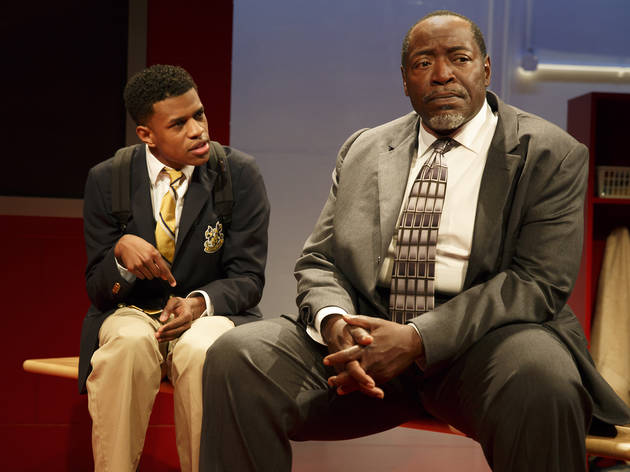 4/5
Photograph: Joan Marcus
Choir Boy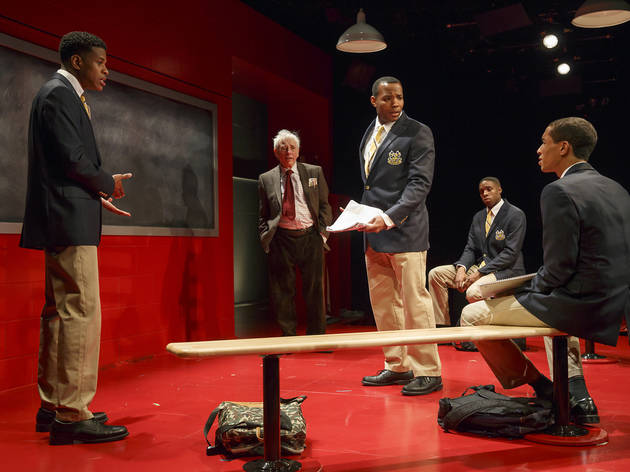 5/5
Photograph: Joan Marcus
Choir Boy
Theater review by Adam Feldman. Choir Boy. Manhattan Theatre Club (see Off Broadway). By Tarell Alvin McCraney. Directed by Trip Cullman. With Jeremy Pope, Chuck Cooper, Austin Pendleton. Running time:1hr 35mins. No intermission.
Choir Boy: plot summary
Red-hot scribe Tarell Alvin McCraney (The Brother/Sister Plays) sets his latest piece in an all-black, all-male prep school, where an effeminate student is driven to make his choir the best.
Choir Boy: theater review
Disharmony has crept into the vaunted school choir that is the pride (and fund-raising glory) of the all-black Charles R. Drew Prep School for Boys. The students' voices still blend gorgeously into songs of religious praise, but trouble is mounting offstage. The choir lead is a markedly girly senior named Pharus (the remarkable Pope), and his stained-glass closet is showing cracks; when he performs the school hymn, "Trust and Obey," at a school ceremony, he is taunted with homophobic slurs. But Pharus is not just a quiet victim; emboldened by his own talent and perhaps by the changing times, he's ambitious and sassy, and not above getting back at the peers who have slighted him.
Tarell Alvin McCraney's sensitive and moving Choir Boy adeptly captures the gradations of comfort in Pharus's relationships with those around him, as well as the tensions (between tradition and modernity, discipline and individuation, acceptance and resistance) in their background. Well directed by Trip Cullman, the five talented younger cast members deliver McCraney's flavorful, often lyrical dialogue with assurance, supported by two older pros: Chuck Cooper as the school's headmaster, and the masterfully blowsy Austin Pendleton as a provocative guest teacher.
Like Richard Greenberg's 2002 Take Me Out—with which it has much in common, including fraught locker-room scenes—Choir Boy explores themes of identity and escape, but with music in baseball's place. Choral singing gives the conflicted Pharus a route to flee his drama, as Negro spirituals once gave succor to African-Americans in bondage: "What they were and are is sweet honey in the rock that didn't just help the slaves but help us now, this day," he argues in class. (McCraney obliquely suggests a continuity of function between those songs and modern R&B.) Pharus jokes that he is saving himself for Jesus, and is ashamed to be aroused by a bout of horseplay with his understanding jock roommate (Grantham Coleman). He finds his faith in music: Unable to get his too-solid flesh to melt, he hopes that it may sublimate into a breath of song.—Adam Feldman
Follow Adam Feldman on Twitter: @FeldmanAdam
Ticket Offers from Time Out New York
Looking for tickets to a Broadway or Off Broadway show? Time Out Offers brings you terrific discounts on tickets to the latest New York theater. Want even more ideas? Check out Time Out New York's complete listings of Broadway, Off Broadway and Off-Off Broadway shows, and browse all available tickets.