Public eye: Elizabeth Doyle, 40, and Kostas, 4
New York street interviews: Stories from the sidewalk as told by real New Yorkers about their lives in the city that never sleeps.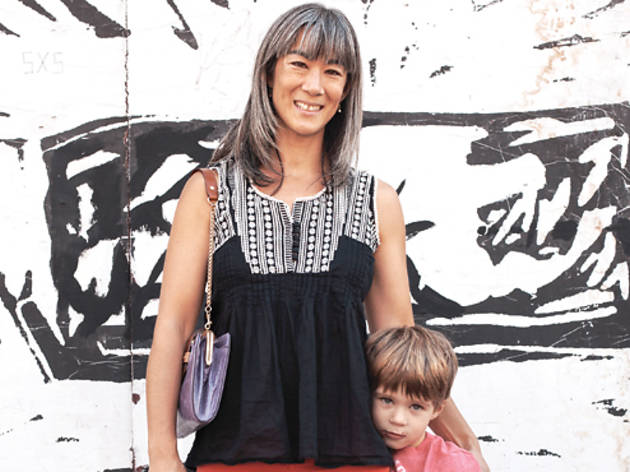 E Houston St between Allen and Orchard Sts

Kostas, did you just eat a tiger? Kostas [very quietly]: No. Raspberry gelato.

I see. Delicious? [Nods]

What are you guys up to? Elizabeth: Stopping by my jewelry store, but we're really on a mission to get capes for Kostas's superhero birthday party.

Ooh, fun, and a stop for ice cream! That wasn't on purpose, but Kostas's nose started running, and the place I stopped into to get a tissue was a gelato place…so we had to get some. [Laughs]

Iron Man's got incredible snot-production timing. Yes, that might just be his superpower.

What's your jewelry store called?Doyle & Doyle. We sell mostly antique and estate jewelry, but we design too. We sell a lot of engagement rings.

Do you get lots of nervous men in your store who are pre-proposal? Yeah. [Laughs] Actually, a lot of people call after they're engaged and say, "I want to apologize for how crazy I was when I was in your store. I was just really nervous." Right before you get engaged or married you get a free pass.

So I guess you guys can thank De Beers for all the diamonds you sell, huh? Well, De Beers heavily promoted diamond engagement rings to try to make them mainstream, but the other reason they're so popular is that diamonds are the most durable stones.

So it's actually a pragmatic thing. It is. Sapphires and rubies are the next down, but they're softer, so eventually you're going to see scratches on the surface. Those have come back in style with Kate Middleton, though.

Is the man-gagement ring in style? Uh, not really. It hasn't caught on.

Too bad. How did you get into this business? I've always loved jewelry. I came to New York to study gemology and worked at the Gemological Institute of America for years. The most amazing things in the world go through that lab.

Like what? Jackie O's famous pearls, for instance, when she died. They were fake. And Elton John's crazy sunglasses with giant sapphire lenses.
More from Elizabeth
"Kostas is short for Konstantinos. His dad is Greek."