Heads up! We're working hard to be accurate – but these are unusual times, so please always check before heading out.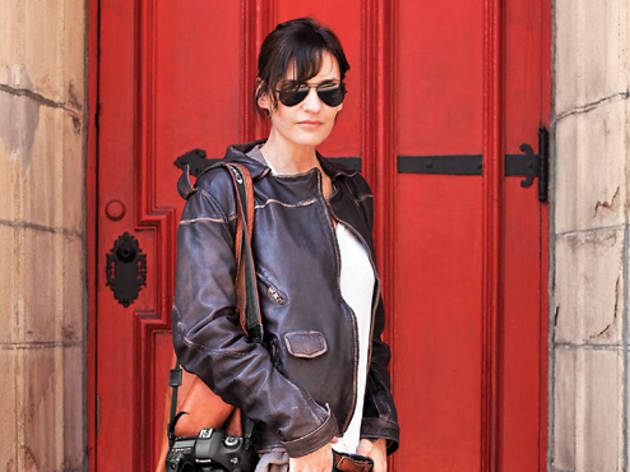 Public eye: Liz Prochnik
New York street interviews: Stories from the sidewalk as told by real New Yorkers about their lives in the city that never sleeps.
Seventh Ave between 13th and 14th Sts

You don't want to say how old you are. Usually it's people in show business who like to hide their age. Are you an actor? No, I'm a social worker. I don't have a really good reason. It just doesn't usually come up, so I'm not used to sharing it.

What are you up to? I'm scouting for people to photograph, just like you are. You have my dream job.

Weird. What are you doing it for? I have a blog, liznyc.com. I take a photo of someone on the street every day. I started in the middle of May, and it's a 365 project, so I'll continue till I've done the whole year. And I'll probably keep going beyond that, too.

What are your standards for picking people? Should I be offended that you didn't choose me? [Laughs] It would be cheating to ask you, since you approached me. It's anyone who catches my eye. I'm a social worker and no longer work with patients directly, so this has been a great way for me to—

Interact with crazy people? [Laughs] It's been a way to combine my interests. And of course, New York is the best city for finding interesting people.

What kind of social work do you do? I work with a company that interviews patients who are in research studies for medications. We work with lots of different drug companies and different populations with different conditions—depression, schizophrenia...but I'm not doing the interviews myself anymore, which is partly why I started this project. I used to do individual and couples therapy. I'd love to get back to that someday.

What interested you in psychology in the first place? I have family that's been involved in this field for years—generations. It's always been my thing, I love talking to people.

Ever run out of compassion? Sure, there have been cases that were challenging. But even with the people I feel less compassion for, I'm still interested in how they got to where they are. How they became…what they became.

So it's a voyeuristic pleasure—just like for everyone reading this column. [Laughs] There definitely is that.
More from Liz
"I think I must look approachable. I've only had a couple people turn me down since I started."