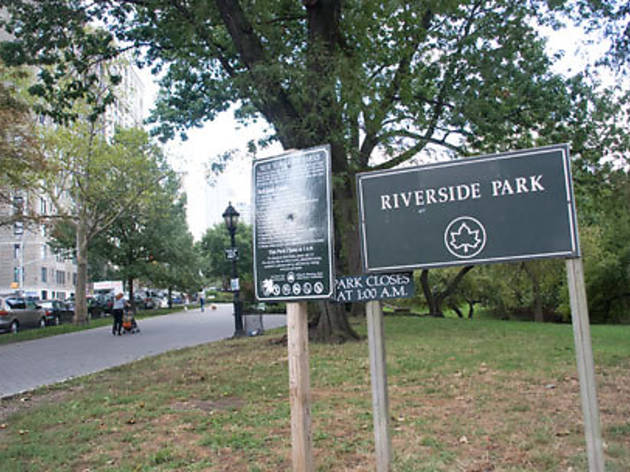 It's not hard to see why the Upper West Side has been immortalized by Nora Ephron and Jerry Seinfeld alike: Sandwiched between two of New York's most beautiful parks, the area is home to cultural institutions ranging from the arts mecca of Lincoln Center to some of the oldest Jewish delis in the city. A few blocks north of the neon lights and tourists of Times Square, you'll find yourself in a serene hub of mom-and-pop shops and friendly sidewalk cafes.
It's not hard to see why the Upper West Side has been immortalized by Nora Ephron and Jerry Seinfeld alike: Sandwiched between two of New York's most beautiful parks, the area is home to cultural institutions ranging from the arts mecca of Lincoln Center to some of the oldest Jewish delis in the city. A few blocks north of the neon lights and tourists of Times Square, you'll find yourself in a serene hub of mom-and-pop shops and friendly sidewalk cafes. Though high-rollers like A-Rod and Tina Fey call it home, you're more likely to bump into a baby stroller and a dog walker than a boldfacer. But that doesn't mean you shouldn't look for the rich and famous..
Lauren and Torrey Taralli, founders of local blog My Upper West (myupperwest.com)
"We've lived together on the Upper West side for three years. We had our first date in 2003 under the big clock on 72nd Street and Columbus Avenue, and we fell in love with both the Upper West Side and each other shortly after. I proposed to Lauren four and a half years later in the exact spot that we met for that first date."
"Pier i Cafe is hands down our favorite summertime hangout. We hesitate to tell everyone about it, as it is an amazing UWS secret."
Pier I Caf, W 70th St and Riverside Park South (212-362-4450, piericafe.com)
"Bin 71 is a tiny space that seats [not more than] 40, but with a horseshoe bar and some outdoor seating, it feels cozy and intimate. The wine selection is pretty large, with some solid French, Italian and American labels on the list, and the pours are generous. Just be sure to check it out during a slow time. Upper West Siders love their wine bars, and it gets packed!"
Bin 71, 237 Columbus Avenue at 71st St (212-362-5446, bin71.com)
"[Metro] is definitely our favorite diner over the plethora of Upper West Side diners. Order anything from an omelette to pork chops to Greek spinach pie, and watch how fast the delicious food comes to you. It defies the laws of physics."
Metro Diner, 2641 Broadway between 100th and 101st Sts (212-866-0800)
Rene Chow, CEO and founder, Thrapie New York Boutique
"The place where I absolutely love to shop for clothes is A Tempo. It's this tiny little store that you can easily walk past, but I swear you can find the prettiest clothes there for women. It's so well chosen and edited that everything in there is cute. You can fully accessorize yourself too; they have a wonderful choice of costume jewelry. I found something there that I wore to a wedding and it was only $150."
A Tempo, 290 Columbus Ave at 74th St (212-769-0368, atemponewyork.com)
"To me, Juice Generation is a little bit of an institution. It's this tiny little shop that serves the best juices and smoothies in all of New York. They have great gourmet sandwiches there—everything is really healthy and yummy. It's a place you can overlook because it's so understated."
Juice Generation, 117 72nd St between Columbus and Amsterdam Aves (212-579-0400, juicegeneration.com)
"One of the most wonderful things about being on the Upper West Side is Riverside Park. People don't realize how beautiful it is: It's a real nontourist park. You can always find a pleasant spot to stroll. I usually walk along the Boat Basin area, thinking one day I'll picnic there."
Riverside Park, Riverside Dr between 72nd and 158th St (212-496-2105, nycgovparks.org)
"I think [Alice's Tea Cup] is one of the only places where you can have a girly high tea. It looks so quirky, like it's straight out of a movie. You feel like you walked into a scene from Alice in Wonderland. It's a place where the waitresses wear fairy wings. I love that their scones are different every single day, and their tea is wonderful. They're sort of like a Serendipity for the Upper West Side."
Alice's Tea Cup, 102 W 73rd St between Columbus and Amsterdam Aves (212-799-3006, alicesteacup.com)
Enrico Adelman, owner, Bloomsday Books
"I've been selling books on the Upper West Side for over 20 years. Now I have stands of hundreds of books in front of Zabar's. When I first opened up Bloomsday on 81st Street and Broadway in 1986, my attorney asked just as I was about to sign the lease, 'Are you sure you want to open in this neighborhood?' There used to be prostitutes on the corner. I told him, 'Ben, it's going to change,' and it certainly did. When I first moved here, apartments were less than half the price of East Side apartments. Now the Upper West Side is considered the gold coast of Manhattan."
"The Boat Basin has an enormous amount of charm. I have a lot of friends who've lived there on boats since the '70s. It's really like being someplace else, far away from the city."
79th Street Boat Basin Caf, W 79th St at the Hudson River (212-496-2105, boatbasincafe.com)
"[One] secret is this little restaurant Pisticci. I don't want to tell that many people because it'll get too crowded. I've lived in Florence and it's one of the most authentic, well-priced Italian restaurants in New York City."
Pisticci, 125 La Salle St between Broadway and Claremont Ave (212-932-3500, pisticcinyc.com)
Gale A. Brewer, City Council member representing the Upper West Side
"I love living here, because residents of the UWS have a strong social conscience. We are outspoken, active and committed to our beliefs; senior citizens and parents are particularly engaged in our community. This is a highly educated and racially and economically diverse neighborhood that has always had a progressive bent."
"I like City Diner for meeting leaders in the neighborhood. It's conveniently located near the subway; it's good diner food. It's impressive but not too pretentious or expensive. I go there mostly for breakfast."
City Diner, 2441 Broadway between 90th and 91st Sts (212-877-2720)
"I get my groceries from Mani Market Place. It's a neighborhood institution that's been here for [about 20] years. I've been going there for 20 years. It's owned by a Greek family who speaks Spanish. They play jazz music over the loudspeakers and greet you with a hug. I'm sure it's the type of place where if you can't pay today, they'll let you pay tomorrow. They have a huge selection of groceries and a deli with fresh food. If you say Mani's Market, everybody knows what you're talking about."
Mani Market Place, 697 Columbus Ave at 94th St (212-662-4392, manimarketplace.com)
"I love jazz and have great respect for and adore Wynton Marsalis, the artistic director and cofounder of Jazz at Lincoln Center. He lives in the neighborhood and came from a jazz family in New Orleans. They have many venues and wonderful educational programs for students. It's a real cultural institution."
, 33 W 60th St between Broadway and Columbus Ave (212-258-9800, jalc.org)
Gayle King, editor-at-large, O Magazine
"I've lived here for almost two years. I love it because: location, location, location! It's close to the Hearst building, where I work, the West Side Highway, the water and the park. It's quiet, but go just a few blocks in one direction and you can bike or walk along the water; a few blocks the other way and you're smack in the middle of city living."
"Ahhh, Jean Georges. His Trump Hotel location has Nougatine—casual atmosphere, scrumptious food—and Jean Georges. That's dining at its finest: You get to take your time and enjoy some of the best food in the world. Translation: two great experiences in the same spot from one iconic chef."
Jean Georges and Nougatine at Jean Georges, Trump International Hotel & Tower, 1 Central Park West at 60th St (212-299-3900, jean-georges.com)
"I love the name [of Gracious Home]! It can be pricey, but I can spend hours there just being a looky-loo. It's a great place to find accents and finishing touches."
Gracious Home, 1992 Broadway at 67th St (212-231-7800, gracioushome.com)
"Mandarin Oriental Lobby Lounge is my favorite place for after-work drinks, and I don't drink. The Half-Circle—consisting of pomegranate juice, pineapple juice and Sprite—always hits the spot. And, depending on who you're there with, it can feel very romantic or provide a lovely atmosphere with a great view when you're with friends or colleagues."
Mandarin Oriental New York, 80 Columbus Circle at 60th St (212-805-8880, mandarinoriental.com/newyork)
Sponsored listing
Bo's Kitchen & Bar Room
Bo's Kitchen and Bar Room offers you a choice: dinner in the full dining room or more casual bites at the bar. For bar snacks, there's crispy alligator with chili aioli ($15), a cheeseburger topped with caramelized onions, heirloom tomatoes, lettuce and onion ($16) or olive oil–braised baby octopus tacos with mushrooms and blistered fresno chiles (three for $17). You'll probably want a signature cocktail to go with it. Order something sweet like the Antebellum (bourbon, blood orange tea, lemon and mint) or a drink with more savory notes, like the Casa Capri (gin, cherry tomatoes, basil, black pepper, lemon and honey). Sit in the dining room to order something off the more extensive dinner menu. There's fried brie with fig jam and braised beets ($14), lemon-buttermilk fried chicken with creamed kale ($23) and truffle mac and cheese ($12). Don't forget dessert—the restaurant offers fried cookie dough beignets and a blood orange tart with chantilly cream (both $13). 
Venue says: "Join us for our 3rd Tiki Takeover event on Tuesday August 15th. Hosted by Fernet with a special guest bartender and specialty cocktails!"
You might also like