Heads up! We're working hard to be accurate – but these are unusual times, so please always check before heading out.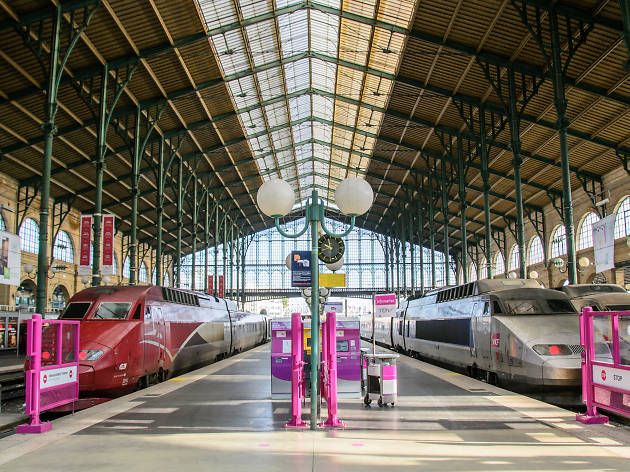 Your essential guide to public transport in Paris
From buses via trains to the metro, here's everything you need to know about public transport in Paris
Paris is an excellent city to explore on foot – but even on a short trip, you're likely to use public transport at least once. The great French tradition of grèves (strikes) aside, the RATP-run network is mostly cheap and efficient.
The Paris metro is of course one of the symbols of the city, with its art nouveau entrances and quirky station designs (check out Arts et Metiers' copper-clad platforms). Lines are shallow and trains run every few minutes, so it's easy to hop on and off. Buses can also be handy, especially if you don't mind making sacrifices on style to stay above ground. Taxis and ride-hailing apps take over after dark, while the brave can hit the roads on a Vélib'.
To reach the airports or explore further afield, you'll find yourself on the RER network or regional train services. You're unlikely to take one of the eight lesser-known tram lines on the city's fringes.
Tickets
Tickets can be picked up from machines in any mainline or metro station, all of which have an English-language option. For journeys in the centre of Paris, a €1.90 t+ ticket can be used for a single trip in zones 1 and 2 on the metro, bus, RER or tram. It's usually worth buying a carnet of 10 for €16.90. For longer journeys, you can pick up point-to-point tickets or set-fare one-way tickets to and from the airports.
If you want unlimited travel, buy a Mobilis one-day ticket or a five-day Paris Visite pass. Rechargeable weekly, monthly or annual Navigo passes are only really worth it if you're here for the long haul. You'll need to purchase the card for €5 and it's only valid in its clunky plastic casing affixed with a passport-sized photo.
RECOMMENDED: Full guide to the best things to do in Paris
Public transport in Paris: Your essential guide
After more solid recommendations?
Whether you're a first-timer or a Paris regular, the same goes – how do you even go about planning a day out here? You may not be able to fit them all in one trip, but these are the 50 attractions you absolutely shouldn't miss.