Heads up! We're working hard to be accurate – but these are unusual times, so please always check before heading out.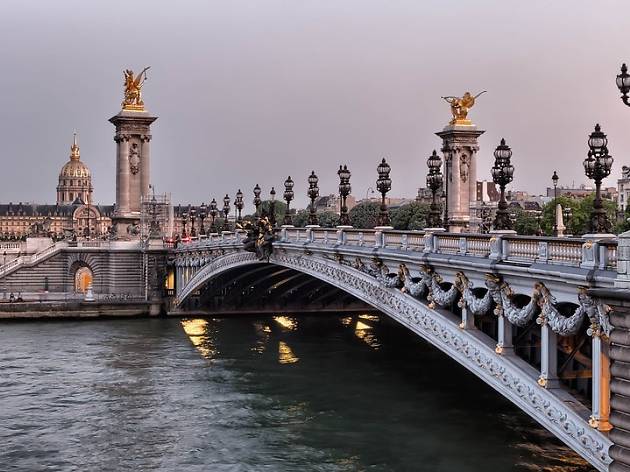 The 34 best Paris tours
Helicopter ride? Coco Chanel tour? VIP Versailles pass? See the city in style with our guide to the very best Paris tours
Paris may be beautiful, but trekking around the city when you're directionally-challenged is anything but dreamy. Thankfully, there are many ways around this – and grabbing a ticket for one of our pick of the very best Paris tours may come top. All your navigational stresses will disappear as a expert guide leads you around the city, offering an insider's take on the some of the city's most fascinating sights. We're talking iconic Paris attractions, to-die-for galleries and street art, and world-beating shopping opps (yep – there's even a tour paying homage to Coco Chanel). Whichever way you want to explore this city – on land or by river cruise, and with nibbles or tipple in hand – sit back, relax, and let the City of Light unfold before you. This is our ultimate guide to the best tours in Paris.
RECOMMENDED: Full guide to the best things to do in Paris
Best Paris tours
1. Vélib bike tour of Paris
Luckily for independent explorers, Paris has its own brand of easy-to-use Boris Bikes. Here the cycle network is known as the Vélib and you'll find these two-wheelers scattered all over the city. Switching your bike as you move from station to station gives you the chance to explore the city on foot. Perfect for those who don't appreciate being shepherded around too much.
2. Gourmet French food walking tour
Sure, Paris is full of calorific cheese, pastries and wine, but who's counting when you've got to walk to get to them? In three hours your guide will have you trekking through the capital on the lookout for French fancies. Visit a bakery, a patisserie, a cheese and wine bar, and a fresh produce market.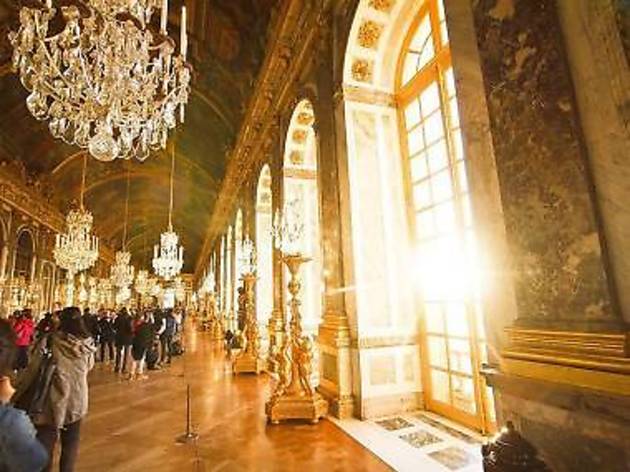 3. VIP tour of Versailles with a private viewing of the Royal Quarters
Versailles was built for the most VIP of VIPs in French royal history. So it's only right that you visit with a similar sense of entitlement. By booking on to this special tour of the super-luxe Château de Versailles, not only will you get priority entrance, but also a private viewing of the palace's Royal Quarters. Which are very snazzy, by the way. Still not enough? Well, you'll enter the palace through a reserved door and be granted access to magnificent private rooms (such as Louis XVI's library) that are normally off-limits to the general public.
4. A Paris helicopter tour
See the City of Light in the best way possible – from above. On this tour to Versailles you'll soar over the Seine, the Bois de Boulogne and the royal palace before landing near Versailles where you can enjoy a complimentary drink and take photos in front of your helicopter. On your return flight to Paris, enjoy bird's-eye views of Trocadéro, Montparnasse, La Défense and the Eiffel Tower.
5. Skip-the-line Louvre 'masterpieces express' tour
The Louvre is massive – there's no avoiding that fact, but this tour boils it down to the very best bits. And you get to jump the line! You should allow a couple of hours for this excursion around the museum's most renowned artworks. Get up close to the Venus de Milo, the Winged Victory of Samothrace, Géricault's The Raft of the Medusa and, of course, da Vinci's Mona Lisa – all with an informative commentary courtesy of your guide.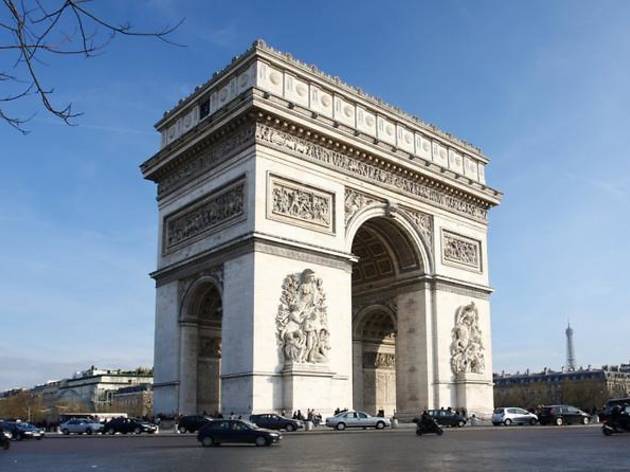 6. A 'classic Paris' walking tour
There's no messing about on this one – it's all sights, sights, sights. The two-hour tour takes in all the landmarks, including Notre-Dame, the Louvre, the Arc de Triomphe and the Eiffel Tower, and is led by a guide who'll share lots of fascinating titbits along the way.
7. Explore Paris's historic wine cellars
This 90-minute tour takes you out to Bercy in the 12th arrondissement, where you'll tour the district's wine cellars and learn more about its winemaking heritage. After all, what's a trip to France without sampling a few glasses of top-notch vino?
8. Behind the scenes of a boulangerie
France is famous for many things, but let's be honest – the food must be top. If your mouth is watering at the thought of la cuisine parisienne, you're not alone – and this boulangerie tour is waiting. Prepare to have your senses astounded, because as soon as you enter this behind-the-scenes tour (at an authentic Parisian patisserie), you'll be revelling in an array of delicious sights, smells and tastes. Uncover the secrets of French baking, mosey around the kitchens and witness first-hand exactly how those delectable French breads, pastries and cakes are crafted. Once you've feasted your eyes, you'll be allowed take home a freshly made croissant and baguette.
9. Versailles Gardens segway tour
Because, why not? Step on one of these very handy inventions that are very nearly impossible to unbalance and zig-zag through Versailles Park. Which is just very, very pretty. Your two- or three-hour narrated tour will travel along the Grand Canal and past the Grand Trianon, Petit Trianon and Queen's Hamlet, pausing for a really quite jaw-dropping view of the Palace of Versailles in all its magnificent glory. And if you want to explore some of Versailles town, too? Opt for the three-hour spin.
10. A bike tour of Paris's villages
This tour takes you out of the chaos of Paris proper, and into the quaint and picturesque villages on its outskirts. And yes, it should be every bit as idyllic as it sounds.
11. Cheese and wine tasting in a cellar
Paris is synonymous with cheese and wine – a duo that'll taste beautiful together if selected artfully. If you join the pro cheesemonger on this tasting session in a Parisian cellar – where else? – you too can learn all the secrets behind a perfect pairing. Enjoy seven French and Swiss fromage fancies as the guide teaches you how to find the right wines to accompany them. Nibbling while you work is absolutely encouraged.
12. 'Paris by night' walking tour
A chance to see the City of Light live up to its nickname – this tour whisks you along the Seine, then loops around the courtyard of the Louvre, before taking in some hidden-away gems you may not even have heard of.
13. VIP access to Louvre, Eiffel Tower and Notre Dame
This group tour – limited to a maximum party of nine – takes in various city sights including the Louvre, the winding streets of Montmartre and a queue-jumping trip up the Eiffel Tower.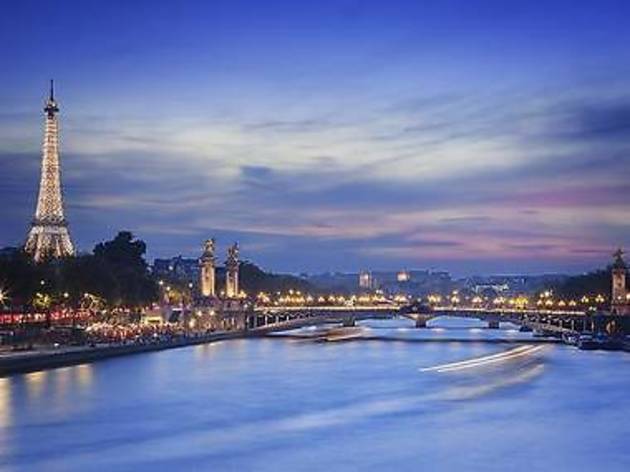 14. Eiffel Tower, Seine river cruise and Paris illuminations night tour
We all know there are few cities as enchanting and beautiful as Paris – and that it really comes into its own come nightfall. This bus/coach tour takes in the Eiffel Tower and various other floodlit monuments, and for that extra little bit of magic, also includes an hour-long cruise along the Seine. Parfait!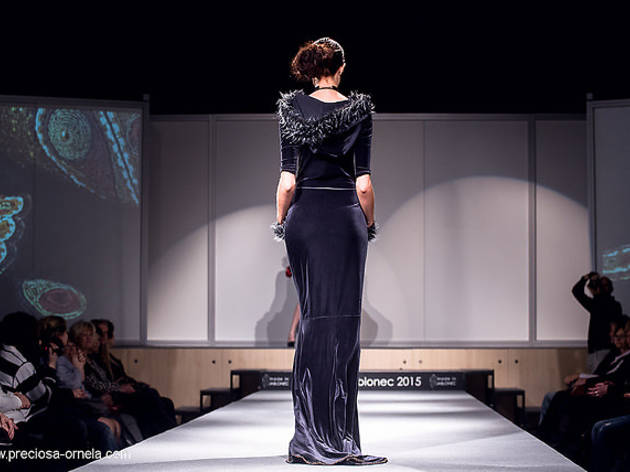 This one's essential for those who love a spot of retail therapy. On this tour you'll be led by a genuine Parisian stylist and fashion expert – she'll take you on a stroll through major Parisian shopping locations and delve into the city's rich sartorial history. It's not often we suggest wearing your smartest heels for a tour – but maybe you should in this case!
This tour takes a look at one of the 20th century's most famous Parisians, fashion designer and clothes magnate Coco Chanel. Tour guide Alex will take you on a walk around the Place Vendôme, known for its fashion houses and boutiques, and a regular haunt of Madame Chanel.
Fancy seeing Paris from a bird's-eye view? Then take to the skies on the Ballon de Paris, a gargantuan hot-air balloon that sets off from Parc André Citroën Park in the 15th arrondissement and floats over the city's rooftops. Take note: tours can be cancelled in bad weather.
Guillaume le Roux is a bona fide Parisian who is as proud of his native city as he is knowledgeable – and in his regular tours, he lifts the lid on various secret parts of the city you won't read about in your guidebook. Guillaume's tours are completely customisable, too: just get in touch with your areas and topics of interest.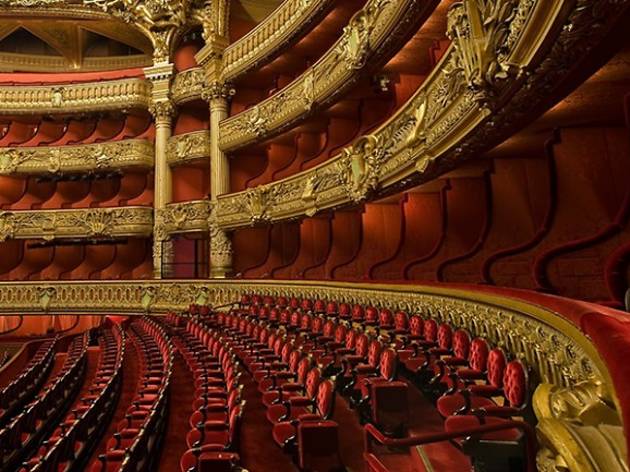 Not only does this tour take you around one of the world's most famous opera houses – your guide is a former professional ballet dancer. Cécile Saglia tells first-hand stories about Charles Garnier's ludicrously grand venue.
Another tour that takes in the Palais Garnier, this time focusing on various legends that surround the iconic building. You'll find out more about Erik, the mask-wearing antihero of 'Phantom of the Opera', the antics of 19th-century opera-goers – and a little about Monsieur Charles Garnier himself.
Got Paris's museums and galleries on your to-see list? The Paris Museum Pass is essential: it gets you entry to more than 60 of the city's institutions as many times as you like over a consecutive two-day period. It'll let you culture-binge to your heart's content at the likes of the Musée d'Orsay, the Pompidou Centre and the Arc de Triomphe.
Go back in time to the '20s and explore the golden era of Montparnasse, then Paris's bohemian epicentre and home to artists ranging from Duchamp to Dalì. The tour is small-scale – limited to a maximum of six – and includes a glass of wine at a local bar, plus a photo souvenir.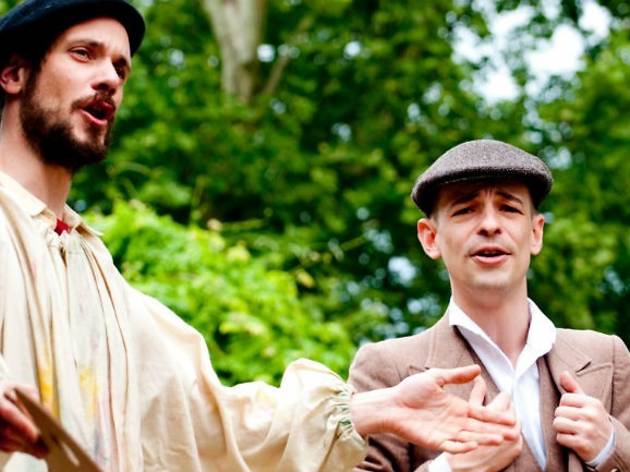 23. Guided tour of Montmartre
Another guided tour of one of Paris's artistic quarters – this time, Montmartre, once home to the likes of Picasso, Modigliani and Toulouse-Lautrec. This one's led by three actors who assume the roles of artsy bohemian types who once lived there.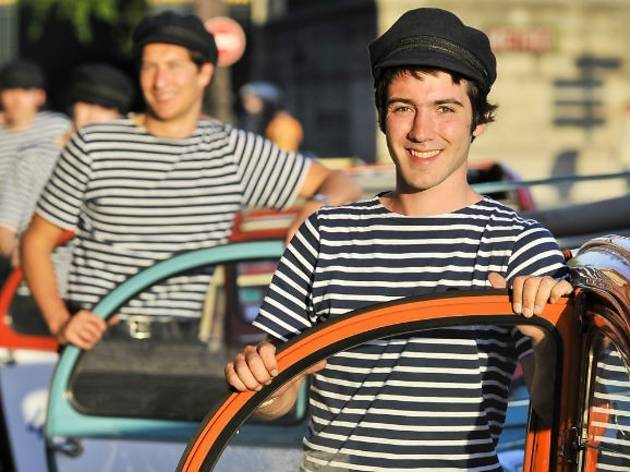 24. Private ride through Montmartre in a 2CV
And if you don't fancy being led by actors through Montmartre, then how about in the passenger seat of that Frenchest of French vehicles, a Citroën 2CV? You'll be chauffeured past sights including the Sacré-Coeur and the red light district in north Pigalle.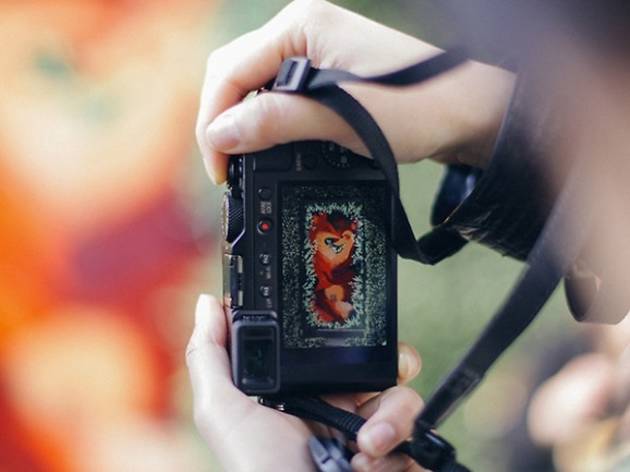 25. Montmartre photography class
Most people are pretty snap-happy these days, but if you're seriously trying to improve your photography skills, then book a place on this three-hour course and tour around Montmartre. This charming former village on the city's outskirts will provide you with the perfect subject-matter as a photography expert guides you through really perfecting your pics.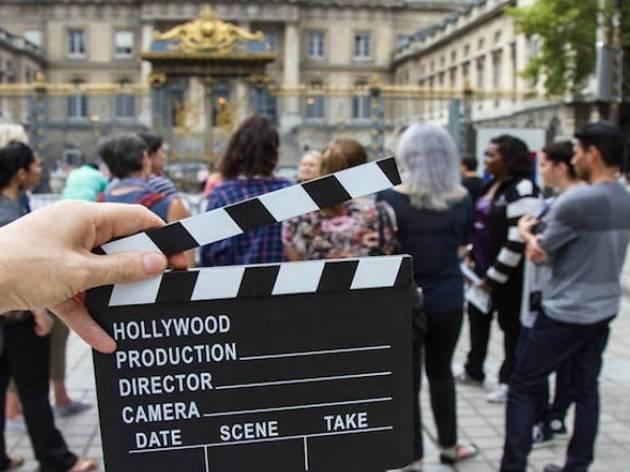 26. Paris movie locations tour
Paris has been committed to celluloid on countless occasions – and in this walking tour, you'll visit spots that have made appearances in classics including 'The Three Musketeers', 'Marie Antoinette', 'The Devil Wears Prada' and, er, 'Safe House', starring Ryan Reynolds.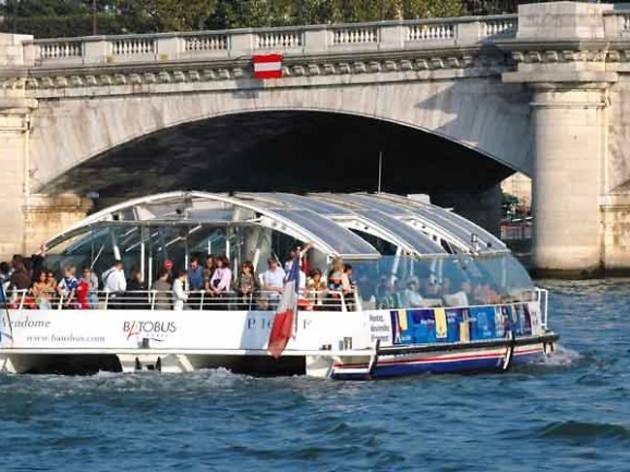 27. Discovery bus pass and cruise tour
On this tour, you can take to both tarmac and water to explore Paris – and even better still, completely at your own pace. The Discovery pass lets you board the scheme's open-top buses and Seine-based 'Batobuses' with total freedom across a two-day period.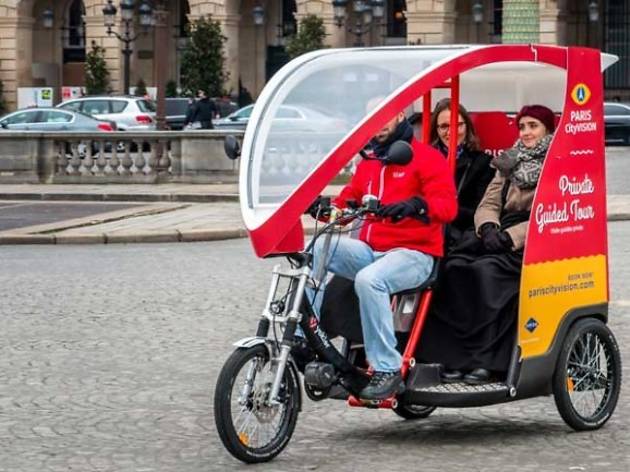 28. Cyclo private guided tour
From the comfort of a three-wheeled electric bike, you'll be driven through the streets of the Left Bank's Latin Quarter, before being directed towards illustrious sights including the Place de la Concorde, the square where Louis XVI, Marie Antoinette and many others were guillotined.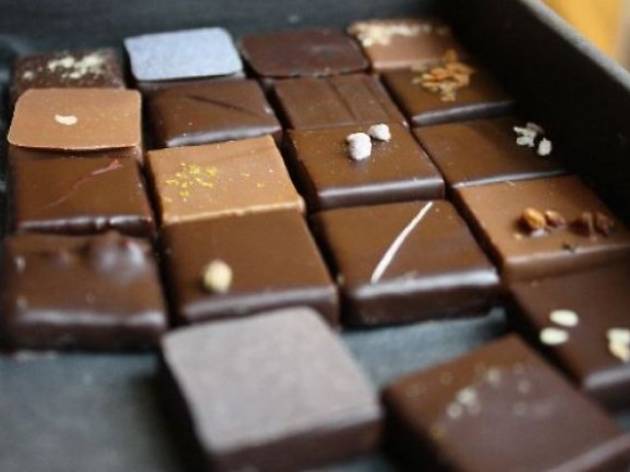 29. Chocolate tour in Saint Germain des Prés
This tour for the sweet-toothed takes you around bougie Saint-Germain-des-Prés, which brims with artisanal pastry and chocolate shops. Needless to say, there'll be the opportunity to get your chops sticky along the way – at an insulin-raising eight different establishments.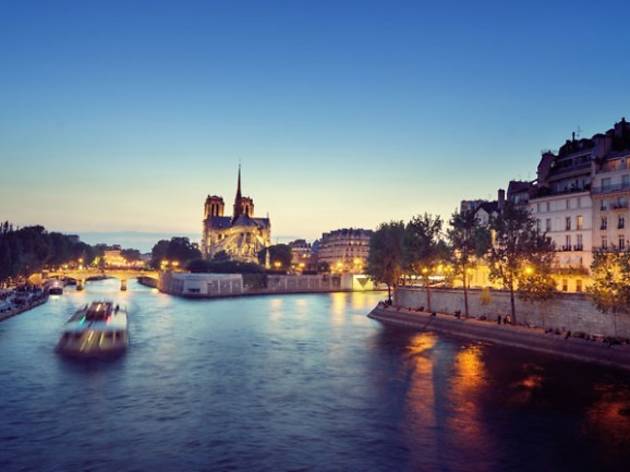 As night falls, Paris begins to sparkle. This tour takes in both on a cruise along the Seine and a bus tour past various landmarks, so you can truly appreciate why the City of Light earned its nickname.
Want to visit the land of Mickey, Minnie, Donald et al – but baulking at the thought of all those queues? The Fastpass option lets you skip the line at various rides and attractions at Disneyland Paris, including 'Star Wars: Hyperspace Mountain' and 'Peter Pan's Flight'.
The Lido is a world-famous cabaret and burlesque venue on the Champs-Élysées – and their shows, featuring dozens of feather-clad dancers, are always enormous fun. This offer includes transport to the Lido, dinner, the show itself... and a spot on the dance floor, should you find yourself in the mood.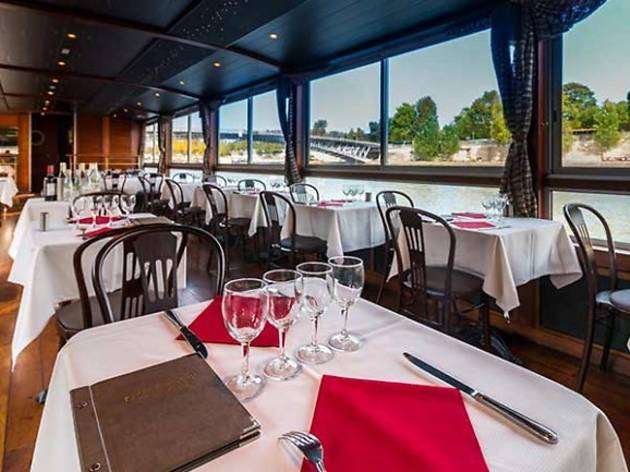 33. Romantic evening dinner cruise
Ah, Paris – there's no better place for lovebirds. And if you fancy treating your partner to an intimate evening meal, then why not book a spot about this cruise boat? The Seine and the city's riverside sights will provide the perfect backdrop to a cosy tête-à-tête.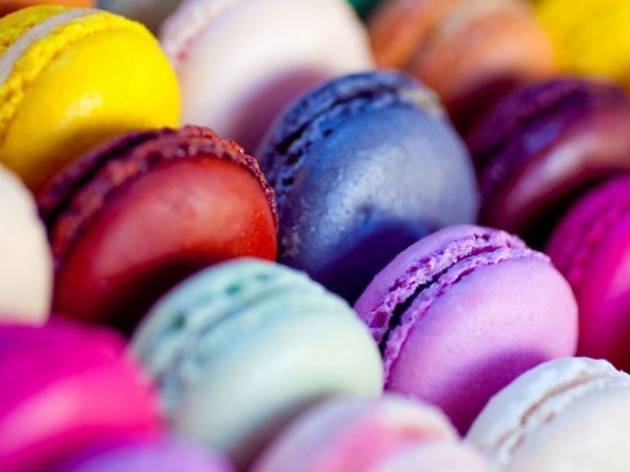 34. Saint-Germain-des-Prés tour with tastings
Another foodie tour in Saint-Germain-des-Prés, this focuses on macaroons, kouignettes and other classic Gallic treats. The tour begins in a pastry shop that frequented by Brigitte Bardot, before moving on to other top locations where you can sample the best the Left Bank has to offer.
Still need to tick off the sights?
Ah, gay Paree, what are you like? There are so many marvellous sights here… yet we all have so little time to see them. Whether you're a first-timer or a Paris regular, our pick of the 50 best attractions in Paris should certainly keep you going.