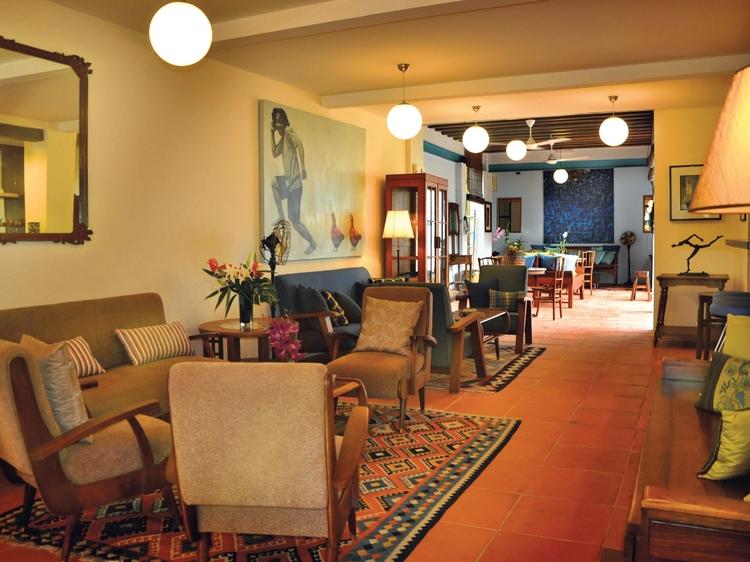 This quaint turn of the century building is a remarkable store of colonial architectural surprises. Nestled together in its comfortable compound behind a walled garden and an enormous Chinese gate are four heritage quarters - an Anglo Indian bungalow, a Straits Eclectic building, a 1920s Jack Roof Annexe and an Indian Shop House. These en suite rooms pander to the needs of the lone traveller, a romantic couple, or a happy family.
These quarters, set in a sunlit garden of heliconias and bamboo, provide a peaceful haven and escape from bustling George Town outside. The Anglo-Indian Bungalow has a Garden Room with its own private garden for you to patter around and an ample bathroom with a free-standing bath under the open skies.
Shuttered windows allow shafts of sunlight into cool air-conditioned rooms of the Straits Eclectic rooms while French doors open out to the picturesque gardens and pathways. Upstairs, a reading room, library and kitchenette make for a comfortable den. The windows overlook the garden and provide views of the old tiled rooftops of surrounding houses.
All ten rooms are furnished with a treasury of art and vintage furniture. This charming hotel is located within the UNESCO World Heritage Site enclave. The heritage sites of George Town like the clan jetties, kongsi, temples and museums are within walking distance.
The room rates include a choice of American or local breakfast and for tea time, cakes and kuih are served. Dinner is at the adjoining
Steak Frites @ 23
restaurant next door. It serves a one-item menu, the specialty tenderloin steak with butter sauce. Alternatively, take a walk out for scrumptious local fare around the corner, or at the many trendy restaurants in the vicinity. Massage and babysitting services are available on request. A ground floor suite with wheelchair access is reserved for physically challenged guests and is wheelchair accessible.