Bukit Genting Hill Leisure Park and Restaurant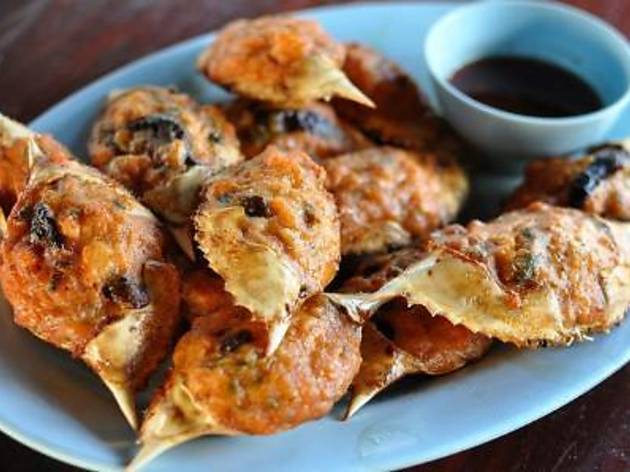 February 2014

A steep drive, or hike, up Genting Hill just off Teluk Kumbar main road will take you to this leisure park and restaurant. Surrounded by lush fruit trees, the restaurant offers a lovely view of the hilly landscape as well as the sea below.
Food wise, their pork-free menu consists of mainly Thai food with a smattering of Nyonya-Chinese dishes. You can expect red and green curries, tangy and coconut milk-based seafood tom yam, a variety of kerabu or salads as well as otak-otak and butter prawns.
We pick a serving of spring rolls (RM2 for one roll) and belacan chicken wings (also RM2 for one wing) to kick start our meal. They arrive piping hot, if not over-fried almost to a crisp. Next up, the glass noodle kerabu at RM11 for a small serving and stuffed omelette Thai style at RM10 for a small too, are chosen to complement the bowl of seafood tom yam at RM20 good for two to three people.

Seafood tomyam
The portions of small serves are good for two to three people while a generous amount of tom yam soup covers the paltry amount of seafood and the kerabu is expectantly spicy. While service is efficient, the view is pretty and temperature's at least 10 degrees cooler than on ground level, the food is rather average.

Kerabu bihun, stuffed omelette and spring rolls
Still, it's a good place for a half-day expedition with its eccentric sculptures of a milk bottle, helicopter and the like. There are plenty of lookout points on which to perch yourselves for time-lapse photography of the drifting clouds or the sky's changing colours at sunset.
One thing's for sure, the peace and quiet of the place is a sweet place for couples to share a meal together, as long as the meal is not meant to take centre stage. We'd certainly recommend it! Su Aziz
Venue name:
Bukit Genting Hill Leisure Park and Restaurant
Contact:
Address:
Bukit Genting Hill
Penang
11600

Opening hours:
Daily, 11.30am-10.30pm