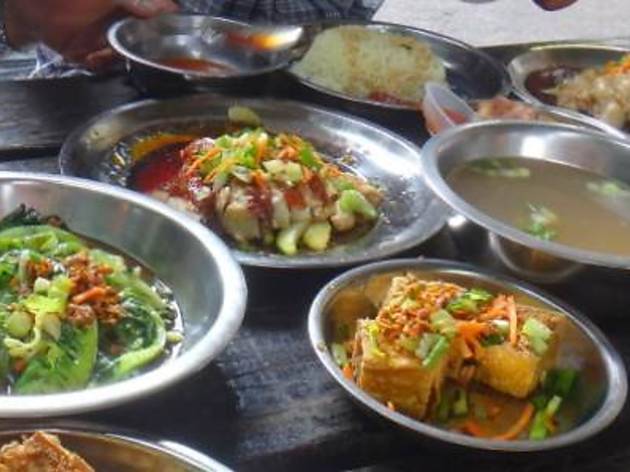 Time Out says
May 2013

This place has been featured on national television and a few publications. The question is, why is it famous? The answer is simple, their rice is moist and fluffy, the chicken is roasted to perfection with delicious, brown skin and the chilli sauce in which to dip your every spoonful is thick and tangy.
Above all, for a takeaway packet with a good portion of rice and the breast meat of the roasted chicken costs merely RM3! However, eating in is an experience. Seated on rustic wooden benches and tables, food is served in metal or aluminium plates. An order of chicken rice whether accompanied by steamed or roasted chicken that's served on a bed of sliced cucumber and drizzled with light soya sauce and sesame seed oil, comes with a bowl of piping hot soup.
Now, their side dishes are terrific complements to the rice. There are deep fried, silky and soft taufu cubes and blanched bean sprouts drenched in light soya sauce, sesame seed oil and sprinkled with fried sliced shallots, to choose from. For a litle more green, there's also blanched lettuce leaves soaked in light soya sauce, sesame seed oil and fried sliced shallots.
Eating in will of course cost a little more but it will hardly put a huge dent on your wallet. It'll start from RM5 and for a feast, it'll be around RM25 or thereabouts. The nice part about the food is, there's a lightness to its flavour that'll keep you from feeling over stuffed. Kitty Kaye
Details
Best selling Time Out Offers