Perut Rumah Nyonya Cuisine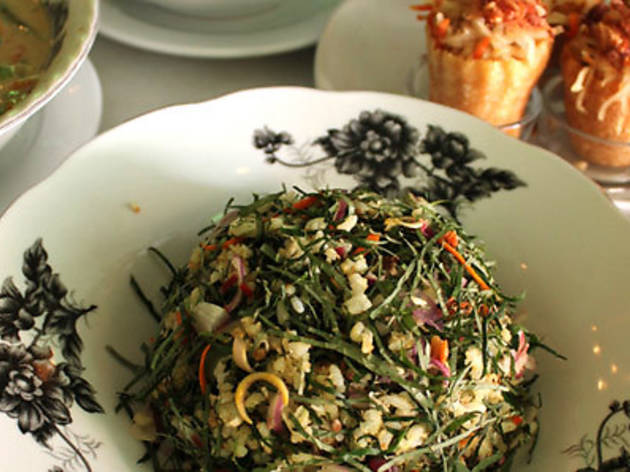 June 2013
Housed in a lovely old bungalow, this place certainly scores points with us for its ambience that's made authentic with rows of tiffin carriers, tin teapots, cups and pots on display that evoke nostalgia for a time long gone. Besides that, their quick service and above average Nyonya food will certainly enhance your eating experience.
Naturally, like any self-respecting Nyonya restaurant, you'll find the usual favourites such as ju hu char of stir fried shredded sengkuang (turnip), carrots, dried cuttlefish and mushrooms that you roll into crunchy lettuce leaves and dab with chilli sauce before taking a bite and velvety smooth otak-otak of steamed fish, coconut and herbs. These side dishes are from RM5 and one serving of the otak-otak is good enough for two.

Sweet potato leaves in masak lemak, pork in cincalok and aubergine in sambal
While their Nyonya curries are perfectly satisfactory, our surprise find is their pork slices cooked in a cincalok sauce along with sweet potato leaves blanched in creamy, coconut-based masak lemak gravy. The pork dish is both light and delicately salty from the cincalok of fermented prawn sauce and makes a perfect duet with white rice with a dash of their complimentary fiery sambal belacan. Another dish we'd recommend is a somewhat spicy stir-fried aubergine in prawn sambal. These main dishes are from RM12+ for small portions that's good for two people.
For those preferring to make a meal of their appetisers, it's an idea to order their delicious pai-tee of crispy fried shells stuffed with sautéed shredded vegetables and also their roti babi. These appetisers are from RM3.90+ and are usually three pieces per order.
Dishes here are not terribly spicy but the heat of the chillis and spices they use are definitely present. To amp up the spiciness, you can either request for sliced cili padi or a little extra of their complimentary sambal belacan. After all that, end on a sweet note with their desserts such as bubur chacha or bubur gandum. Kitty Kaye
Venue name:
Perut Rumah Nyonya Cuisine
Contact:
Address:
17, Jalan Kelawei
Penang
10300

Opening hours:
Daily, 11am-3pm, 6pm-10pm.