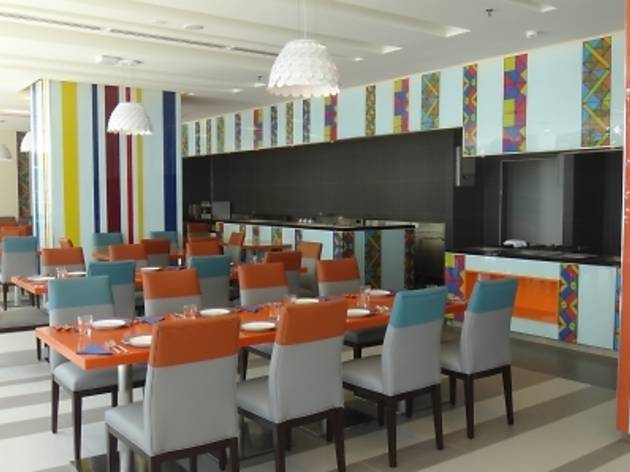 November 2013

For a hotel restaurant, their prices are reasonable, the dishes are a good portion and the view of the sea is panoramic while the sunset is simply breathtaking. This restaurant within Four Points by Sheraton in Tanjung Bungah offers mainly western meals with a few local favourites to spice it up.

Their menu is what you'd come to expect of a hotel's all-day dining restaurant. There's a variety of comforting pasta dishes, along with a nice range of choices of wood oven pizza that includes Hometown topped by chicken satay and beef rendang and the rather exotic Sambal pizza of, among other ingredients, chilli paste and anchovies.
Our choice is the beef burger at RM15+ that's not only large but also filled with a thick, juicy barbecue sauce-slathered beef patty. There's a nice texture, familiar yet addictive flavours and just the thing to sink your teeth in to satiate a monstrous hunger. Chunky slices of tomato and gherkin, also lettuce, add a little tang and crunch to it. The experience is made even more satisfying with the accompanying homemade fries.
For those looking for a less heavy meal, there's a 'Create Your Own Sandwich' section consisting of seven fillings, numerous veggies and five breads for RM15+. For a lighter side to it all, from their appetiser selections, we choose Caesar salad topped by grilled chicken at RM18+. The romaine lettuce leaves are crisp, the chicken moist enough and large cubes of croutons make it a fulfilling meal on its own.
Our surprise find here is their oxtail soup at RM12+ per bowl with bread for dipping. Why? Simply because it's the perfect food to keep warm on a rainy day while watching the wind play havoc with the sheets of rain through the glass walls of the restaurant. It's dramatic, indeed.
You can opt to dine within the air-conditioned indoor dining area or al fresco to enjoy the sea breeze. And yes, it's family friendly too and the beach is neat and clean, perfect for a stroll or simply to laze in the sun after a meal. Su Aziz
Venue name:
The Eatery
Contact:
Address:
Four Points by Sheraton 505 Jalan Tanjung Bungah
Penang
11200

Opening hours:
Daily, 6.30am-11pm