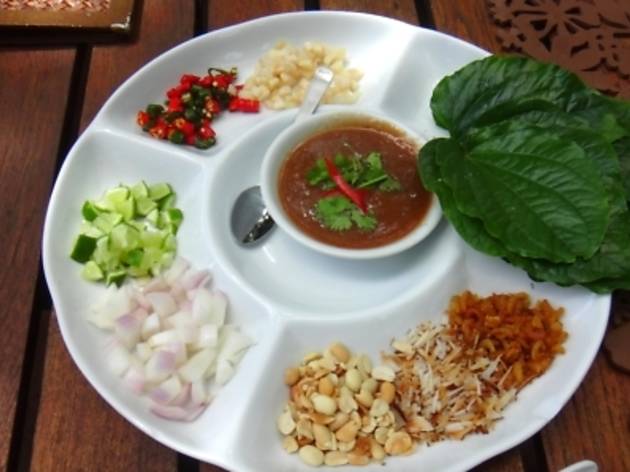 June 2013

Being in such close proximity to the Spice Garden has tremendous benefits – the chef has exclusive access to fresh herbs. With that in mind, we recommend kicking off your meal here with an order of miang kham where chopped ingredients such as peanuts, cili padi, lime, onions, seared shaved coconut are then rolled into a herbal leaf daun kadok.
While these chopped ingredients give a lovely savoury crunch to each bite, the special palm sugar based sauce adds a sweet flavour. A serving of worth around eight rolls is RM14.80+. Chew on this and absorb the lovely al fresco dining style amid tall, shady trees with fat, happy squirrels scampering busily up and down its wrinkled trunks.

The restaurant's cool ambience
Their seafood filled tom sai and tom kha – one is clear tangy spicy soup, the other is coconut milk based – are tasty and sure to hit the spot for a light meal at M12.80+ for a single serving. If seafood is not your thing, you may request for chicken instead at RM10.80+.
What's lovely on their menu here is really their Thai or Asian tapas that are terrific alternatives to a full, heavy meal. They have a choice of eight, 12 or 16 pieces of Thai tapas from RM30+ where you can mix and match from a choice of 12. There are lightly spicy sambal marinated fried chicken drumlets, pleasant pandan leaf wrapped chicken fillet, otak-otak, among others.

Eight pieces of Thai tapas
We, however, were really pleased with the darling crab where half-shell crab is stuffed with crab meat along with chopped water chestnut and seafood then crumbed and fried. Also with their lemongrass skewer made out of minced seafood coated in bread crumbs, fried and wrapped around fresh lemon grass sticks that are lovely to suck at the end.
The heavier Asian tapas that adhere to the same rule of either eight or 12 choices from RM60+ is a terrific one for the sun set hour. This is because it's a somewhat heavier flavour that'll give you a chance to sample some of the main dishes from their menu such as red and green curries, tom yam soup and namtok which is Thai beef salad. To enjoy all that, an order of this Asian tapas comes with two servings of tumeric flavoured yellow rice. Su Aziz
Venue name:
Tree Monkey Restaurant
Contact:
Address:
Tropical Spice Garden, Lone Crag Villa, Lot 595, Mukim 2, Jalan Teluk Bahang
Penang
11050

Opening hours:
Daily, 9am-11pm.