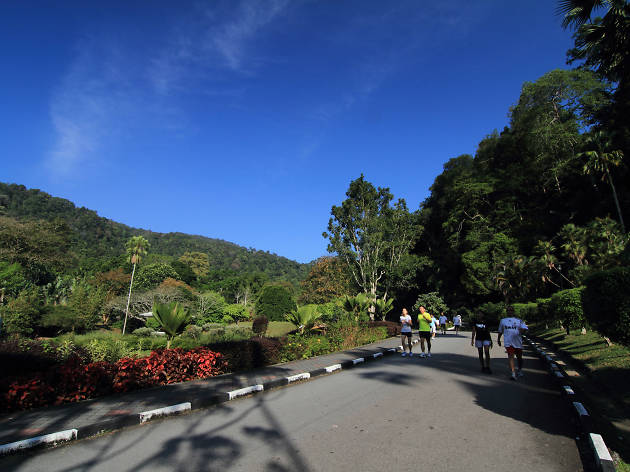 Best things to do outdoors in Penang
There are plenty of green lungs on the island – great places to lose yourself for a few hours and recharge, says Rosalind Chua
As wonderful as it is to visit Penang for never-ending gastro tours and to chill out, it would be a shame to miss out on the wealth of outdoorsy pursuits on offer. There are plenty of green lungs on the island – great places to lose yourself for a few hours and recharge.
The Penang National Park (Jalan Hassan Abbas, Teluk Bahang. +604 881 3530/www.wildlife.gov.my/tnpp) has plenty of well-marked jungle trails for hikers of various abilities (all visitors need to check in with the Park Rangers before heading off as a safety precaution). Some of the Park's attractions include the old lighthouse, which was built in 1883 and is still operational – the view from the top is well worth the hike. The pristine, secluded beach at Pantai Kerachut is also great for BBQs and at certain times of the year, the small turtle sanctuary hosts baby turtles. There are plenty of excellent nature trails around the Penang Botanic Gardens (Jalan Kebun Bunga. +604 227 0428) and the friendly people at the Malaysian Nature Society (MNS) office near the Garden's entrance will be happy to set you on the right track. From the Botanical Gardens, the adventurous can climb up Penang Hill – a four hour hike for the moderately fit – for cream tea and scones. For some off-the-beaten-track trails check out Forest Explorers (trails.forestexplorers.com). Remember, safety first, it's no fun being lost in the jungle! If these hikes aren't enough, Guillaume Martin of Penang Hikes (penanghikes.blogspot.com) says there are plenty of other choices to keep you occupied: 'Penang is blessed with tons of beautiful trails that barely see a hiker. The trails do not onlt vary in length or difficulty but also in terrain, wildlife and development.'
Cycling is a great way to explore George Town. Bike hire is available from Metro Bike (Jalan Dr Lim Chwee Leong & 8A Pengkalan Weld. +6019 409 4663/www.metrobike.com.my) and George Town Bicycle Rental (Kompleks Medanika, Pengkalan Weld. +6012 412 1007/www.gtbikerental.blogspot.com). A number of hotels in the city and beach areas also offer bike rental facilities to guests, so don't forget to ask. Penang's hilly jungle terrain offers plenty of challenging trails for mountain bike (MTB) enthusiasts, some committed groups to get in touch with are the Knights of the Round Table (www.kotrt.com.my) and the Penang MTB Club (penangmtb.blogspot.com). The members of G Club (www.gclub.com.my) are a friendly bunch and organise regular cycling excursions for riders of all ages and abilities.
If you really enjoy running around in a flap getting shot at, Penang has a number of indoor and outdoor paintball venues, Penang Paintball (www.penang-paintball.com) has the information you need. The Penang War Museum is a pretty crazy venue and after the 'painball' session, visitors can check out the exhibits.
Unsurprisingly the island has plenty of water sports options – jet-skiing, sailing, paragliding, kayaking. The easiest place to hire equipment is along the beaches of Batu Ferringhi, don't worry about where to look, the beach boys will find you. Licensed watersport operators all wear visible armbands, always ask about insurance coverage, no-go areas etc. There's a skim boarding community that regularly meets at the Tanjong Tokong beach, for more details get in touch with the Penang Skimboarding Association (www.skimshack.com).
In a rather nice touch, one of Penang's largest skate parks isn't in an urban area but tucked away in Penang Municipal Park (Persiaran Kuari, George Town), also known as Youth Park, surrounded by lush, green hills. From the parking lot it's a pleasant five minute amble past giant angsana trees and tropical blooms to the Penang Skate Park; admission is free.
Penang's golfing options are symmetrically balanced, with two courses on the island and two newer courses on the mainland. Bukit Jambul Golf and Country Club (2 Jalan Bukit Jambul, Bayan Lepas. +604 644 2255/www.bjcc.com.my) on the island is a firm favourite with the locals. The historic Penang Turf Club (Batu Gantong Road. +604 229 3233/www.penangturfclub.com) is also home to a golf section and seven holes are within the race track itself. It's a pleasant drive across the Penang Bridge to the Graham Marsh-designed Penang Golf Resort (1687 Jalan Bertram, Kepala Batas. +604 578 2022/www.penanggolfresort.com.my) and the sprawling Bukit Jawi Golf Resort (Lot 414, Mukim 6, Jalan Paya Kemian Sempati, Sungai Jawi, Seberang Prai Selatan. +604 582 0759/www.bjgr.com.my) which also offers visitors resort-style Batu Ferringhi accommodation.
Penang's outdoor attractions