Heads up! We're working hard to be accurate – but these are unusual times, so please always check before heading out.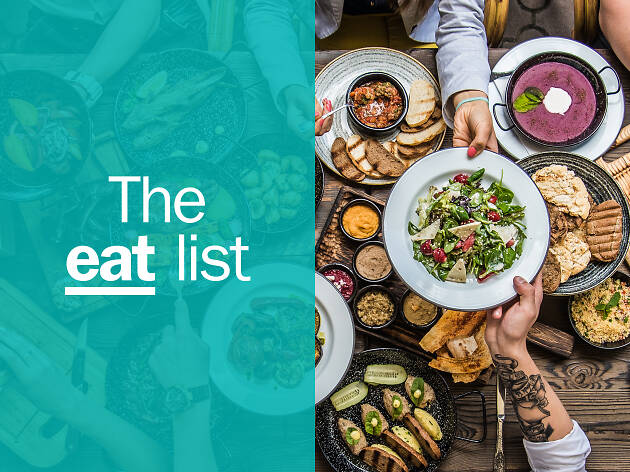 The 20 best restaurants in Phoenix
Eat all the chimichangas and fried bread your stomach craves at the best restaurants in Phoenix, a varied bunch
What makes the best restaurants in Phoenix truly great is their scope: from ethnic treasures to James Beard award-winning spots, hole-in-the-wall family joints and fancy hotel eateries, the capital of Arizona is home to a food scene that is, to put it simply, very underrated.
Speaking of Arizona: the state is known for churning out some of the top burritos, chimichangas (deep-fried burrito) and fried bread across the country, so make sure to taste it all while in town.
Fair warning, though: you'll be so full after, you might have to spend the rest of your day convalescing in your hotel room or walking the deliciousness off (in preparation for your next meal, of course) while browsing through our list of best things to do in Phoenix and the most amazing local attractions.
Best restaurants in Phoenix
Photograph: Courtesy Yelp/Veronica P.
What is it: This long-running pizzeria is the downtown destination for addictive Italian. Made extra cozy by the combo of a dimly-lit room and a blazing wood-fired oven, it's suitably snug enough for a date. The signature pies can be spiced up with a wide range of toppings, from house smoked mozzarella to locally sourced pistachios.
Why go: Celebs from Oprah to Martha Stewart have publicly raved about the food made by this joint's main man, Chris Bianco. He has a slew of awards under his belt, including a much-coveted one from the James Beard Foundation. Plus, this is legit pizza heaven.
Price: Average
Photograph: Courtesy Yelp/
What is it: An intimate and casual setting is what you get at Hana, letting you focus on satisfying your appetite. Some sweet, glazed eel nigiri can lead the way to specialties like the Hana mint leaf, where uni or tuna is wrapped in shiso leaves before getting battered and fried.
Why go: Ask any Phoenix foodie about great sushi in town and Hana will often, if not always, be at the top of the list. It also consistently hovers in the top slots of the annual "best of" lists compiled by local media. Count on insanely fresh, artfully presented dishes every time.
Price: Pricey
Photograph: Courtesy Yelp/Justin J.
What is it: Not your Mickey D's drive-through, you might have a few extra minutes to scroll through your phone at this burger joint in Phoenix's Arcadia 'hood. The wait? Worth it. The menu is uncomplicated here: it's just burgers, fries and shakes.
Why go: A blend of beef gets ground on site each day to produce thick, tender and juicy burgers that you can get slathered in cheese or not. Topping options include buttery onions and sautéed jalapenos, for an extra kick. You don't have to be vanilla about your shake order; banana or the salted dulce de leche are tasty adventures.
Price: Bargain
Photograph: Courtesy Yelp/Tigra C.
4. Green New American Vegetarian
What is it: This 100% vegan eatery offers comfort food minus the cruelty. Yep, it's plant-based fare at it's best. This central Phoenix location is also next door to sister spot, Nami, which offers vegan pastries.
Why go: Lifelong carnivores have had their perceptions about vegan eats shattered by just one bite of sammies like the Big Wac, a whopping two-patty burger reminiscent of the one popularized by the spot with the golden arches. Saucy "wings" and chili-"cheese" fries are other easy lures.
Price: Average
Photograph: Courtesy Yelp/Alexander C.
What is it: Smack dab in the center of town, this old-school steakhouse has anchored the city's dining scene for nearly 70 years. Thick steaks and classic dishes like sautéed chicken livers and double cut lamb chops make it a meat lover's paradise.
Why go: The plump steaks, of course, but also a fun fact: you enter the restaurant from the kitchen. It's fun to see what's going on behind the scenes as you stroll to your lounge-y red vinyl booth. The martinis are stiff and the stories about the place's colorful founder Jack Durant are aplenty. Do you really need any more convincing?
Price: Blowout
Photograph: Courtesy Yelp/Little Miss BBQ
What is it: This place for Texas-style smoked and saucy meats opened in 2014 and no one has stopped yapping about it since. A beacon in a mostly industrial neighborhood, you'll recognize it by both the retro-style sign and the long line. There are some picnic tables outside for on-the-spot dining near the smokers where the magic happens.
Why go: Ribs that effortlessly fall off the bone and tender brisket are worth the trip alone. No offense to the delish sides like cheesy grits, but the meat here is the star. The line is usually long but seek comfort in the slice of brisket that is served to those waiting to ease—or intensify—your salivation.
Price: Average
Photograph: Courtesy Yelp/Royce K.
What is it: The hotspot in north central Phoenix is a sister to Gallo Blanco, located downtown. Here, contemporary Mexican food is served in a bright, airy restaurant loaded with cool art on the walls. The food is as good as the flair, with modern takes on classic dishes stealing the scene.
Why go: Breakfast dishes served all day are one reason to hit up Otro. Huevos rancheros find eggs cooked to order on top of two quesadillas with red or green sauce to suit the heat level you can best handle. Menu options like tangy ceviche and chunky guacamole alongside signature cocktails with fresh herbs don't hurt, either.
Price: Average
Photograph: Courtesy Yelp/Nina N.
What is it: Rito's is a family-owned shop that specializes in the kind of Mexican fare that highlights plump burritos, chimichangas and enchiladas. While you're waiting for your grub in the take-out hub, ogle at all the "best burrito" plaques that line the walls. They're there for a reason.
Why go: Burritos here aren't just mammoth in size, they're so tasty. The green chile burrito is a great way to try the family recipes passed down by Rosemary and Jose Salinas, who started the place in the 1970s. Get it enchilada style, which weighs it down even further with melty cheese and sauce.
Price: Bargain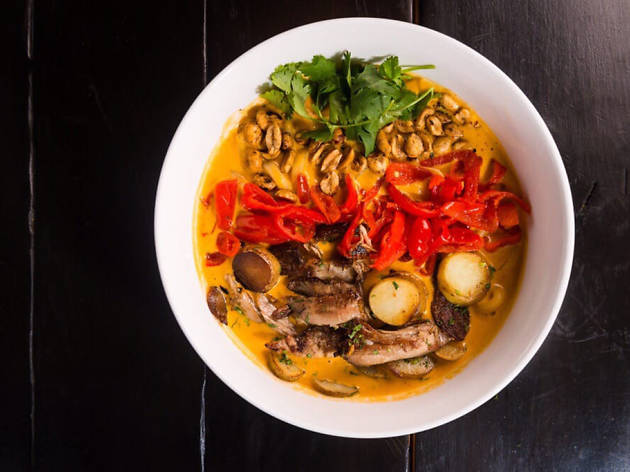 Photograph: Courtesy Yelp/Clever Koi
What is it: Asian-inspired fare at this centrally located restaurant includes steaming bowls of ramen made in an open kitchen, viewable by all seats in the house. A minimal amount of bar seats gets you a really up-close-and-personal look at the hustle happening behind the scenes.
Why go: The cocktail menu, alone, is worth a visit. The Sloe Burn takes bourbon and sloe gin and mixes them with lemon, chili honey and fresh Thai basil for a concoction that urges you to get woozy. The vegetarian ramen is a treat for non-meat-eaters, with its smoked tomato broth. But it is not all about the soup: a plethora of steamed buns, apps and meaty entrées round out the menu.
Price: Pricey
Photograph: Courtesy Yelp/Michelle L.
10. Lo-Lo's Chicken and Waffles
What is it: The proof is in the tastin' at this Phoenix institution, which is so popular amongst locals that you'll often see queues out the door. But trust us—it's totally worth the wait.
Why go: Hands down this is amongst the best chicken 'n' waffles you'll ever eat. The chiken is crispy, tender, flavorful; the waffles are hot and fluffy; and when the two come together drenched in syrup (and a dash of hot sauce) it's practically heaven.
Price: Average
Photograph: Courtesy Yelp/Andrea W.
What is it: This industrial looking box may not appear to be a restaurant from most sides, but trust us when we say you'll want to cross the threshold into Matt's Big Breakfast.
Why go: You don't have to go for breakfast (they serve lunch and dinner too), but you should most definitely go hungry, because Matt's is here to fill you up. Fat waffles come slathered in syrup and crispy bacon, and the scrambled egg with salami is a pure delight. Those after something a little less breakfasty (although they do serve that all day) can enjoy a darn good chilli bowl or a big butter burger.
Price: Average
Photograph: Courtesy Yelp/Lakota M.
What is it: Blink and you might miss this intimate spot nestled at the end of one of northeast Phoenix's strip malls. Its innate warmth comes from both its mild lighting and fiery grill. Use your candle to look through the specials of the day.
Why go: The restaurant doesn't have an official website or social media profiles. Sushi fans know and love it based on chef Yasu Hashino's excellent offerings. From juicy tomatoes to chunky scallops, the food cooked Japanese-style on the binchotan grill (charcoal infused with oak) are heady. The raw options are thoughtfully crafted and delectable.
Price: Pricey
Photograph: Courtesy Yelp/Laura A.
What is it: This place rose above the constrictions of a mediocre location—a small strip mall next to a Circle K and right by a freeway entrance—thanks to its outstanding Italian dishes. There aren't more than ten tables on premise (which is fine—there isn't a ton of parking space) so take-out is a very enticing option.
Why go: The name means "pizza by the meter." Not into pizza (who are you?)? Opt for some fine, hearty Italian dishes that make you want to pop multiple corks and feast all night. The spaghetti dish covered in thick, rich Bolognese sauce is as hearty as the linguine with white wine and mussels.
Price: Average
Photograph: Courtesy Yelp/Thomas L.
14. Carolina's Mexican Food
What is it: A family-run joint that's been serving authentic Mexican grub since the 1950s.
Why go: Carolina's is open for breakfast, lunch and dinner, so you can get some great, wallet-friendly Mexican food here any time of the day. They also make their tortillas in-house, which you can have dished up in a meal, or buy a batch to take home.
Price: Bargain
Photograph: Courtesy Yelp/Jennifer S.
15. Welcome Chicken + Donuts
What is it: The name indicates what you're getting but it's all about how you want the foods to be prepared that will put your taste to the test. The plastic boots and doughnut counter make it look like an unremarkable joint but falser words have never been spoken: both the texture and flavor of the food here is otherworldly.
Why go: Pick the part of the chicken you like and have them douse it with the sauce of your choice (Korean chili, Japanese barbecue and Vietnamese herb are your options). Order the combo for an additional hot cake doughnut—which can range from a classic apple fritter to a rosemary cacao version.
Price: Average
Photograph: Courtesy Yelp/Indra C.
What is it: Those who know chef and owner Johnny Chu from his previous restaurants know that, along with quality food, he' creates an unmissable multisensory environment. At Red Thai, beat-driven tunes non-invasively pump out of the speakers, while giant projections of anime cartoons fill one wall.
Why go: Modern southeastern Thai dishes include sumptuous curries, from spicy red to thick, coconutty yellow. Where else can you get a chicken lollipop? Red Thai's are crispy chicken wings marinated in a black peppermint sauce that provokes some very intense finger licking.
Price: Average
Photograph: Courtesy Yelp/Brent C.
17. Grand Avenue Pizza Company
What is it: Part of the Grand Avenue arts district, this corner spot is especially wonderful for two reasons: it stays open until 4am (offering delivery service that lasts almost that long) and it serves delicious slices.
Why go: The signature pies boast some interesting combinations. You'd expect a pizza named after Diana Ross to be good, right? Theirs doesn't let you down, with pepperoni, sausage, kalamata olives, red onions, button mushrooms and bell peppers all mingling amidst some extra mozzarella. Yum.
Price: Average
Photograph: Courtesy Yelp/Mark R.
What is it: Fuss-free, affordable fusion food. Mexican and Chinese may seem like an odd combo, until you taste it…
Why go: Ever had teriyaki chicken in a burrito? How about carnitas with chicken fried rice? Well now's your chance. At Chino Bandido you can mix and match everything, so you can have your Mexicanese (or Chinexican?) exactly to your liking.
Price: Bargain
Photograph: Courtesy Yelp/Texaz Grill
What is it: When you want to cheat on your diet or are just hungry for good, old-fashioned southern cooking (think food smothered in white gravy), go to Texaz Grill. The experience is as friendly as the fare. It's a kitschy joint loaded with memorabilia, so you can get up to speed on some history of the P-H-X while you dine.
Why go: Order one chicken fried steak and you'll find two on your plate. Just go for it. Oh, while you're at it, get the mashed potatoes as well. The whole thing floats in a pool of gravy. And don't worry, it is all accompanied by a flaky biscuit for proper sopping.
Price: Average
Discover Time Out Market: the best of the city under one roof
Looking to plan out your days in the desert?
Make your way through the desert city's top things to do, from art walks and botanical gardens to must-try restaurants and amusement parks.