Heads up! We're working hard to be accurate – but these are unusual times, so please always check before heading out.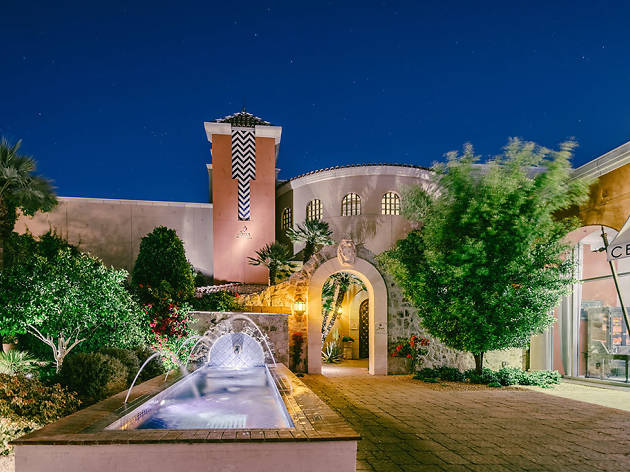 The 20 best hotels in Phoenix
Whether on vacation, a business trip or on a luxurious staycation, the best hotels in Phoenix are where you want to stay
Phoenix gets more than 22 million visitors each year. And with so much to do here, it's no wonder. The city's hot spots are numerous: college and professional sports arenas, top notch dining establishments, landmarks offering beautiful views and close access to places like Sedona and the Grand Canyon. The city is also known for its opulent spas and hotels. Here are some of our very favorite places to stay at, whether for your out-of-town visitors, during a family staycation or when in town for a business trip. In an effort to feature only the very best on our list, we include beautiful hotels in Scottsdale as well, a mere 15-minute drive from Phoenix proper.
Best hotels in Phoenix
Wild Horse Pass aims to provide its guests with an authentic representation of local Native American culture and heritage. From the decor to the activities, they have certainly succeeded. It's truly a full resort experience: There's so much to do on premise that you virtually don't ever need to leave the property. In addition to the pool and spa, the resort offers several unique amenities, including a golf course, riverboat ride and equestrian center. There's also a Kids Club to keep the kiddos occupied with fun and educational activities throughout the day. Visit the nearby Rawhide Western Town for a taste of the cowboy life.
Time Out tip: Immerse yourself in all things Native American by learning about the heritage behind the hotel. The property is owned jointly by Pima and Maricopa Indian tribes. Join a jewelry-making class or channel your inner artist at cocktails and canvas. If you're not feeling creative, handmade items are available for purchase.
Tapatio Cliffs is kind of like the Swiss army knife of resorts. It's the perfect spot for a family vacay, business trip or a romantic getaway. In fact, with its access to the North Phoenix Mountain Reserve trails, it could also easily be a fit weekend destination for those craving mountain biking, hiking or running. The beautiful resort has two swimming pools, a 40-foot waterfall and a 138-foot waterslide. The resort is also home to the Lookout Mountain Golf Course.
Time Out tip: Splurge on dinner for at least one night and make reservations at the resort's award-winning mountaintop restaurant, a Different Pointe of View. The eatery offers a panoramic view of the valley below. Don't worry if you're seated inside: Floor-to-ceiling windows guarantee a stunning view no matter where you are positioned.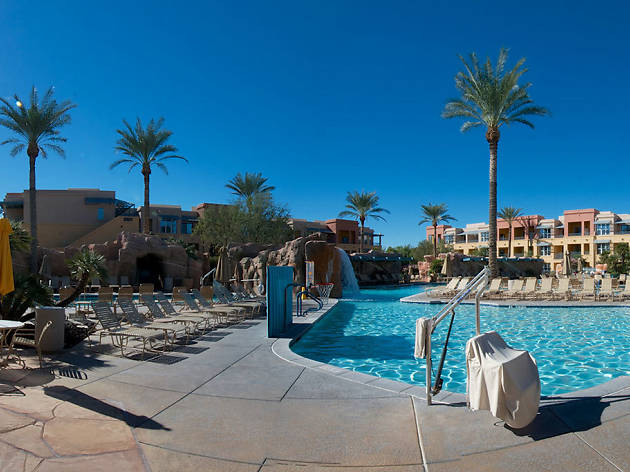 Photograph: Courtesy CC/Flickr/Brent Flanders
Not only is this property beautiful, but it also offers some of the area's best desert landscape views. Bonus points: The full-service spa that gives access to the lap pool, steam room, spa baths… and a separate spa restaurant (in addition to six other dining options). There are also five heated pools on premise, so you don't have to worry about crowds.
Time Out tip: If you're a golfer, or just want to learn the sport, this is the place for you as the Wildfire Golf Course is situated at the resort. Even though the course was designed by two golf legends, it's still appropriate for all levels.
Photograph: Courtesy CC/Flickr/Brent Flanders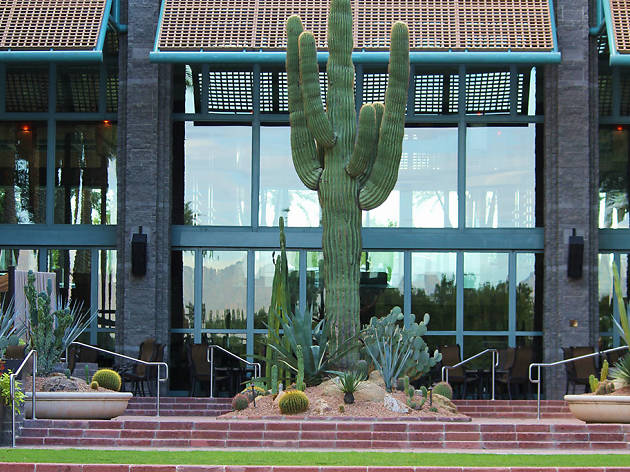 Photograph: Courtesy CC/Flickr/Anthony Dolce
4. Hyatt Regency Resort at Gainey Ranch
Families deserve luxury, and this 27-acre resort is exactly that. Adults and children will enjoy the 2.5-acre waterpark, complete with a sand beach and waterslide, the huge playground and the rock climbing wall. Adults can "play" at the top-rated golf course or choose to relax in the spa (or both?).
Time Out tip: Treat yourself to a day at the spa—literally. What to expect: A variety of treatments, hot and cold plunge pools, a special spa menu, jacuzzy, a mineral spa and much more.
Photograph: Courtesy CC/Flickr/Anthony Dolce
Photograph: W Scottsdale
You don't have to go looking for a local hotspot when staying at the W, because the W is the hotspot. The rooftop pool is perfect for sunbathing, sure, but the party starts every Friday, Saturday and Sunday with a live DJ. The Living Room, the venue's version of a lounge and bar, is ideal for hanging with friends and sipping cocktails. Be sure to grab dinner at Sushi Roku and schedule services at the Bliss Spa.
Time Out tip: If you're looking for more of a quiet scene, don't fret. Contact the hotel ahead of time and they'll be sure to find you a room away from the action. And, if the pool itself is too much of a party scene, the staff will hook you up with access to a pool at a sister property.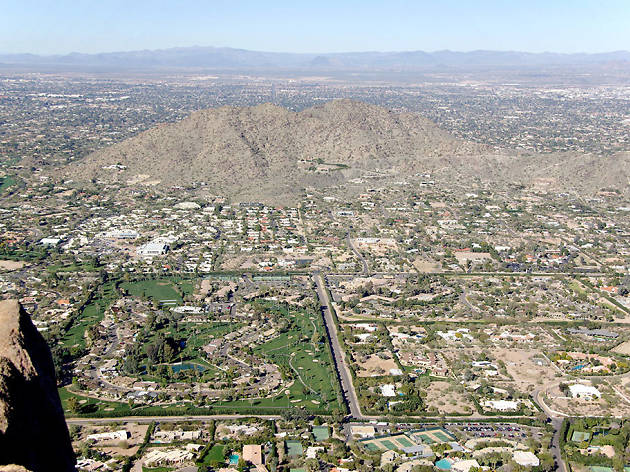 Photograph: Courtesy CC/Flickr/Al_HikesAZ
There's nothing like a hotel with a good story… And Mountain Shadows' story is a doozy. The original hotel opened its doors in 1959. After going through different ownerships, it eventually closed. But because this is a comeback story, its luxurious doors reopened in 2017. The property now boasts two 75-foot pools that are heated during cooler months, a fitness center that offers classes such as aerial yoga and pilates, and an on-premise restaurant called Hearth '61 that will offer meals to satisfy even the most sophisticated palate.
Time Out tip: Request a room with a view of the majestic Camelback Mountain.
Photograph: Courtesy CC/Flickr/Al_HikesAZ
Photograph: Fairmont Scottsdale Princess
7. Fairmont Scottsdale Princess
The grounds of this Scottsdale resort are so beautiful, you may not want to even go back to your room. But that's okay, because there's tons to do on the property. There are five restaurants, two golf courses and six swimming pools, including water slides and a 9,000-sqare-foot white sand beach. The spa offers an impressive array of services, including healing therapies such as acupuncture, cupping and reiki.
Time Out tip: The Fairmont celebrates each of the four seasons with special activities, packages and menu offerings.
Photograph: The Phoenician
Ask about luxury hotels in Phoenix and the Phoenician is sure to be mentioned. Each guestroom is large, so you don't have to worry about feeling cramped. Expect six restaurants on property, plus a full-service spa and a 24-hour fitness center. The venue also offers an afternoon tea Tuesday-Sunday that includes finger sandwiches, scones and pastries. There are sparkling wine and Champagne options, too.
Time Out tip: The hotel is upgrading its property, which means amenities and activities may change soon. Be sure to check in with the hotel to see if your reservation will be affected by the renovations.
The Westin is like your most intuitive friend: Always a step ahead, anticipating your every need. It's located downtown within walking distance to many area attractions, restaurants, bars and more. It also happens to be a workout fanatic's dream: In addition to the spacious fitness center, the staff offers customized running maps if you want to head out for a jog. Forgot your gear? No worries. For a small fee, you can borrow athletic wear, including shoes. If you overdo it (or just want to relax), treat your sore muscles to an in-room spa treatment.
Time Out tip: Keeping kids entertained in a hotel room can be, well, trying. Be sure to ask for a Kids Club amenity bag with toys and activities to keep the little ones occupied... Or have the hotel make in-room babysitting arrangements.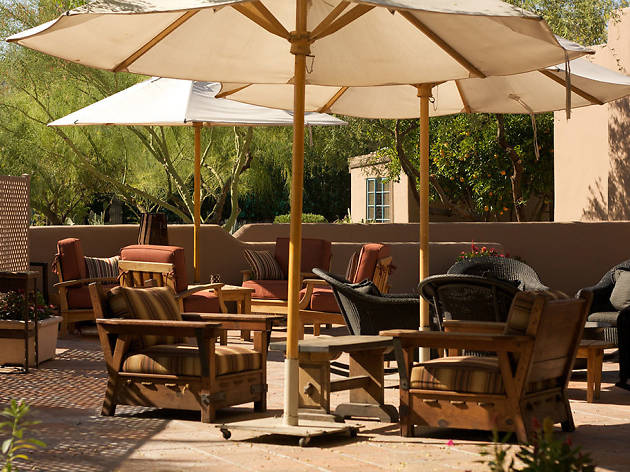 Photograph: Courtesy CC/Flickr/Experience Scottsdale
This Paradise Valley hideaway was created by an artist in the 1930s and that spirit is still embodied in the hotel today. Original artwork lines the walls while everything from the decor to the beautiful gardens look like something straight out of a painting. The inn has a small fitness room and a spa suite that specializes in custom massages and other relaxing treatments. There are also two restaurants onsite, both that aim to provide local bites, local beers and handcrafted cocktails. Rent a bike for a few hours and explore the area trails and stop by a nearby restaurant for a bite to eat.
Time Out tip: Take some time and smell the roses and take a self-guided art walk tour. There are a host of sculptures and artwork that embody a true southwestern feel. And the garden seems as much a piece of art as everything else.
Photograph: Courtesy CC/Flickr/Experience Scottsdale
Show more