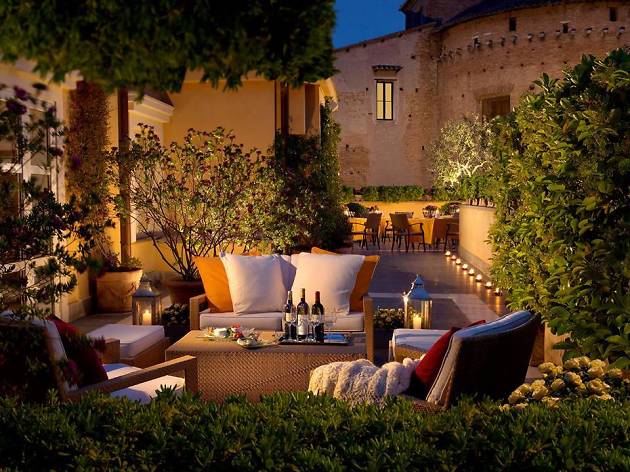 The 12 best rooftop bars in Rome
Gaze down at the Pantheon and Colosseum with a spritz in hand at the best rooftop bars in Rome, all perfect escapes
Although in cities across the world an escape from tourists takes the form of ventures down little-known side streest, in the capital of Italy, respite comes in the form of the best rooftops in Rome.
Here, the crowds can be relentless – whether visiting top attractions, chugging wine at local bars or trying to grab a yummy gelato – and, to truly do as the Romans do, only going a few floors up will get you closer to living the real dolce vita.
We highlight the very best rooftop bars in Rome, offering out-of-the-ordinary, mesmerizing views with a side of top-notch drinks and food. You'll never want to come back down again, trust us.
RECOMMENDED: Full guide to the best bars in Rome
Best rooftop bars in Rome
Photograph: Courtesy Hotel Raphael
What is it: Adorned with ivy and famous for being where Julia Roberts stayed while filming Eat, Pray, Love, this classy hotel is tucked away behind Piazza Navona. Its small-but-perfectly-formed terrace overlooks the iconic rooftops of Rome's historic centre.
Why go: Waiters in white tie will treat you to complimentary mini sandwiches as you sip your prosecco at this romantic, peaceful spot. Be warned, though: here, a spritz is topped up with the finest French champagne and costs an eye-watering €22. 

Photograph: Courtesy Grand Hotel de la Minerve
What is it: This exclusive rooftop bar, right next to the majestic Pantheon, specialises in martinis, with more than 16 kinds on the menu. It's the perfect spot for a date, as no one can resist the charm of such a romantic view.
Why go: Did we mention 16 kinds of martini?! Plus, this Vogue-worthy terrace is in the heart of Rome (so come dressed to impress). If you can bear to leave, stop to admire Bernini's elephant statue outside the hotel, on your way home.
Photograph: Courtesy Angelina
What is it: Built into Monte Testaccio (a "mountain" made of ancient Roman olive oil amphorae), this classy restaurant boasts a prime location and serves high-quality local produce, with a modern twist. It's pricier than neighbouring restaurants, but oh-so worth it.
Why go: Climb the steep staircase and you'll gasp when you see the roof-garden: leafy, green, stylish and just a little bit "shabby chic." Order the antipasto della casa (house appetizer), followed by oxtail pappardelle and pigeon, for a truly memorable feast.

Photograph: Courtesy Atlante
4. Roof Garden Les Étoiles
What is it: Famed for its photogenic view of St. Peter's Basilica's iconic dome, the 360-degree panorama from the roof terrace of Rome's Hotel Atlante Star will take your breath away. Get your cameras ready, no filter is needed here.
Why go: Lounge around on one of the sofas, order a bellini and enjoy the complimentary finger food. This roof's best enjoyed in the evening as the sun goes down and lights around the city begin to twinkle. Luckily, the cocktail bar is open until 1am.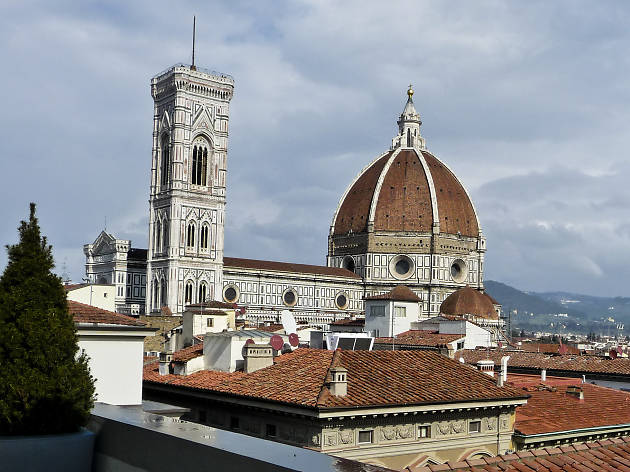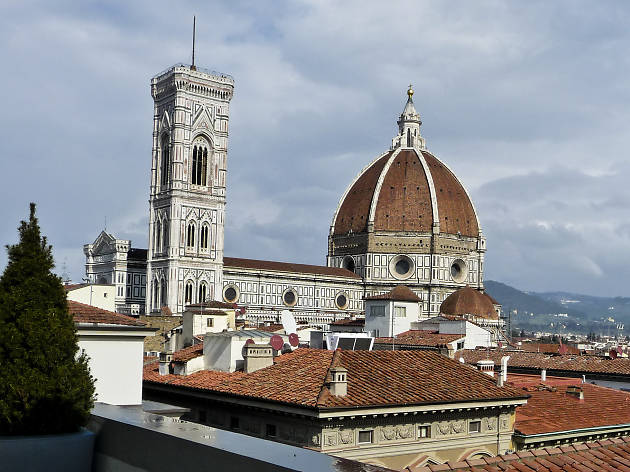 Photograph: Courtesy CC/Flickr Franek N
What is it: A closely-guarded secret among locals. This insider secret is nestled away at the top of the shiny, new department store La Rinascente. A stone's throw from the hustle and bustle of the Trevi fountain.
Why go: Come up here for peace and quiet, stylish sunset cocktails or dinner (the roof garden restaurant here is run by Michelin-starred chef Riccardo Di Giacinto). Just don't tell everyone – please!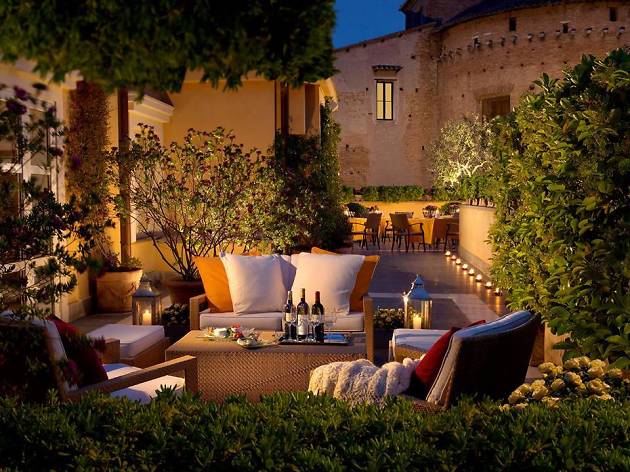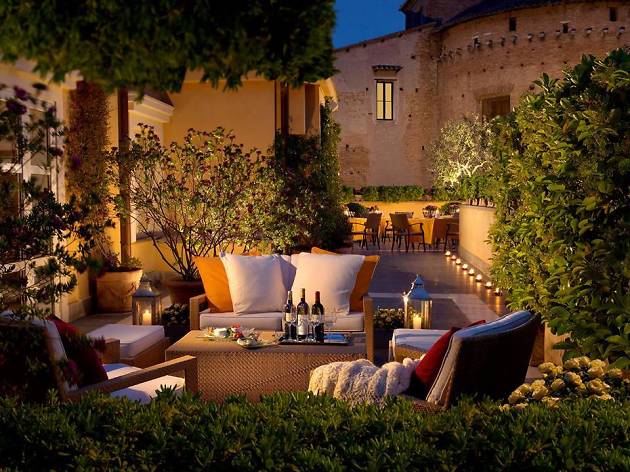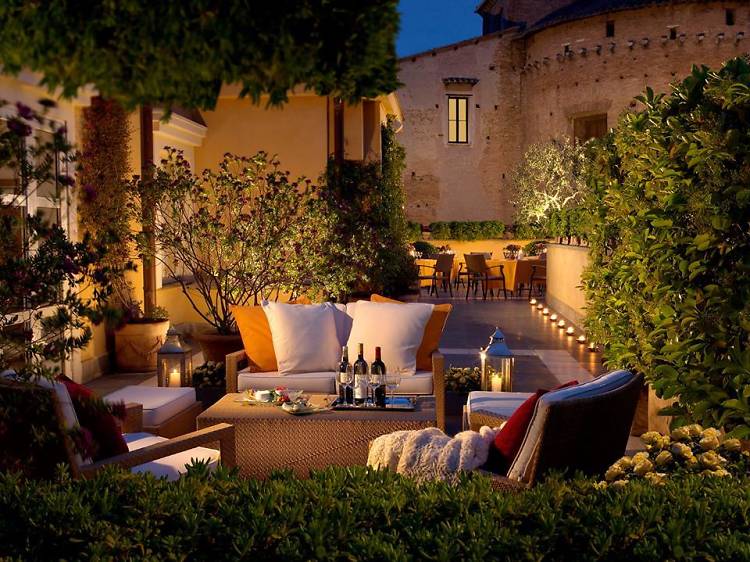 Photograph: Courtesy Hotel Capo d'Africa
What is it: Close to the Colosseum, this peaceful terrace is hidden away at the top of Hotel Capo d'Africa, several floors above the chaos below. It's so pretty, you may want to stay the whole night. Which you can, for around €300.
Why go: Catch a glimpse of Rome's most famous monument lit-up at night while you wine and dine to your heart's content. If you're lucky, you might even have the place to yourself come sunset.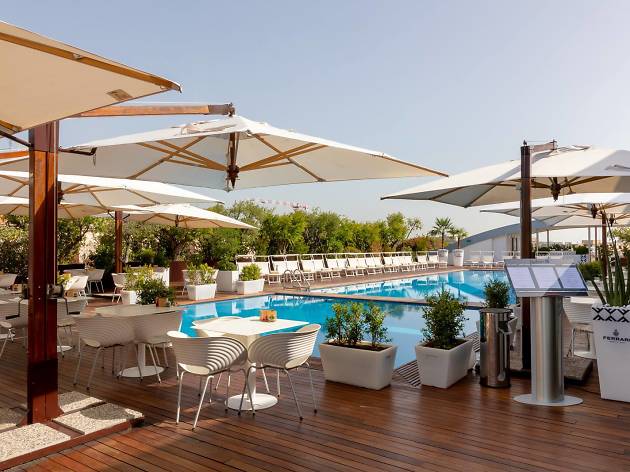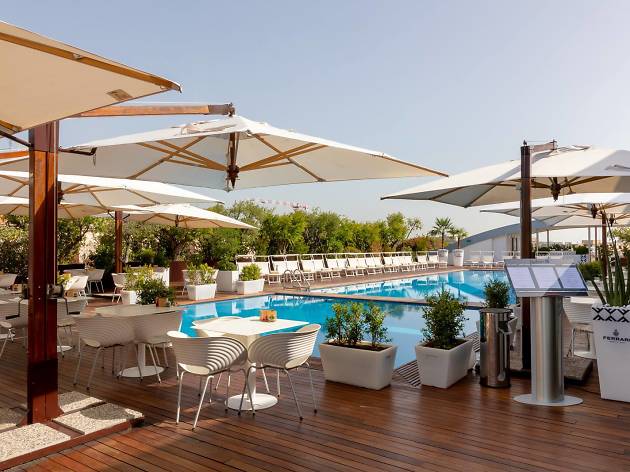 Photograph: Courtesy Radisson Blu es. Hotel, Rome
What is it: Romantic, luxurious and deliciously Italian: this is a one-of-a-kind rooftop. With a swimming pool, two restaurants and a spa and fitness centre, it has everything you need for a relaxing day out.
Why go: The pool here is the absolute pièce de résistance. Those not staying at the 5-star hotel can enjoy a dip for €65 per day, from June to September. If you're hungry, bag a poolside table at Sette, the hotel's fine dining restaurant.

Photograph: Courtesy Chiostro del Bramante
What is it: Although this may not constitute a traditional rooftop, the cloisters of this fifteenth century church are home to a bookshop, café and courtyard terrace bar. They boast a private view of a recently-discovered Raphael fresco.
Why go: This oasis of calm in the middle of the busy historic centre also hosts some of the best art exhibitions in town (recent names include Turner, Hokusai and Juan Mirò, to name just a few).

Photograph: Courtesy Lanificio159
What is it: Not one usually found in guidebooks (you may need to take a taxi here), this one is for the local revellers. Riviera-themed Feria runs every night of the week through the summer, until September 30.
Why go: The barbecue here is the icing on the cake and certainly differs from the classic Roman cuisine, as does the music: DJs play everything from roots to afrobeat. Don't expect to see any tourists. Best part: entry is free.

Photograph: Courtesy Marco Martini
10. Marco Martini Cocktail Bar
What is it: This is a local spot on the Aventino hill. The Marco Martini cocktail bar takes its name from the renowned chef at the restaurant/hotel, who, at 24 years old, was awarded his first Michelin star. In 2015, he earned his second.
Why go: It's easy to miss the leafy, luxurious lounge garden as you walk past, but the velvet sofas, Liberty-style flooring and dazzling gazebo are well worth a visit. Try the creative tasting menu, with wines to match.

Photograph: Courtesy Hotel Forum
What is it: With a bird's eye view of the Roman forum, this panoramic roof garden boasts one of the most exclusive locations in the city. Everyone from Jackie Kennedy to the Dalai Lama have been guests at this converted convent.
Why go: While the sunsets here are spectacular, to make the most of your visit (and avoid fellow tourists) come between 7am and 10.30am for breakfast. During the summer months, take a break from sightseeing and try the daily lunch buffet.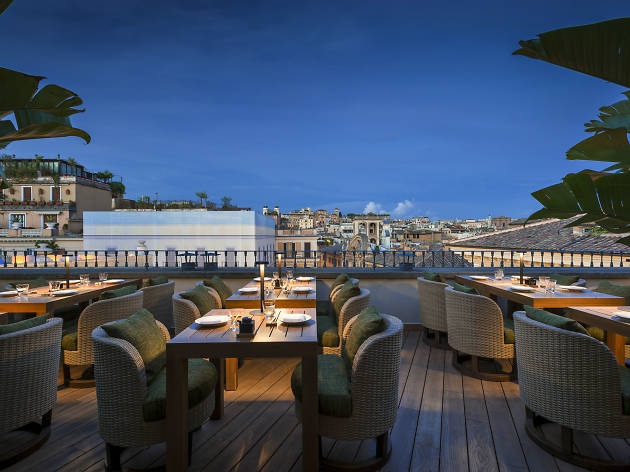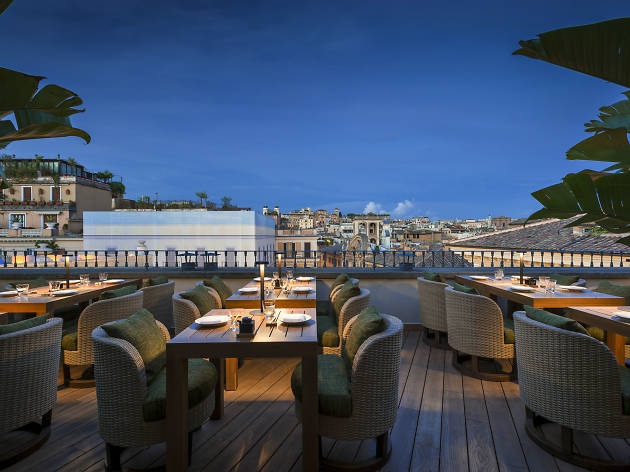 Photograph: Courtesy Zuma Roma
What is it: The ultra-contemporary and London-based Japanese restaurant opened in Rome in 201 on top of the iconic Fendi palace. Shop 'til you drop, then make your way up to the roof terrace for unbeatable views and award-winning food.

Why go; Dreamed up by Rainer Becker, the izakaya-style sharing dishes range from sashimi to seared beef with truffle. Reasonably priced at lunchtime, expect a bigger bill and longer waiting list at dinner time. You might even spot a celeb or two.

Looking to explore more of the late-night scene?
All through the week, you'll find locals hanging out in low-key wine bars or restaurants, while Friday-Sunday is the best time to hit the pubs and clubs. Coming home at 6am is normal for party-goers here. They'll park their scooters outside a 24-bakery and eat a cornetto (not the ice cream), straight from the oven, before heading to bed. Viva l'Italia!