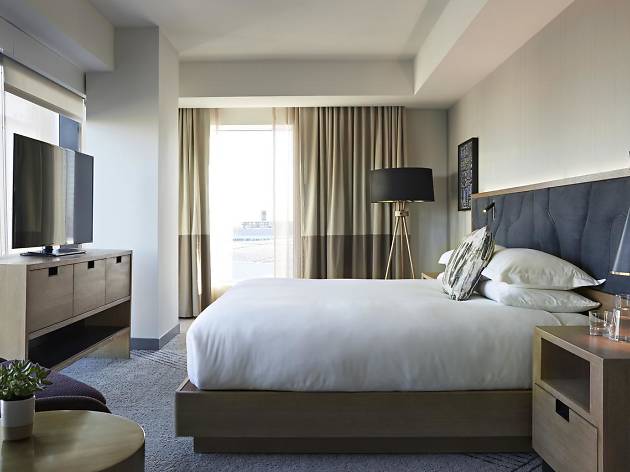 The 12 best hotels in Sacramento
Stay in style in California's capitol at one of the best hotels in Sacramento, whether charming B&B or more upscale digs
Until recently, Sacramentans shied away from calling their city 'destination-worthy.' California's capital rose to the forefront of the popular consciousness in 2017 with the Oscar-nominated film Lady Bird, backed by a highlight reel of the city's most charming corners and canopied boulevards. Even then, the protagonist told New Yorkers she was from San Francisco.
Over the past decade, the place of policy wonks has been adding adventurous culinary diversions and the sleek Golden 1 Center for Kings basketball and big-ticket concerts, all while clinging onto its jankiness in the form of a lively arts scene and underground local music. The hotel industry is following suit, offering Vegasy, slick luxury hotels as well as charming B&Bs for a city that's finally ready to say, without irony, 'Come visit.'
Best hotels in Sacramento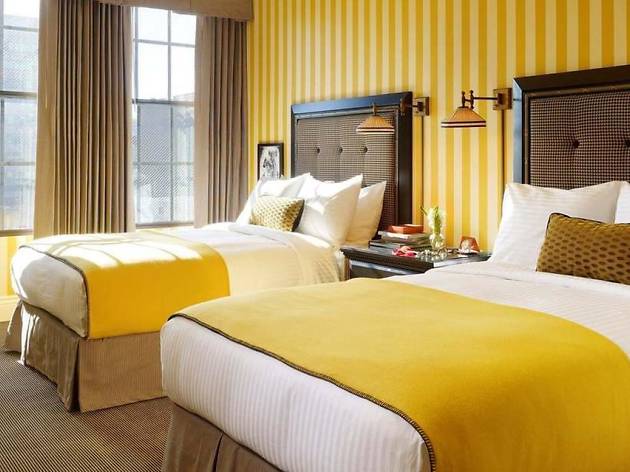 Photograph: Courtesy Booking.com
This 196-room boutique hotel wears the government-city badge with pride. Political cartoons from the Sacramento Bee's archives adorn the walls, and pompous quotes greet you at the elevator: 'It is dangerous to be right when the government is wrong,' quoth Voltaire. Inside The Citizen, decor is stately and classic, while the small rooms are cozy, with a truly boutique vibe and views of Cesar Chavez Plaza. The Grange beside the lobby is among the top fine-dining restaurants in the city, with daring mise en place and flavor combinations.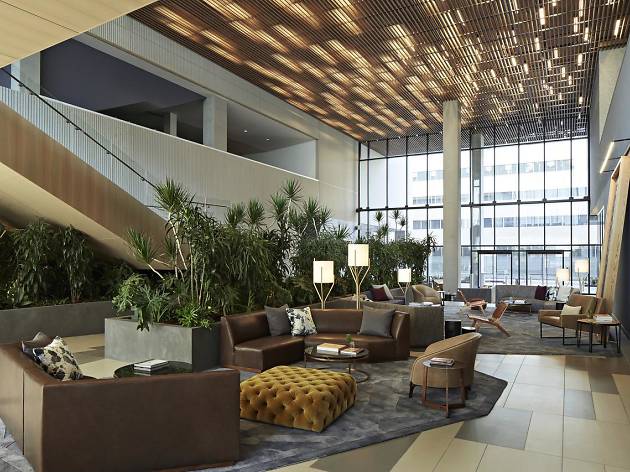 Photograph: Courtesy Booking.com
2. The Kimpton Sawyer Hotel
Right across from the Golden 1 Center, this 250-suite modern luxury hotel caters to concertgoers and basketball fans visiting from out of town. The rooftop bar makes you feel like you've stepped into Vegas with its lounge chairs, infinity pool and views of the Sacramento skyline. The Punch Bowl Social serves modestly priced cocktails at its full bar, where revelers can play virtual-reality games and bowl while tipsy. Beside the lobby, Echo & Rig serves dressed-up New American fare. The rooms are sleek and chic, with a geometric aesthetic and nifty details like a sliding bathroom door that doubles as a mirror.
Photograph: Courtesy Booking.com
In the center of walkable Midtown, this bed & breakfast has revived two historical homes, a 1895 colonial revival and a 1905 craftsman, into a quaint experience. Inside the Amber House Inn, the living room has homey details and Arts & Crafts decor, without being overly fussy like some other B&Bs. The rooms are named after musicians and poets, such as Emily Dickinson, Longfellow and Bach, along with books and photos that maintain the theme. Jacuzzis, fireplaces and a two-course breakfast make it easy to unwind.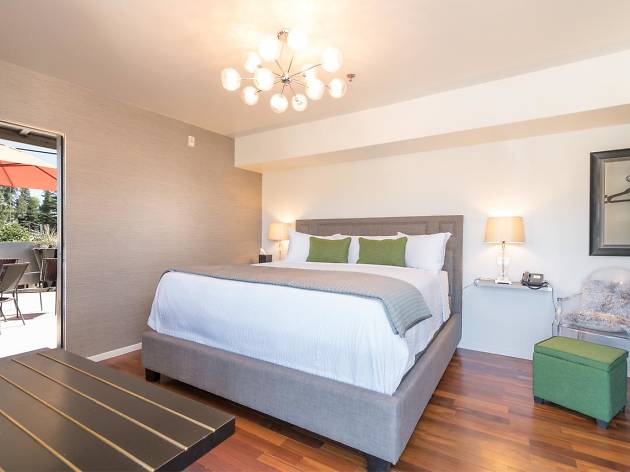 Photograph: Courtesy Booking.com
Technically a motel because you drive up to your room, the Greens Hotel bills itself as a boutique hotel with its LCD TVs and Keurig coffeemakers for each guest. The design details are quirky, with chartreuse pillows, Edison bulbs lining the parking lot and enormous letters identifying your room in the industrial chrome two-floor building. It's located in a funky neighborhood beside an old-school diner, a local brewery, a delicious grilled cheese-and-coffee shop and an art gallery. Sometimes, a motel trumps a hotel.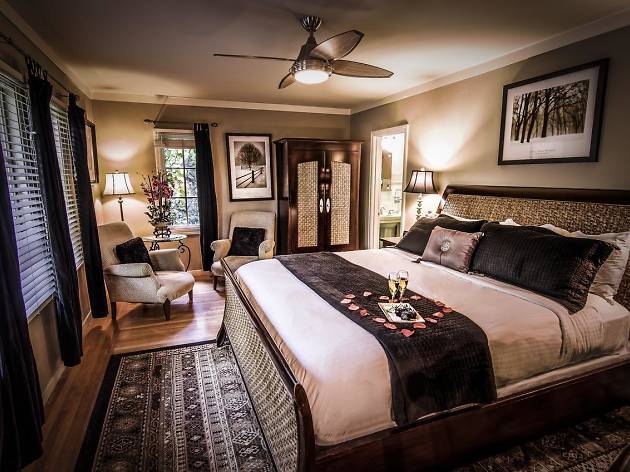 Photograph: Courtesy Booking.com
This romantic nest of a bed & breakfast has renovated a Mediterranean home once owned by a prominent businessman among Sacramento's Chinese American community in the 1930s. Antique furniture bedecks the living room that surveys Southside Park. The handful of rooms at Parkside Inn & Spa come with Jacuzzis, and several of the units boast their own balconies. A spa in the basement offers couples massages, facials and a sauna, and there's a complimentary multi-course breakfast in the morning.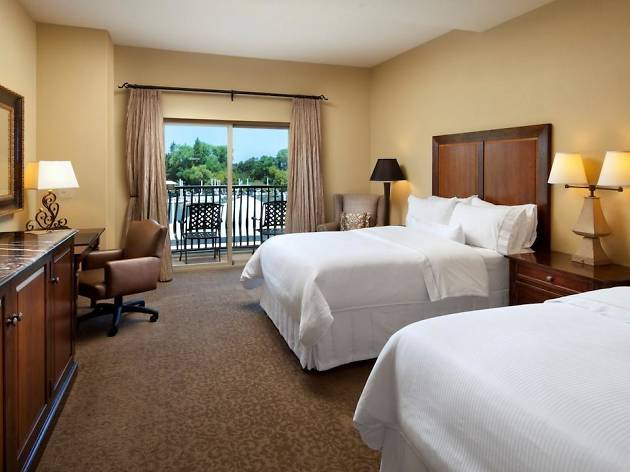 Photograph: Courtesy Booking.com
The boutique hotel stays quieter than the rest, though it often hosts weddings in its park beside the Sacramento River. If you don't need walkability or a central spot, the Westin Sacramento just south of downtown might be exactly the getaway you're after with its peaceful hallways and earthier location, including patios that overlook the river. Scott's Seafood downstairs offers scenic views of the water and one of the best bang-for-your-buck happy hours in Sacramento, with $2 oysters and three shrimp tacos for under $8.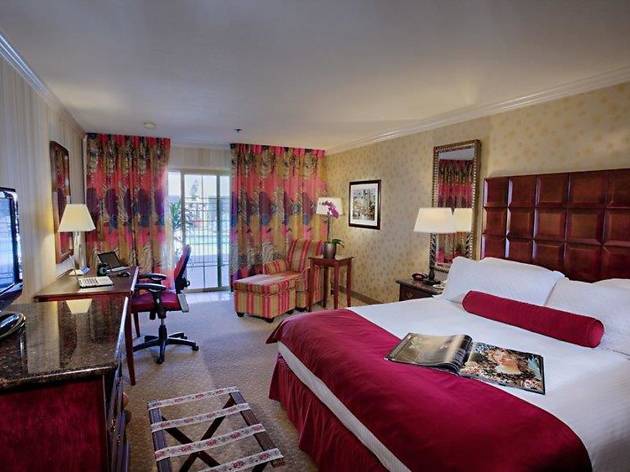 Photograph: Courtesy Booking.com
7. Best Western Plus Sutter House
Party like comedian Hannibal Buress at this affordable chain hotel where he once stayed and filmed a YouTube review of the restaurant next door, the Blue Print. 'You know what? This shit was good,' he said. 'Do not judge this place by the fact that it is located directly next to a Best Western.' Also, don't judge this hotel by the fact that it is a Best Western. Located adjacent to downtown, the charmingly average rooms with kitschy, bright curtains look out over an open-air pool. The concierges gush with friendly smiles. It's cheapo luxury.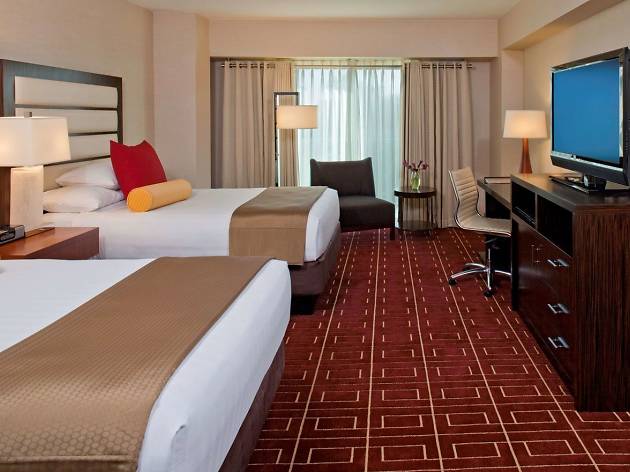 Photograph: Courtesy Booking.com
Overlooking the State Capitol and the leafy Capitol Park, this 15-floor hotel stands out as being the most luxurious of the business-as-usual chains. A full snack bar, flatscreen TVs and plush pillows make the pet-friendly rooms feel especially accommodating, despite the generic art reprints on the wall. A hot tub, pool, gym with recumbent bikes and weight stations, and a spa add up to a full escape at the Hyatt Regency.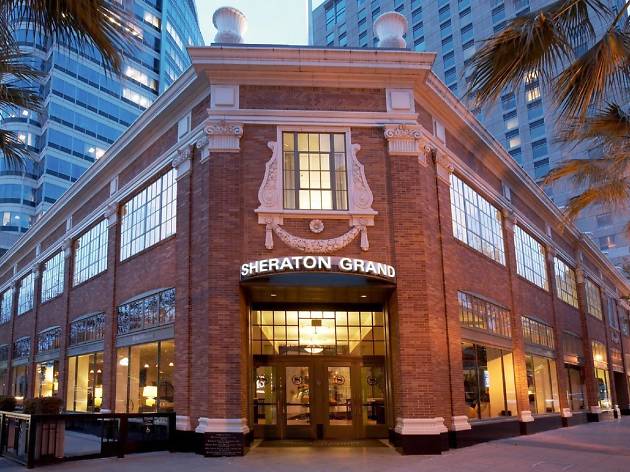 Photograph: Courtesy Booking.com
The nexus of many a conference, this 503-room hotel is located directly across from the Sacramento Convention Center. The grandest parts of the Sheraton Grand are not found in the rooms, but inside the lobby with its soaring rafters and sculptural installations. A heated outdoor pool, fitness center and top-flight lounge Public Market Bar make this a worthy place to unwind as part of a business trip.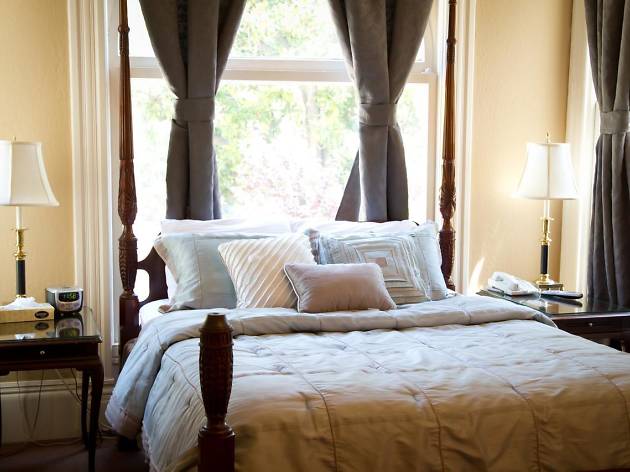 Photograph: Courtesy Booking.com
A short walk from downtown and the Capitol, this Victorian Mansion is also a popular wedding destination for its 200-people capacity ballroom. The Sterling's decor clashes and the elevator runs slowly, but you can't beat the location. Plus the front porch is a classic feature of Sacramento architecture, a relaxing place beneath the shade to work or read. Complimentary breakfast, bathrooms with floor-to-ceiling marble, and flatscreen TVs seal the deal.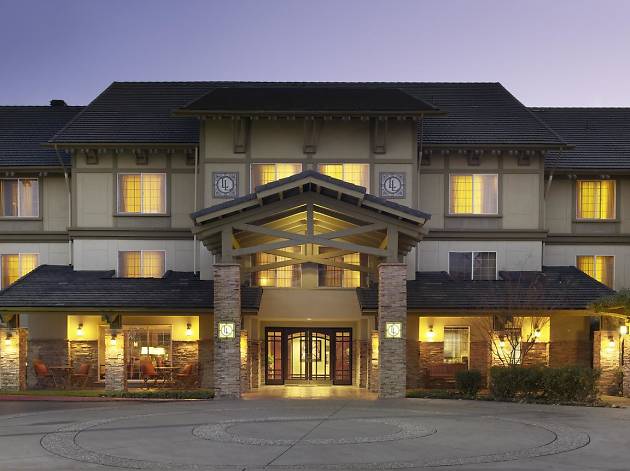 Photograph: Courtesy Booking.com
These suite hotel rooms offer extended-stay amenities like a fully stocked kitchen directly across from Sacramento State University in leafy East Sacramento, as seen in Lady Bird. The Larkspur's vibe is rustic with textured slate walls and a dark, cabin-like lobby. Free cookies and coffee and tea in the lobby, as well as a complimentary laundry room, make this a comfortable option for one night or one month.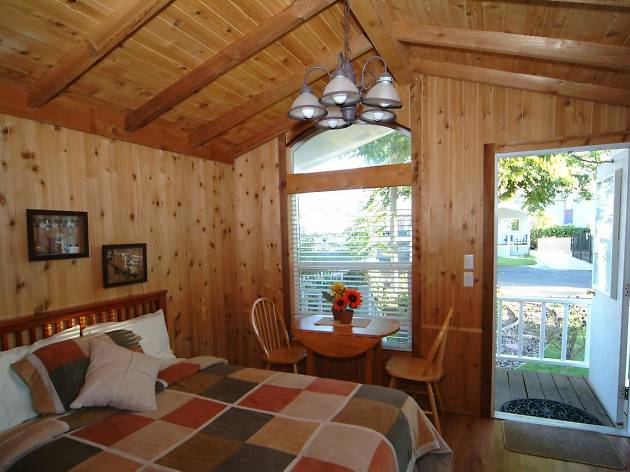 Photograph: Courtesy Booking.com
If you're looking for a good time next to an RV park, this collection of cute single-wide trailers is lined with begonias, bushes and trees that make for a picturesque crash pad. At Arden Acres, each comes with its own kitchen with pots and pans, as well as a living room sofa that makes you feel at home. The trailer shakes when you walk around, but it's a peaceful, homey night in an industrial part of town.