The 9 best burritos in San Francisco
This is a burrito town and these are the very best burritos in San Francisco.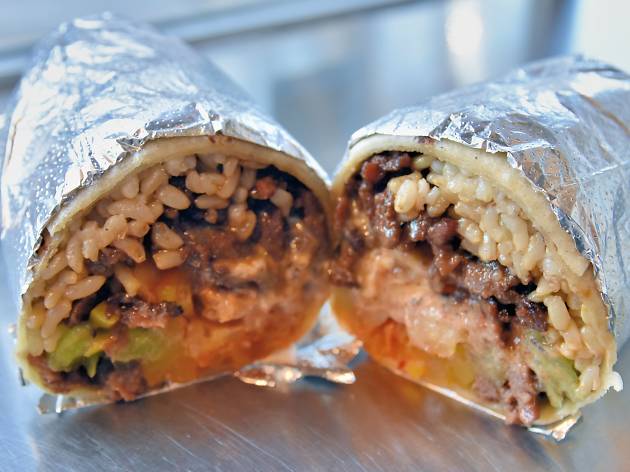 San Franciscans have a long history of fighting over who makes the best burritos in San Francisco. To start, the city is famous for its Mission-style burritos, which date back to the 1960s. Various taquerias claim to have originated the ultimate to-go meal, which typically includes meat, rice, beans and in the case of super burritos, much more. (Side note: these joints are also whipping up some of the best tacos in San Francisco.) But Mexican burritos aren't the only game in town. Pretty much anything wrapped in a tortilla qualifies and these days you can find fusion versions that stuff Indian, Filipino and Korean ingredients (and even sushi!) into a tortilla. Versatile, customizable, affordable, quick, convenient and quite frankly delicious, burritos may evolve, but the best burritos in San Francisco will never go out of style.
RECOMMENDED: The best restaurants in San Francisco
Best burritos in San Francisco
Clocking in at almost two pounds, the super burrito from Mission favorite El Farolito is a monster. And while size isn't necessarily the best indicator of quality, in this case, the burrito just happens to also be as close to perfection as burritos come in SF. The carne asada has a tender, pleasant char that melds beautifully with the sour cream, cheese and avocado toppings. Best of all, it's less than $10!
Filipino tacos and burritos are the specialty at this roving food truck. The California burrito comes with tasty nuggets of pork, crisp French fries, shredded cheese, sour cream, guacamole, and pico de gallo, while the breakfast-slash-tosilog burrito combinines Filipino sweet pork, adobo garlic rice, fresh tomatoes and a fried egg (with an optional side of peppered vinegar).
More well-known for its chicharrones, pupusas and Guatemalan and Honduran tamales than it is for burritos, La Espiga de Oro made this list for exactly that reason. Fold those crunchy, succulent chicharrones into a bean-and-cheese burrito for a decadent treat you won't find just anywhere in SF.
The kimchee burritos at HRD are legendary and have even been featured on the FoodNetwork. A Korean mashup of bulgogi, rice, house-made kimchee, daikon, pickled veggies, and chunks of kiwi and sour cream, the burrito is served with a creamy smoky sauce. Prefer pork to beef? The spicy pork burrito also includes searing hot wasabi cream sauce.
The burritos from the Al Pastor Papi truck are grilled, and the toasty flavor and slightly crisp texture of the tortilla really highlights the smoky spice of the al pastor pork, which is cooked on a traditional spit. Burritos come only super-style, slathered with avocado, Jack cheese and sour cream.
For the ultimate carb-on-carb experience, try the breakfast burrito with scrambled eggs, chorizo, potatoes, rice and beans. It's pure comfort food, soft and mild yet filling, and comes with extra salsa if you want to spice it up.
Known for their outstanding salsa, Papalote offers perhaps the widest variety of vegetarian options. No need to stick with a plain bean and rice burrito when you have your choice of potato, carrot and mushroom or grilled zucchini and eggplant fillings. There's also grilled marinated tofu, a soy version of chorizo and even a vegan mole burrito. All burritos come with your choice of regular, whole wheat, spinach or roma tortilla and are stuffed with beans, rice and fresh pico de gallo salsa.
Sushirrito is just what it sounds like—the fusion of sushi and burritos. The popular Geisha's Kiss combines raw yellowfin tuna, tamago, piquillo peppers, crunchy lotus chips, pickled cucumbers, green leaf lettuce, ginger guacamole and sesame white soya. Each sushi burrito comes wrapped in a specially made seaweed wrap that is much larger than traditional nori and is lightly brushed with sesame oil.
Yes, a roti is not a burrito. But it's pretty similar. Especially Kasa's super roti, which is comprised of a toasted tortilla filled with your choice of fillings, plus channa masala, cilantro chutney, pickled onions, basmati rice, and topped with cucumber raita. Opt for the spicy grilled tikka chicken, which melds beautifully with the chickpeas, bright green chutney and crunchy, tangy onions. Leave out the lettuce, which only serves to make the burrito too sloppy and wet.
Hungry for more?
Fill up your belly without emptying your wallet with this guide to the best cheap eats in SF.