Heads up! We're working hard to be accurate – but these are unusual times, so please always check before heading out.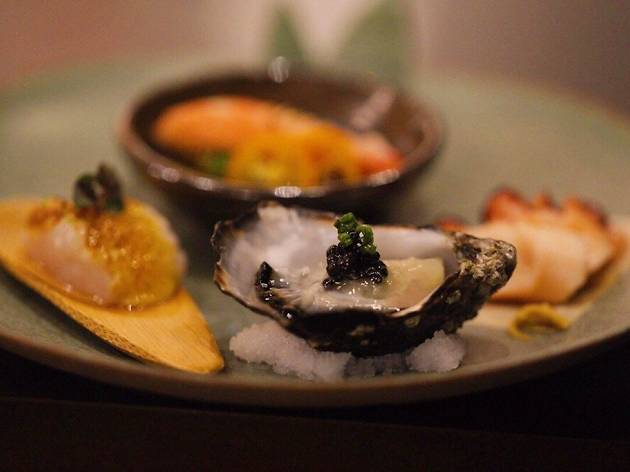 The best sushi in San Francisco
These 13 restaurants serve the best sushi San Francisco has to offer, from tiny Michelin-starred joints to revered SF institutions
Sushi in San Francisco is taken very seriously, with many of the city's best sushi restaurants flying fish in daily from Tokyo's famed Tsukiji Fish Market to create the freshest, most authentic dishes this side of the Pacific. With an impressive network of master sushi chefs trained at acclaimed Japanese restaurants in the Bay Area and beyond, these 13 are among the very best restaurants in the city. Whether you prefer simple nigiri in an intimate, minimalist space or wildly inventive omakase, our list has a sushi bar for every taste.
RECOMMENDED: Full guide to the best restaurants in San Francisco
Best sushi in San Francisco
Ju-Ni translates to "twelve" in Japanese, a nod to the jewel box-sized restaurant's 12 seats. Headed up by chef Geoffrey Lee and his business partner, Tan Truong, the NoPa newcomer has garnered considerable accolades since opening in 2016, including a 2017 Michelin star. The fish for the 18-course omakase menu ($165) is sourced from Tsukiji Market in Tokyo. With a single sushi chef is devoted to every four guests, Ju-Ni provides both impeccable service (including a soliloquy on the origin, creative process and tradition behind each dish) and an intimate vibe.
This upscale restaurant serves omakase (chef's choice) only: $98 for seven courses or $165 for 10. The carefully calibrated progression of dishes is designed to achieve a distinctive balance of tastes, colors, and cooking methods (roasting, steaming, frying, simmering and served raw). Mitsunori Kusakabe, an alum of Nobu Tokyo and Sausalito's revered Sushi Ran, an expert in traditional Edomae sushi techniques, as well as a certified blowfish butcher, oversees the sushi bar.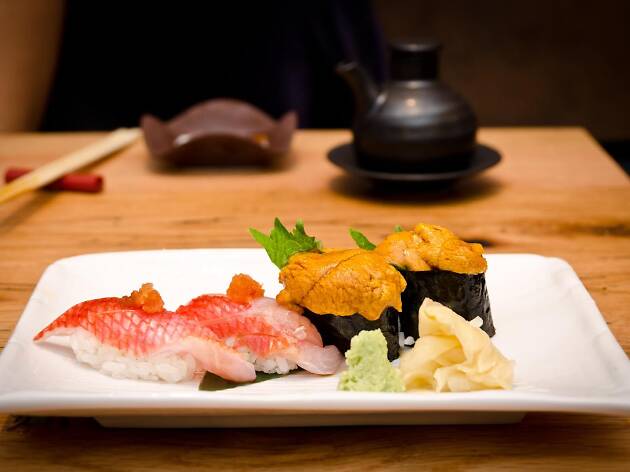 Photograph: Stephen Hsu
3. Wako Japanese Restaurant
The spare Wako Japanese Restaurant - with its quietly handsome wood panelled walls and square wooden sushi bar - is almost as unassuming from the inside as it is from the outside. But the dining room's simple decor does its job well, shining the spotlight on fresh, intricate sushi that, frankly, would shine anywhere. Two daily omakase menus (#1 for $95/person and #2 for $135/person) are served with nigiri like salmon with house-made yuzu kosho, appetizers like potato croquettes with salmon roe, and a house-made dessert. Sake pairings are available, along with a handful of Japanese beers and shochu.
Yes, you will probably have to wait for a table at this intimate, 30-year old Inner Sunset restaurant, but that's just a testament to its fresh, tasty sushi. Ebisu is owned by Steve and Koio Fujii, along with their sons, Eric and Charlie, who often make an appearance behind the bar. The ever-changing line-up includes an array of nigiri, rolls, and hand-rolls. But regulars know to order off the day's specials (listed on the chalkboard behind the bar) or to ask the chef to concoct something special (he'll gladly oblige.)
After refining his skills at AME and Izakaya Yuzuki, Japanese-born chef Takashi Saito was awarded a Michelin star for his work at Hashiri in 2017. His creations are made in a sophisticated and modern atmosphere, with a Japanese cypress bar and a canopy of seasonal light projections on the ceiling. The dishes are based in Edomae sushi techniques, but incorporate contemporary West coast flavors: Imported, seasonally rotating fish from—where else?—Tsukiji Market is paired with fresh produce from local purveyors. Don't skip the pairings here—Hashiri is known for its excellent selection of old vintage burgundy, rare sake, and Japanese whiskey. Vegan and vegetarian options are available upon request.
Akiko's Restaurant—not to be confused with the unrelated Akiko's Sushi Restaurant—has been a San Francisco mainstay for more than 30 years. With its exposed brick walls and minimalist wood-and-steel decor, the space feels industrial, but comfortable. Though Akiko's serves a wide range of rolls, the menu's real star is the sashimi, sourced fresh daily from local purveyors, as well as Japan's Tsukiji Fish Market. Akiko's specializes in preparing rare fish and inventive flavor combinations, like the monkfish liver, silky Ensuii uni, and gindara (black cod, squid miso, roe, and Koji egg yolk). The menu is helpfully categorized by white fish and "vibrant" fish (think buttery, full-flavor varieties), as well as roe, egg, tofu, and crustaceans.
No, it's not technically in San Francisco—but trust us, it's worth the ferry ride. (If you can't be persuaded to make the trip, check out Sushi Ran's newer, izakaya-style sister-spot, Nomica, in the Castro.) After opening his doors 30 years ago in Sausalito, owner Yoshi Tome is credited with spawning the current wave of upscale omakase restaurants. The spot is known for imaginative sushi, sourced both locally and from Tokyo. First-timers can't go wrong with the moriawase ($26), which features six pieces of fish, including kindai-tenku bluefin tuna, yellowtail, New Zealand king salmon, steamed prawn, and two freshly-sourced choices from the chef.
This spot purports to serve "contemporary local" omakase, and the modern NorCal influence is evident, from the fuchsia and rose mosaic behind the bar to the camel-hued leather seats and watercolor blue wallpaper. Chef-owner Adam Tortosa trained under Katsuya Uechi in Los Angeles and previously worked at Akiko's. The omakase-style menu progresses from lean to fatty fish, from a starry flounder served with Meyer lemon, shiso, and blood-orange kosho to a bluefin shoulder marinated in poblano soy. The fish is interspersed with dishes like hand-pulled noodles covered in shaved black truffles and Japanese chimichurri and a milk bread toast topped with uni, uni butter, smoked maple-soy, and citrus.
This Michelin-starred fish haven is headed up by chef Jackson Yu, a local restauranteur who also owns several outposts of Live Sushi and Okane, next door. Yu moved to the Bay Area at the age of 18 and has been honing his skills in preparing traditional Edomae-style sushi for two decades and nearly all the fish is flown from Tokyo's Tsukiji Fish Market three times a week. The restaurant offers two fixed-price tasting menus, the Hideaki omakase (two appetizers, one sashimi, 10 pieces of nigiri and one owan for $150) or the Yamato omakase (two appetizers, two sashimi, one yakimono, 12 pieces of nigiri and one owan for $200). Splurge on the sake pairing, which is served in handcrafted Seikado pewter cups and pitchers.
Hinata's head chefs, Gavin Leung and Weida Chen, have years of experience under their belts after working at Sushi Ran, Ijji and Tazaki Sushi. Their Civic Center sushi spot offers just two choices: 18 courses for $78 or 23 courses for $108. Go with the latter, the grand omakase, which includes an appetizer, nigiri, three multi-bite "movements" of progressive flavors, owan and dessert. The seafood is flown in several times a week from Tsujiki Market.
Think of Saru as your go-to for comforting sushi of the best sort —simple, fresh seasonal nigiris and sashimis flown in from all over the world and well-known, beloved maki rolls. The restaurant, too, is comforting. A pint-sized dining room with an L-shaped sushi bar, this intimate space is dressed in warm hues and just enough art to keep it interesting. A favorite among Noe Valley-ites, this little sushi spot is worth a visit even if you live across town.
This Michael Mina sushi and izakaya spot is moody and romantic, lit by a throng of glowing lanterns and swathed in stone, concrete, and Douglas fir. It's helmed by chef Ken Tomonaga, who previously earned raves at Hana Japanese Restaurant in Sonoma. The nigiri tasting menu ($110) is the highlight, featuring nine courses of fish flown in daily from around the globe (including, of course, Japan). The bar serves up rolls, sashimi, and sushi, as well as small plates. Booze here receives nearly as much attention as the fish, thanks to Master of Sake Stuart Morris, who also curates an extensive collection of single malt, blended, and single-grain Japanese whiskies. Elevate your meal with his sake pairing ($15) or whiskey ceremony ($16 to $225).
Hungry for more?
There's no need to join the tourist throngs at Fisherman's Wharf—here's where to find the best cioppino, crudo, chowder, and crab.